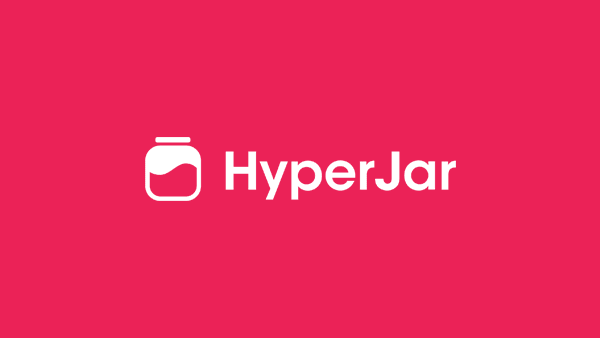 ---
Table Of Contents
---
HyperJar – At a Glance
HyperJar combines a Mastercard debit card and a super intuitive app, that allows you to divide your money between different areas within your account, called jars.
It is really more like a prepaid debit card with savings functionality, than a bank or a budgeting app, and it has several innovative features and functions that differentiate it from other money apps.
---
HyperJar Pros & Cons
Pros:
HyperJar is completely free to use.
HyperJar work with a number of partner companies, and you can earn rewards when committing to saving up to spend with them.
HyperJar allows you to combine jars with friends and family.
HyperJars Annual Growth Rate allows your money to grow if spent with certain retailers.
Cons:
It is not possible to withdraw cash from ATMs with the HyperJar card.
HyperJar do not pay interest on balances in their savings jars.
---
What is HyperJar?
HyperJar launched in 2020, and as of 2023, have over 450,000 users on their app. Their stated aim is to act as an alternative to the many different payment options on the market that involve getting into debt, such as the Buy Now Pay Later providers such as Klarna, or credit cards. In fact, HyperJar term their product as being 'pay now, buy later', as they incentivize building up funds in advance to spend with specific retailers, rather than getting into debt to buy things.
Once the account is set up, users load the account from their bank. They can then use the app to create different jars within their account, which can be anything you wish, from savings, to grocery shopping or anything else.
HyperJar also have a kids version of the app, that can be set up by an adult user, so their child can have their own card, and spend under the supervision of the adult.
What is a HyperJar Card?
The HyperJar card is the heart of the HyperJar product. Every account holder gets a Mastercard debit card, that can be used for payments. It is not possible to make cash withdrawals with the HyperJar debit card however.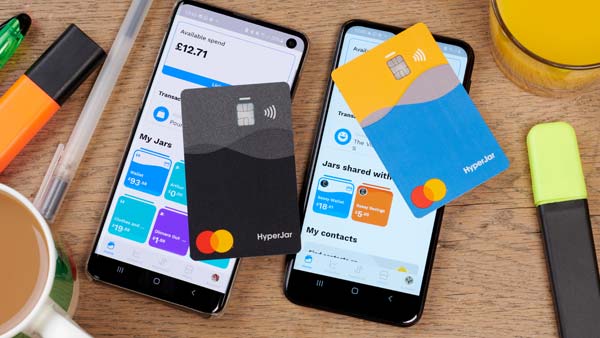 ---
HyperJar Features
HyperJar Jars
Once you have set up your HyperJar account, and have loaded funds into the account via your bank, then you can set up jars, which are the heart of the app. You can set up jars for whatever you wish, whether saving, groceries, or anything else. You can also set various rules and restrictions for each jar. When spending with the card, you can easily change which jar the card will take the money from, with just a few taps on the app before you make the purchase.
Hyperjar Annual Growth Rate
Hyperjar do not pay traditional interest on the funds held within their savings jars. However, they have their Annual Growth Rate (AGR), which is probably the most innovative feature of their app. Essentially, users can create a jar within their account that is dedicated to spending with a particular retail partner of Hyperjar. For example, if you always use the same supermarket, then you can pay money into a jar associated to them, as you know you will always spend money there. Once committed, this money will get a form of interest known as the Annual Growth Rate, which is currently an average of 4.8% (although it varies depending on the retailer).
This is an innovative and attractive combination of interest and cashback/rewards, that could be very attractive to consumers who regularly spend with the same retailer.
HyperJar Vouchers
HyperJar vouchers are a way to send gifts to other HyperJar users that are specific to particular retailers. Thanks to the HyperJar Annual Growth Rate, these vouchers can also grow in value over time.
HyperJar Travel
The HyperJar Mastercard debit card can be a real help when traveling abroad. They do not charge any currency exchange fees for payments with the card in other currencies. They simply take the current Mastercard exchange rate, then charge you the exact amount in pounds.
Do bear in mind however that you cannot take cash out from ATMs with the HyperJar card whether in the UK or abroad. In the UK this is usually fine as nearly everywhere takes card payments. However, many countries, even in Europe, are not as cashless as the UK, so it does make sense to have a backup source of cash when travelling.
HyperJar Kids App
The HyperJar kids app allows adults to link a child account to their HyperJar account, and link certain jars within the account, that the child can then spend from. The child will get their own Mastercard debit card, and the adult can have a full overview of the usage of the card. Unlike some other child accounts such as Starling Kite and GoHenry, the HyperJar kids account has no fees or monthly costs. Children need to be over 6 year old to have a HyperJar kids account, and will need their own phone to use the app.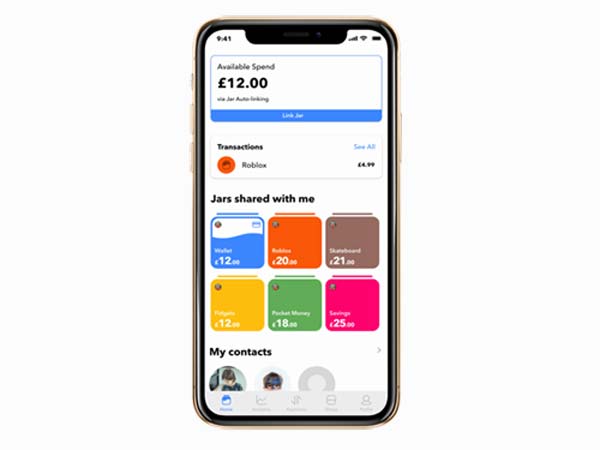 ---
HyperJar Costs & Fees
HyperJar do not have any monthly fees, or transaction costs. They have aimed to make all of the functionality on the card and app free. The only fee you can incur is when you require a replacement card, which costs £5.
Is HyperJar Safe?
HyperJar is not a licensed UK bank, but they partner with an e-money institution called Modulr FS Ltd, who hold any funds. This means that, in the case of the company failing, customers are not covered by the Financial Services Compensation Scheme (FSCS), as they would be if their money was held by a licensed bank.
However, HyperJar are still regulated by the Financial Conduct Authority (FCA), which means they do have to adhere to certain rules that will protect their customers. One of these is that all customer funds have to be kept completely separate from company money, so that if HyperJar does become insolvent, customers will get their money back.
When it comes to your data, HyperJar state that they use banking level 256-bit encryption, to ensure your details are kept safe.
---
HyperJar Alternatives
HyperJar vs GoHenry
GoHenry is a dedicated money app for kids, and has some similar features as HyperJar, such as an child's app controlled by the adult who manages the account, and a debit card for the child. The main difference is that HyperJar is free to use, whereas GoHenry costs £2.99 per month (with the first month free), and loading the account cost £0.50 per load if more than 1 deposit per month. Therefore, HyperJar can be a cheaper option. One advantage that GoHenry has however, is that card holders can withdraw cash from ATMs, which is not possible with HyperJar.
HyperJar vs Starling Kite
Starling Kite is the child app from Starling Bank, and allows adult Starling Bank customers to create a separate child account within their main account. As with GoHenry, the main difference between Starling Kite and HyperJar is cost. It is £2 per month to have a Starling Kite account, whereas HyperJar is free. However, if the adult already banks with Starling Bank, it may be easier to just set up a child account, rather than set up a brand new HyperJar account.
HyperJar Vs Digital Banks
Many digital banks also offer ways to separate your money into different areas within your account. For example, Starling Bank have Spaces, and Revolut have Vaults. These allow you to keep different areas within your account to save, or have a different area for bills, spending money etc. The digital banks all have debit cards too of course, and they can be used to withdraw cash from ATMs, which you cannot do with HyperJar. HyperJar does have the advantage that it is more of a dedicated saving app, so the functionality may be superior to the banking apps. In addition, it is possible to have shared savings spaces with HyperJar.
HyperJar vs Budgeting Apps
The main difference between budgeting apps such as Emma, Snoop and Money Dashboard, is that with HyperJar you get a card that you can spend with. However, with HyperJar, you can only budget the funds you hold within HyperJar, whereas the budgeting apps connect to all of your accounts via open banking, so you can budget across all of your money.
HyperJar Vs Buy Now Pay Later (BNPL) Providers
HyperJar have promoted their product as a an alternative to payment schemes such as the BNPL providers such as Klarna, Monzo Flex and more, which they claim encourage people to get into debt. They have even used the phrase 'pay now, buy later' to differentiate their product, as HyperJar users can create jars that are dedicated to a particular retailer, and load money into that jar, so they can buy things via the retailer later. They have even incentivized users to do this via their Annual Growth Rate, which acts as a type of interest, so that the amount you have to spend with that retailer grows over time.
---
HyperJar FAQ
Can HyperJar be trusted?
HyperJar is a UK company, and is full regulated by the Financial Conduct Authority in the UK. This means that they have to stick to the rules to protect customer money. Bear in mind however, that they operate as an e-money provider rather than a bank, and as such customer funds are not protected under the Financial Services Compensation Scheme (FSCS).
Why is HyperJar free?
Unlike many other apps of a similar type, HyperJar has no monthly costs, fees for transactions, or anything else. In that case, how does HyperJar make money? Well, they get a small fee any time the debit card is used, but also, they will get money from their retail partners whenever a HyperJar customer spends with that retailer from a HyperJar jar.
Can I withdraw from ATM with HyperJar?
No, it is not possible to withdraw cash from your HyperJar jars via an ATM. HyperJar is better used as a way to buy from specific retailers rather than to take cash from, as the benefits of the app are from using the card to make payments.
---
HyperJar Review – Summary
HyperJar is a very interesting and innovative app. They combine a variety of different elements – a prepaid debit card, budgeting and saving, and rewards/cashback. Many of the features overlap with other apps such as digital banks or budgeting apps, but it definitely has unique advantages that can help to budget, save and spend more efficiently.
Articles on the wiseabout.money website may contain affiliate links. If you click these links, we may receive compensation. This has no impact on our editorial and any money earned helps us to continue to provide the useful information on our site.