Getting kids to understand money, how it works and how to manage it, is a crucial part of their education in the modern world. Giving your child the tools to get comfortable with managing their own finances has been made easier by the launch of several apps. Gohenry is fully aimed at children, whilst Hyperjar also offers a product for adults – although their family focused app and card is often used for its child features.
At Wiseabout.money, we are passionate about financial education, and we have friends and family who still struggle with many financial concepts. We had to teach ourselves about personal finances (sometimes the hard way!) as younger adults, so we definitely welcome this push for personal finance education at an early age.
What is Hyperjar
HyperJar was launched in 2020 and currently boasts over 450,000 users on its app. Its primary goal is to provide an alternative to various payment options that often lead to debt, such as Buy Now Pay Later services like Klarna or credit cards. In fact, Hyperjar describes its product as "pay now, buy later," encouraging users to save funds in advance for specific retailers instead of relying on debt to make purchases. Always good spending habits to have!
Once the account is created, users can easily load funds from their bank and utilize the app to organize different jars within their account. These jars can serve various purposes, from saving money to grocery shopping and more.
Along with an adult account, Hyperjar also offers a kids version of the app, which can be set up by adults. This allows children to have their own card and spend under adult supervision.
What is GoHenry?
GoHenry offers a debit card and a pocket money app that has two variations. One is designed for children, enabling them to monitor their expenditures and card usage. The other version is for parents or guardians, granting them complete visibility into the card and account activity.
GoHenry provides an alternative to giving pocket money in physical currency. This alternative allows parents to easily track their children's spending. Furthermore, having to handle their own spending and manage a budget can serve as a valuable educational tool, equipping children with essential money management skills via the money management app.
---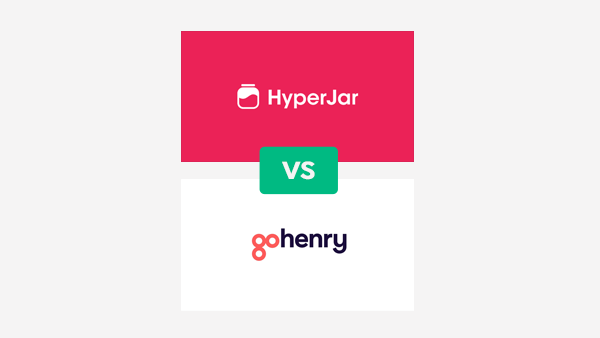 ---
Table of Contents
---
At what age should I give my child a cash card?
Of course it is up to the parent or guardian to decide at what age a child is ready to be able to have their own debit card. Most high street banks require a child to be 11 years old before they can open a current account and have a debit card.
However, services like Hyperjar and Gohenry offer prepaid debit cards for children for kids aged six and older. These work in the same way as normal debit cards in terms of being able to withdraw cash, paying in shops and online. However these offer a far greater level of parental controls. The parent sets the amount available to spend by loading the card, can set spending limits and limit the types of things that the card can be used to buy. In addition, the parent account has full visibility of all activity on the child's account.
These guided debit cards can be a great stepping stone for a younger child, that can help them prepare for getting a full bank account.
Hyperjar Vs Gohenry – Features
Gohenry
30-day trial period available for testing the app at no cost
Exclusive app for parents – complete visibility of the child's app
Dedicated app for kids – enjoyable and user-friendly design
Prepaid Visa debit card – featuring touchless capabilities
Instant spending alerts – accessible on both applications
GoHenry Junior ISA – save for their later years
Utilize Apple Pay once the child turns 13 years old
Hyperjar
HyperJar Jars
The core of the HyperJar app is the jars. You have the freedom to create jars for various purposes, whether it's saving, groceries, or anything else. Each jar can have specific rules and restrictions. When using the card for purchases, you can easily switch the jar from which the money is deducted with just a few taps on the app.
Hyperjar Annual Growth Rate
HyperJar doesn't offer traditional interest payments. Instead, they provide an Annual Growth Rate (AGR). Users can allocate funds to a jar dedicated to spending with a specific retail partner of HyperJar. The money in this jar will earn interest in the form of the Annual Growth Rate, which currently averages at 4.8%.
HyperJar Vouchers
HyperJar vouchers are a great way to send retailer-specific gifts to other HyperJar users. Thanks to the HyperJar Annual Growth Rate, these vouchers can increase in value over time.
HyperJar Travel
The HyperJar Mastercard debit card can be incredibly useful when traveling abroad. There are no currency exchange fees for card payments in foreign currencies. The card utilizes the current Mastercard exchange rate and charges the exact amount in pounds.
HyperJar Kids App
The HyperJar kids app allows adults to link a child account to their own HyperJar account. Specific jars within the account can be linked for the child to spend from. The child receives their own Mastercard debit card, and the adult can monitor its usage. Unlike other child accounts, such as Starling Kite and GoHenry, the HyperJar kids account has no fees or monthly costs. Children must be over 6 years old and have their own phone to use the app.
ATM Withdrawals:
Cash withdrawals from ATMs are not supported with the HyperJar card, both within the UK and abroad. In the UK, this is often not an issue as card payments are widely accepted. However, it is recommended to have an alternative source of cash when traveling to countries where cash is more commonly used, even in Europe.
HyperJar vs GoHenry – Cost & Fees
GoHenry
GoHenry offers two account tiers: Everyday, priced at £3.99 per month, and Plus, priced at £4.99 per month. Both tiers come with a debit card for the child, a dedicated child app, and a parent app.
With the Plus tier, the account can earn interest on savings (interest rate of 4.5% as of November 2023) and get 1% cashback on spending. The Plus tier also provides a broader range of educational tools accessible through the app.
For loading funds onto the card, the first load per month is free, and subsequent transactions cost £0.50 each. Additionally:
No fees for ATM or card payments in the UK or abroad
Free outbound transfers
Free replacement card
Personalized card available for £4.99
HyperJar
HyperJar does not impose any monthly charges or transaction fees. They have made all of the features available on the card and app completely free. The only expense you may encounter is when you need a replacement card, which incurs a cost of £5.
---
HyperJar vs GoHenry – Safety
GoHenry is a UK-based company and operates under the regulation of the Financial Conduct Authority (FCA). However, it is not a licensed UK bank; instead, it functions as an e-money provider. Consequently, deposits made with GoHenry are not safeguarded under the Financial Services Compensation Scheme (FSCS) in the event that the company becomes insolvent. GoHenry asserts that all customer funds are stored in a distinct NatWest account inaccessible to GoHenry.
Even though HyperJar is not a licensed bank in the UK, they collaborate with an e-money institution known as Modulr FS Ltd, who hold the funds. Consequently, in the event of company failure, customers will not be covered by the Financial Services Compensation Scheme (FSCS) like they would if their money was held by a licensed bank.
Nevertheless, HyperJar is regulated by the Financial Conduct Authority (FCA), obligating them to follow specific rules that safeguard their customers. One such rule is the complete separation of customer funds from company funds, ensuring that if HyperJar becomes insolvent, customers will be refunded.
Regarding data security, HyperJar assures users that they employ high-level 256-bit encryption to safeguard personal information.
Hyperjar vs Gohenry – Which is best for you?
Both Hyperjar and Gohenry have gained a large number of customers since their launch, and with good reason. They are both great products that can help parents ease their kids into the world of money.
Gohenry is a product focused solely at children and as such, probably has more well rounded features than Hyperjar, which can also be very useful for adults.
However, these features come at a price, as Hyperjar is free, whilst Gohenry costs either £3.99 or £4.99 per month per child's account depending on the plan you choose.
For younger children, the Hyperjar app works well, and could be a better option, as younger children may not use the extra features in Gohenry, and thus it would not be worth paying the monthly fee.
For older children however, the extra features, and the similarity to a fully fledged bank account that Gohenry has, could be very useful and definitely justify the monthly fee.
Hyperjar vs Gohenry – Alternatives
Natwest Rooster Money
Rooster Money is a child focused app, which features a host of educational features and tools on their app, and offer a prepaid debit card to children aged 6 years and over. Read our Rooster Money review here.
Starling Kite
Starling Bank have their own child focused product – Starling Kite – which can be used by children aged 6 to 16. The account can be set up by an adult from a full Starling Bank account, so they need to be an existing Starling customer to use the app. Read our Starling Kite review.
---
HyperJar vs GoHenry – FAQ
Which company is behind HyperJar?
Hyperjar work with an e-money institution called Modulr FS Ltd, where the customer funds are held.
Does HyperJar charge fees for kids?
Hyperjar has no fees and is free to use for both adults and children.
Can I use my HyperJar card at an ATM?
No, Hyperjar cards cannot be used to withdraw money at ATMs. If you want a prepaid card for your child where they can withdraw cash, then you can look at Gohenry or Starling Kite.
Where can you not use a GoHenry card?
As GoHenry is a child's card i.e. made for kids, they have blocked certain types of purchases, such as gambling, pornography, alcohol, tobacco and various other things. You can see the full list of blocked merchants here.
HyperJar vs GoHenry – Conclusions
Both Hyperjar and Gohenry offer some great features for kids, that help with financial education, but also let them take their first steps into managing their own money. Either can really help, but we think that Hyperjar is likely better for younger children, as it has fewer features, and is also free to use.
Gohenry is almost like a bank account in many ways, and has a lot more features. It is also not cheap, so it does make sense that it would suit an older child, who will take advantage of the more complicated features.
Articles on the wiseabout.money website may contain affiliate links. If you click these links, we may receive compensation. This has no impact on our editorial and any money earned helps us to continue to provide the useful information on our site.