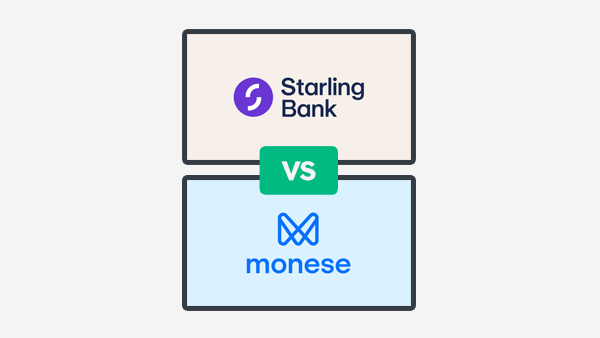 ---
Table of Contents
---
At a Glance
| | | |
| --- | --- | --- |
| | Monese | Starling Bank |
| Monthly Cost | Free | £1.95 | £5.95 | £14.95 | Free |
| ATM Withdrawals-UK | £2 on Activeplus, free on Freedom | Free |
| ATM Withdrawals-Abroad | £3 per withdrawal | Free |
| Debit Card | mint green, contactless | Teal card, vertical design |
| Interest | Access Raisin via the app | 0.05% on balances up to £85,000 |
| Cash Deposits | Free up to limit on paid tiers, then 3.5% | Post Office, £1000/year free, then 0.7% |
| Cheque Deposits | Not supported | Scam via the app |
| Money Management | Pots, Categories, Budgets | Spaces, Spending Insights |
| FSCS Protection | No | Yes |
| Instant Notifications | Yes | Yes |
| Customer Services | In-app, email | In-app, telephone, email |
| Mobile Payments | Apple Pay, Google Pay | Apple Pay, Google Pay, Samsung Pay |
| Currency Transfers | EUR account, FX starts at 2.5% | 0.4% charge |
| Extras | Easy account opening | None |
| Business Account | Yes | Yes |
| Child Account | No | Yes |
About Starling Bank
Starling Bank are a fintech success story, having gained over 2 million customers in the last few years. Also, with some new digital banks, customers use them as a second bank but maintain their old bank account. Starling have a very high monthly balance per customer, which suggests that most of their customers have switched 100% to Starling.
About Monese
Monese was launched in 2015 with the aim of enabling customers, who may be new to the UK or did not have a UK credit history or address, to easily get a bank account. They are good for travellers as they offer a Euro and GBP account to all customers as standard.
---
Plans, Costs & Fees
Monese
Monese has 4 account levels. The higher the cost of the subscription, the more things you will get without having to pay extra for.
Monese Starter: No monthly fee
Additional Costs:
Physical debit card – £4.95
International transfers – 2.5%
Card spending in other currencies – 2%
ATM withdrawals – £1.50 per withdrawal
Pay cash into your account – 3.5% of the amount paid in
Monese Essential: £1.95 per month
Additional Costs:
Physical debit card – free
International transfers – 2%
Card spending in other currencies – 0.5%
ATM withdrawals – up to £200 per month free
Pay cash into your account – 3.5% of the amount paid in
Monese Classic: £5.95 per month
Additional Costs:
Physical debit card – free
International transfers – 0.5%
Card spending in other currencies – free
ATM withdrawals – up to £500 per month free
Pay cash into your account – free up to £400 per month
Monese Premium: £14.95 per month
Additional Costs:
Physical debit card – free
International transfers – free
Card spending in other currencies – free
ATM withdrawals – up to £1500 per month free
Pay cash into your account – free up to £1000 per month
Starling Bank
Starling Bank have a very simple model. They have incorporated all of the standard banking functions into their free plan, and do not have any monthly paid plans.
Starling Bank do not charge for ATM withdrawals.
Cash can be paid into your Starling Bank account via the Post Office, and there is no charge for this.
Verdict
It is very hard to compete against Starling Bank's simple and mostly free offering. In fact, with Monese you actually have to pay to get some of the same things you get with Starling Bank for free as standard – for example unlimited ATM withdrawals in the UK and aboard.
---
Features
Monese
Key Features:
GBP and EUR current accounts – for all customers as standard
Mastercard debit card – with full contactless functionality
Set up direct debits – within the app
Pots – divide up your money to create separate areas so you can save or keep bills money separate
Categorised spending – set your own categories
Set monthly budgets – keep track of your money
Earn interest and invest – via Raisin within the app
Real-time spending notifications – see any account activity
Free transfers in your local currency – and between Monese accounts
Apple Pay and Google Pay – set up with you debit card
Pay cash into your account – via the Post Office and PayPoint locations
On the paid tiers of Monese, other features are available:
Insurances and purchase protection
Priority customer support
Credit Builder
Starling Bank
Easy to use smartphone app – bank on the go, 24/7.
Instant Notifications – get informed of any activity on your account immediately
Spaces – Spaces are 'virtual piggy banks' within your Starling Bank account, where you can split your money into different areas i.e. bills, saving etc.
Categorised Spending Insights – Within the app you can analyse your spending via categories to allow you to manage your money more efficiently.
Starling Bank Marketplace – Starling Bank recommend other financial services – such as insurance, mortgages, pensions and more.
Free ATM Withdrawals – Starling Bank offer free ATM withdrawals in the UK and within Europe and do not have limits on the free amounts you can take out.
Savings Goals – easily set up within the app
Mastercard Debit Card – with full contactless functionality
Freeze your debit card – instantly stop the card via the app if it is lost or stolen.
Interest on your current account balance – 0.05% on balances up to £85,000.
Pay in cash via Post Office branches – up to £1000 per year free.
Verdict
Both Monese and Starling have a wide variety of money management tools available on all tiers, and solid core banking functions. With Starling, they focus on the core banking functions with few frills. Monese, with their paid tiers, have added some more features that you will need to pay for.
---
Debit Cards
Monese
Monese recently changed the design of their cards. Depending on the plan, the card colours on the personal banking accounts are either a simple pearly white, a fresh bright blue or an elegant midnight. Business users get a black card. All debit cards are enabled for contactless, Apple Pay and Google Pay.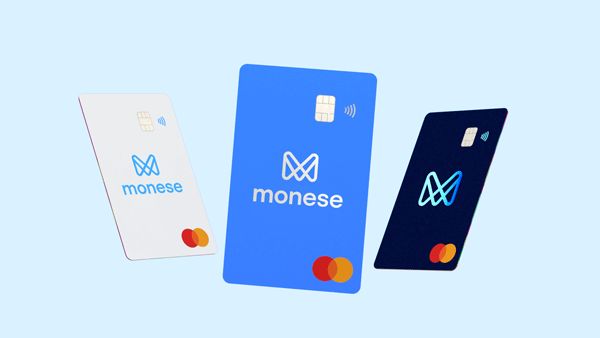 Starling Bank
Starling Bank account holders get a Mastercard debit card with contactless functionality, which is enabled for Apple Pay, Google Pay and Samsung Pay. Personal account cards are teal in colour, and the business card is black.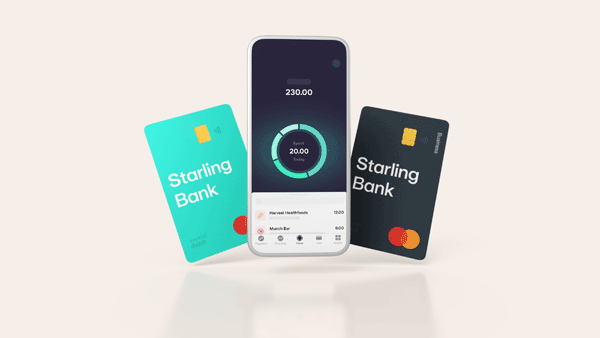 ---
Safety
Are digital challenger banks safe?
In the 2020s, there are now many new technology focused banks and current accounts available. But are they safe to use, compared to the traditional high street banks? Generally yes they are, as all current account providers in the UK, whether an e-money provider, such as Monese or Revolut, or a fully licensed UK bank, such as Monzo, Starling or Cashplus Bank, they are all regulated by the Financial Conduct Authority. This means they are regulated by the same body as the older banks, and should have the same levels of safeguards for your money.
Monese
Monese is not a licensed UK bank, but rather an e-money provider. This means that customer deposits are not covered up to £85,000 by the FSCS in case of the companies insolvency, like it would be if it was a fully licensed UK bank. However, Monese state that customer deposits are protected by their practice of 'safeguarding'. They say:
Safeguarding means your money is kept separate from any money owned by Monese or PPS and it's placed into a secure account with an authorised bank, or covered through an insurance policy or similar guarantee. We never lend your money to anyone and it's always available to you, on demand. There's also no upper limit per customer or account for safeguarding. This means that all the money within your Monese account is protected.
Starling Bank
Starling Bank are a fully licensed UK bank, and as such, customer deposits are covered up to £85,000 under the FSCS.
In 2021 they received the highest score out of all banks in the UK in a study by consumer group Which? that looked at banking security.
Your debit card can be instantly frozen and unfrozen via your app.
Business Banking
Monese
The Monese business account is available to users with a Monese personal account:
Business account costs £9.95 per month
GBP account only for business
Money management tools
Pay cash into your account via Paypal & the Post Office
As of late 2022, Monese has stopped accepting new business account applications.
Starling Bank
Whilst the basic Starling Bank Business account is free, for £7 per month you can sign up for the Business Toolkit – which contains the following features:
Instant Invoices – sent directly from the app
Automated Expenses – separate your expenses into categories
Tax Estimates – the app analyses your account and estimates the taxes due
Record & Submit VAT – get a running total of the VAT position.
Bills Sorter – upload bills and schedule payments.
Accounting Software Integration – Xero, Quickbooks and more
Business Spending Insights – account analytics
Business Spaces – categorise your funds
Read our full Starling Bank Business Review.
Travelling
Monese
Monese account holders get a GBP and EUR account as standard.
When abroad, paying with your card is free on the paid tiers (there is a 2% charge on the free account).
ATM withdrawals abroad are free up to your tier limit.
Starling Bank
Payments with the Starling Bank debit card are free overseas
Starling give free-free ATM withdrawals abroad, with no upper limit
Starling do currency transfers at the interbank rate, with a fee of 0.4% of the amount converted.
Verdict
Starling Bank is a great option for travellers, with their unlimited free ATM withdrawals abroad, and free card usage. You will have to pay for a monthly Monese subscription if you do want to get free card payments and ATM withdrawals. Therefore, for the holidaymaker of occasional traveller, Starling Bank is hard to beat. However, Monese give a EUR account to all customers as standard, so if you regularly do transactions in Euros, then Monese might suit you better.
Child accounts
To open a full account with Starling Bank or Monese, users must be over 18 years old.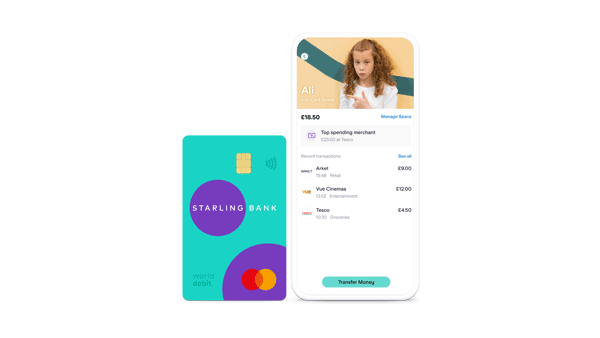 Starling Bank – Kite
Whilst Starling Bank do not offer a stand-alone account for users under 18, they do offer Kite, which is aimed at younger users. Full account holders can apply for an extra card for their child, which is fully controlled by the main account, which has full visibility. The card can be used for a range of payment and banking activities and costs £2 per month.
Monese
Monese do not offer a product for younger customers currently.
Mobile App
Starling Bank's simple and intuitive app won Best Banking App at the 2021 British Bank Awards.
Monese have less features within their app than some competitors, but the money management and account features are functional and accessible.
Extras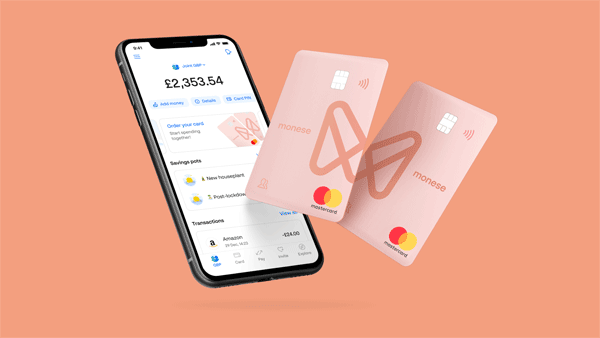 Starling Bank
Starling focus very strongly on their core banking product, and as such do not have much in the way of extras. They do have the Starling Bank Marketplace where offers from other financial providers can be accessed.
Monese
Monese do have more extras on offer than Starling Bank – especially on their paid monthly tiers.
GBP and EUR account for all customers
Credit Builder – a way to improve your credit for £7.95 per month
Insurances and payment protection on paid tiers
Joint account
Verdict
Starling Bank is not the best destination for those who are after cool extras. Monese do offer various things on their paid tiers, and the Euro account for all customers would be very useful for some.
Monese vs Starling Bank – FAQ
Is Starling Bank the best bank in the UK?
Nowadays there are many banking options out there, and which digital bank is for you really depends on your requirements. Starling Bank is definitely a great all round option, but Monzo is worth considering for its extras, Revolut for the wide variety of products, Cashplus Bank for those who have had financial issues in the past, and Monese is a great flexible option for those who want a Euro account as well as a GBP.
How is Monese better than Monzo?
Monese has a variety of benefits that would definitely suit some people. It is very easy to set up, with no credit check, and you don't even need a UK address. Monzo however is probably a better all-round bank, as it has a full UK banking licence, which Monese does not, and a wider variety of extras on its paid tiers. However, there will definitely be some customers for whom Monese is better for them than Monzo.
Verdict
Starling Bank has done fantastically well over the past few years, having gained millions of customers. Their app-focused banking product is good value and works very well. Therefore it is always hard to choose above them, and if you are looking for an all-rounder digital bank to replace your current bank, then they are a great choice. Monese do have certain benefits however, that, if they fit your situation, make them a better bet than Starling. For instance, if you do not have a UK address or credit history, it is easier to set up, and if you need a Euro account as well as a GBP, then they may be the option for you.
Articles on the wiseabout.money website may contain affiliate links. If you click these links, we may receive compensation. This has no impact on our editorial and any money earned helps us to continue to provide the useful information on our site.