Wealthify – In Brief
Wealthify is an investment platform that operates as a robo-advisor. They offer a variety of investment vehicles such as a general investment account, ISAs and pensions, and then invest your money in a variety of funds. Wealthify was launched in 2015 in the UK, and in 2018 the company was purchased by Aviva, a large insurance company.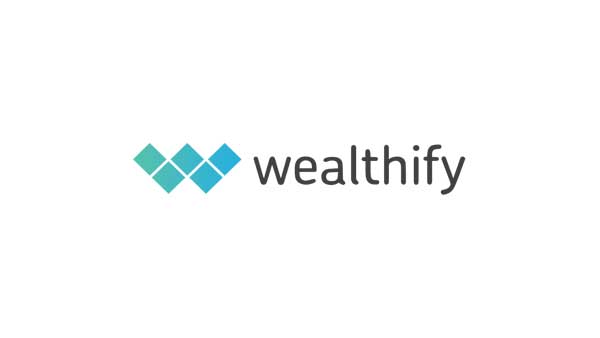 ---
Table Of Contents
---
Wealthify Pros & Cons
Pros:
Simple and transparent pricing structure.
As a robo-advisor, Wealthify has significantly lower costs than a traditional financial advisor.
Wealthify has a lower minimum investment than their competitors.
Cons:
Wealthify is a passive investment platform, so if you wish to choose the assets you invest in it may not be for you.
Due to their flat pricing structure, the annual fees are not competitive when larger amounts are invested.
---
What is Wealthify?
Wealthify are a robo-advisor – so the investment style is passive, with the Wealthify team taking into account the type of investments you require (Original or Ethical), and your appetite for risk (with 5 different risk levels). They then invest your money in a variety of diversified instruments, such as shares, bonds, property and commodities.
What is a robo-advisor?
Robo-advisor investment providers are automated platforms who use their systems to create an investment portfolio on your behalf based on your investment requirements i.e. risk level and type of investment. You do not do the trading yourself like on some platforms, but rather they do it for you, so it is a passive form of investing. Robo-advisors are attractive because they generally will have far lower fees than using a traditional financial advisor.
Wealthify Features
Wealthify offer several different products that you can use to invest into:
Junior ISA
Personal Pension
Once you have chosen which product you wish to use, Wealthify will ask you if you wish to invest with ethical funds, or via their original plans. They will then ask you to choose out of 5 different risk levels – Cautious, Tentative, Confident, Ambitious and Adventurous. This will decide how risky your investments are. Wealthify have an overview of the recent performance of their different risk levels here.
Minimum investment
Wealthify have aimed to make their investing as accessible as possible, so you can invest in an ISA or general investment account for as little as £1, and into a pension with as little as £50.
Who is Wealthify for?
Wealthify is a robo-advisor, which is a type of 'discretionary investment platform'. This means that the investment decisions are not made by the customer, but at the discretion of the investment manager (which in this case is Wealthify's automated platform). Therefore, Wealthify, like any other robo-advisor, would best suit someone who is looking for passive investing, where they just put their money and trust with the platform, so that they can grow it for them.
Investors who wish to trade individual stocks and shares or other assets would be better to look at other platforms that focus on this, such as the apps Freetrade or Trading 212, or established investment platforms like Hargreaves Lansdown.
---
---
Wealthify Costs & Fees
Wealthify have decided to follow a flat fee pricing model. Many competitors (for example Moneyfarm) will lower the percentage of the annual fee as higher amounts are invested. With Wealthify that is not the case, the percentage is the same for whatever amount invested. Therefore, Wealthify is competitively priced for smaller investment amounts, but may be more expensive than other robo-advisors for higher investments.
The Wealthify pricing comes from 2 areas:
Wealthify cost – 0.60% annually of the amount you have invested
Fund costs – 0.16% of your invested amount for original plans, and 0.70% for ethical investment plans.
The table below shows how much you will be charged annually depending on your investment type and the amount invested.
| | | | | |
| --- | --- | --- | --- | --- |
| | Original Plans | | Ethical Plans | |
| Invested Amount | Annual % | Annual Cost | Annual % | Annual Cost |
| £1,000 | 0.76% | £7.60 | 1.30% | £13.00 |
| £10,000 | 0.76% | £76.00 | 1.30% | £130.00 |
| £50,000 | 0.76% | £380.00 | 1.30% | £650.00 |
| £100,000 | 0.76% | £760.00 | 1.30% | £1,300.00 |
| £250,000 | 0.76% | £1,900.00 | 1.30% | £3,250.00 |
Other Costs:
Wealthify have no costs to deposit or withdraw money, or to transfer from or to your account, or to close your account.
How does Wealthify make money?
Wealthify's pricing structure as described above is very simple and transparent, and is how their revenue is generated.
Is Wealthify Safe?
All investments carry risk of some kind. Even with the safest, most diversified investment portfolio, investors should always be aware that there is always the risk that your investment will go down, and even that it is possible to lose your entire investment.
However, not all investments and investment platforms are created equal. Some financial instruments and platforms will have more risk than others. Wealthify mitigate your investment risk in the following ways:
As a robo-advisor, Wealthify invest for you, and they use a widely diversified group of assets to ensure that you are not too heavily invested in one sector or asset class. This also means that you are getting the experience of the Wealthify investment team. Wealthify publish the performance of their funds publicly so you can see the historical performance.
Wealthify only invest your money into more stable types of investment i.e. shares, bonds, property and commodities. Whilst there is of course still risk, these instruments are less risky than some other types of investment such as cryptocurrency or CFDs.
Aside from the investment risk, Wealthify is a UK company that is regulated by the Financial Conduct Authority (FCA). In 2018 Wealthify was wholly acquired by insurance giant Aviva.
All customer investments with Wealthify are covered by the Financial Services Compensation Scheme (FSCS) up to a maximum amount of £85,000 per customer.
Wealthify Customer Reviews
Wealthify has a rating of 4.4 out of 5 on Trustpilot from around 1600 reviews. 79% of the reviews rate the company at 5 out of 5 – Excellent. These happy customers praise the simplicity of setting up and using the platform and the communication of their customer services team. 6% of the reviewers rated Wealthify at 1 out of 5 – Bad. The majority of these dissatisfied users were unhappy about the performance of their investments.
Wealthify Alternatives
The closest competitive product to Wealthify is the market leader Nutmeg, which is also a simple to use robo-advisor.
If you wish to be more hands on with your trading, then apps such as Trading 212 and Etoro are low cost and flexible, and perfect for beginners. For those with larger amounts to invest, a more traditional investment platform such as Hargreaves Lansdown can be worth a look.
---
Wealthify FAQ
Is Wealthify good for beginners?
Wealthify have 2 features that can be very useful for beginners. Firstly, their minimum investment is just £1. Their main competitors have minimums of between £100 and £500, so with Wealthify you can get started with far less. Secondly, they have completely flat fees, so investors who hold £100 with Wealthify will pay the same percentage costs as someone with £1 million invested.
Is Wealthify owned by Aviva?
Yes, Aviva bought and took over Wealthify in 2018.
Is Wealthify better than Moneybox?
In some ways Wealthify and Moneybox are similar in that they offer various managed investment options. They do differ in that Moneybox can take your investment money direct from your bank automatically, whereas with Wealthify you need to put it in yourself. In addition, Moneybox offers savings as well as investments. If either of these features are attractive for you then Moneybox may suit you better than Wealthify.
Which is better Wealthify or Moneyfarm?
---
Wealthify Verdict
Wealthify is a simple and effective robo-advisor investment platform with a transparent pricing structure. Unlike some of their competitors, it is very stable (i.e. not funded by investment) since its purchase by insurance company Aviva. As it has a flat pricing structure i.e. the annual fee percentage does not go down as the amount of money invested goes up. Therefore, whilst their costs are competitive for lower invested amounts, it becomes less competitive as the amount rises.
Articles on the wiseabout.money website may contain affiliate links. If you click these links, we may receive compensation. This has no impact on our editorial and any money earned helps us to continue to provide the useful information on our site.