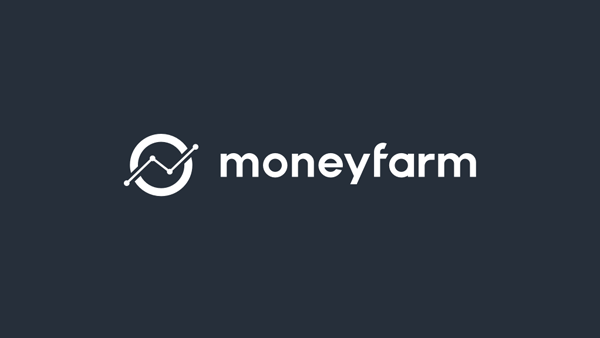 ---
Table Of Contents
---
Moneyfarm – In Brief
Moneyfarm is an investment platform that acts as a robo-advisor, using its automated systems to create investment plans for customers who invest with them. Founded in Italy in 2011, they launched in the UK in 2016.
---
Moneyfarm Pros & Cons
Pros:
As a robo-advisor, Moneyfarm are able to offer investment guidance at a lower cost than traditional in-person financial advisors.
Moneyfarm only offer relatively 'safer' investment options such as stocks, shares and funds, rather than risker instruments like cryptocurrency and CFDs.
Moneyfarm have an extremely simple fee structure.
All users get a dedicated investment advisor.
Cons:
Moneyfarm have a minimum investment of £500, so if you are starting small you will need to look elsewhere.
Moneyfarm is a robo-investor, so they will manage your investments. If you would like to get hands on with trading, then a more flexible trading app where you can buy individual stocks would suit you better.
---
What is Moneyfarm?
Moneyfarm are a discretionary investment platform, which essentially means that they do the investing for you. They are similar to a traditional financial advisor, except they make the investment decisions based on the customer's requirements with their internal systems and algorithms. This means that they are a robo-advisor.
What is a robo-advisor?
A robo-advisor is essentially the same as a financial advisor, but rather than be given investment advice by a person, the platform uses their automated systems and algorithms to invest for the customer.
Moneyfarm Features
When you sign up with Moneyfarm, they will ask you a series of questions, to try to determine several different things that will help them design your investment portfolio:
How comfortable you are with risk
How much money you could potentially afford to lose
Your investment experience
You will then need to choose the product/investment vehicle that you require. Moneyfarm offer the following products:
General Investment Account
Stocks & Shares ISA
Junior ISA
Pension
As a robo-advisor, Moneyfarm does most of its investment guidance automatically. However, all customers do also get a dedicated person as their investment advisor, which is a fantastic resource, and something that really distinguishes Moneyfarm from their competitors.
Customers can also transfer existing pensions and ISAs into Moneyfarm.
Who is Moneyfarm for?
The fintech revolution over the past 10 years has truly opened up the world of investment to millions of people in the UK, with dozens of apps, platforms and resources now available to help you make your first steps in investing. Even given all of this, it can be a confusing and intimidating world to enter.
Moneyfarm appear to have taken steps to ease the path for new and experienced investors alike by creating a simple to use robo-advisor service with a very transparent pricing structure.
Importantly, they provide a large amount of support and advice, even giving each customer a dedicated investment advisor.
Therefore, for inexperienced investors, or those who want to invest passively, Moneyfarm can be a good place to look.
Moneyfarm do have a minimum investment amount of £500, so smaller investors will have to look elsewhere. In addition Moneyfarm invest for you, so if you are looking to trade yourself, then it would not be for you.
---
---
Moneyfarm Costs & Fees
Moneyfarm have created a simple pricing structure, which depends on 1) the amount invested and 2) which type of investments you wish to have i.e. whether socially responsible or classic.
The pricing is broken down into 3 areas:
Moneyfarm fees
Underlying fund fees
Market spread
Moneyfarm then combine this into a single percentage, which is then taken from the total amount you have invested on an annual basis.
The pricing can be seen in the table below. Bear in mind that the minimum investment amount with Moneyfarm is £500.
| | | |
| --- | --- | --- |
| Fund Types: | Socially Responsible | Classic |
| | Annual % | Annual % |
| Amount Invested | | |
| £500 – £9,999 | 1.05% | 1.04% |
| £10,000 – £19,999 | 1.00% | 0.99% |
| £20,000 – £49,999 | 0.95% | 0.94% |
| £50,000 – £99,999 | 0.90% | 0.89% |
| £100,000 – £249,999 | 0.75% | 0.74% |
| £250,000 – £500,000 | 0.70% | 0.69% |
| £500,000 + | 0.65% | 0.64% |
To see exactly how much you will pay each year for your investment, see the table below:
| | | |
| --- | --- | --- |
| Fund Types: | Socially Responsible | Classic |
| | Annual £ Cost | Annual £ Cost |
| Amount Invested | | |
| £500 | £5.25 | £5.20 |
| £10,000 | £100.00 | £99.00 |
| £20,000 | £190.00 | £188.00 |
| £50,000 | £450.00 | £445.00 |
| £100,000 | £750.00 | £740.00 |
| £250,000 | £1,750.00 | £1,725.00 |
| £500,000 | £3,250.00 | £3,200.00 |
Is Moneyfarm Safe?
Moneyfarm UK are a UK company, and as such are fully regulated by the Financial Conduct Authority (FCA). This ensures that they follow certain rules that are designed to protect your money. One of these is that Moneyfarm have to ensure that they keep all customer deposits separate from company money, so customer funds can never be used for company costs.
Moneyfarm customer deposits are also covered by the Financial Services Compensation Scheme (FSCS), which insures customer deposits in the case of the company becoming insolvent. The FSCS covers up to £85,000 per customer.
Above all else, any customer or potential customer should be well aware that Moneyfarm is an investment service, and all investments carry risk. Even with investments services such as Moneyfarm, which focuses on stocks, shares and funds, which are safer than some other investment instruments (for example cryptocurrency and CFDs), there is always the risk that your investment will go down, and in the worst case, you could lose all of your money.
Moneyfarm do give a large amount of information and advice on investing, including details on how best to diversify your investments, so that is a definite advantage.
Moneyfarm Customer Reviews
Moneyfarm have a rating of 4.5 out of 5 – Excellent – from around 750 reviews on Trustpilot. 74% of these reviews rate the service at 5 out 5, and these happy customers especially like the high level of information and communication they get from Moneyfarm. 3% of the reviewers on Trustpilot give them the lowest score – 1 out of 5. These customers tend to be more unhappy about the poor performance of their investments than with anything specific to the Moneyfarm service.
Moneyfarm Alternatives
The are many other robo-advisor investment providers on the market – the biggest one in the UK being Nutmeg.
If you wish to be more hands on with your investing, you can use one of the easy to use apps like Trading 212 or Freetrade, or if you have a larger amount to invest, more old-school platforms like Hargreaves Lansdown.
---
Moneyfarm FAQ
Is Moneyfarm good for beginners?
Moneyfarm have several features which are great for beginners. They do have a simple set up and pricing structure, however probably the biggest plus is their provision of a dedicated in-person investment advisor, something that no other robo-advisor offers. Do bear in mind that the minimum investment amount is £500, so you need to have at least that much to invest.
Is Moneyfarm FSCS protected?
Yes, as a UK regulated investment company, customer deposits are protected up to £85,000 under the FSCS.
How does Moneyfarm make money?
Moneyfarm take a small percentage of the amount each customer has invested on an annual basis. The percentage depends on how much you have invested with Moneyfarm and whether your investments are Socially Responsible or Classic.
---
Moneyfarm Verdict
Moneyfarm offers an easy to use passive investment service, which allows you to invest without the hassle of getting involved in trading individual stocks, shares and ETFs. As a robo-advisor, their costs are low, but unlike nearly any other robo-advisor, Moneyfarm have the option of speaking to a dedicated financial advisor, which is a great feature. They are definitely an option worth considering as a destination for your investment cash in an increasingly crowded investment platform market.
Articles on the Wiseabout.money website may contain affiliate links. If you click these links, we may receive compensation. This has no impact on our editorial and any money earned helps us to continue to provide the useful information on our site.