Plum – In Brief
Plum is a budgeting app, that aims to simplify saving and investing. The app analyses your spending, and allocates amounts towards your saving budget, which it then moves automatically from your bank account into Plum, so it can be saved or invested.
---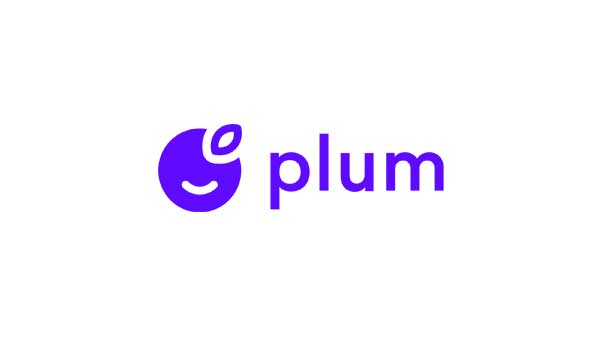 ---
Table Of Contents
---
Plum Pros & Cons
Pros:
Savings are automatically taken from your bank via open banking
The savings level is set at an amount you can easily afford
Plum is a great choice for those who find it hard to save
Can start with only £1
Cons:
The investment funds are limited compared to other providers
You cannot trade individual stocks
---
What is Plum?
A huge amount of people in the UK find it hard to save. Plum uses Open Banking technology to simplify and open up the opportunities of saving and investing to more people. In 2020, Plum claimed that over 1 million users in the UK were using their app.
Open Banking
Open Banking refers to the new mandates from the government that came into force in 2018, that instructed the biggest banks to open their data to new financial technology companies, so that people can use technology to better manage their finances, and get better deals on financial products.
Plum was formed in 2016, which was before Open Banking came into force in the UK. However, Plum now utilize the Open Banking framework to link to your bank account and get the data so they can analyse your spending activity, thus making their product simpler to use, and more secure.
As Plum also offers investments as well as savings, it can be a way for people who are new to investments to dip their toes in the water and understand more about how investing works, as well as ideally, growing their money.
Plum Features
Plum have different tiers of account, so we have indicated which feature is available on which tier.
Earn Interest on savings – Available on all tiers
Automated Savings – Round-ups and other ways to automatically send money into Plum – Available on all tiers.
Lost Money – Plum will detect when you are overpaying for utilities and facilitate changing suppliers – Available on all tiers.
Unlimited Withdrawals – Withdraw any amount at any time, without any charge – Available on all tiers.
Pockets – Create multiple Pockets for different saving areas – 2 Pockets on Basic and Plus, 15 Pockets on Pro and Ultra.
Investing – Access various investment types and funds – Available on Plus, Pro and Ultra.
Gamify Saving – Various challenges to help you save, such as the 52 Week Challenge – Available only on Pro and Ultra.
Goals – Add targets to each of your savings Pockets – Available only on Pro and Ultra
Compare – Have your spending analysed and compared anonymously with other Plum users – Available only on Ultra.
Money Maximiser – AI driven tool that analyses your account activity and gives recommendations – Available only on Ultra
Savings:
Plum have 3 levels of saving Pockets:
Instant Access – This pocket does not pay interest, and is the first place that any funds from your bank goes to. Money within this pocket is not covered by the FSCS.
Easy Access (Basic subscribers) – 3.51% AER variable. Funds can be withdrawn within 1 day and are covered by the FSCS because funds are held with Investec Bank Plc. The interest is paid monthly. This pocket is available to users of the free Plum Basic account.
Easy Access (Pro and Ultra subscribers) – 3.72% AER variable. Funds can be withdrawn within 1 day and are covered by the FSCS because funds are held with Investec Bank Plc. The interest is paid monthly.
Easy Access (Premium subscribers): Pays 4.21% AER variable. Funds can be withdrawn within 1 day and are covered by the FSCS because funds are held with Investec Bank Plc. The interest is paid monthly.
Investments:
Plum offer 2 different types of investment account:
ISA – With the Plum Stocks and Shares ISA, you can invest in various different funds with different risk levels, and take advantage of the tax benefits offered with ISAs.
General Investment Account (GIA) – Essentially the same as the ISA, but without the tax benefits, this is an investment account that allows you to put your savings into investment funds.
Pensions:
Plum SIPP allows you to add all of your existing pension amounts into one, and then invest the amount in a variety of different funds.
Who is Plum for?
Plum is currently available for residents of the UK, Ireland, France and Spain, and you must be over 18 years old to apply for an account.
For Plum to work for you, you will need to bank with a bank that is integrated with Plum, so that they can link to your account and analyse your spending. As of October 2021, Plum was integrated with the below 18 banks, which cover all of the biggest banks in the UK:
| | | | |
| --- | --- | --- | --- |
| Barclays | Lloyds | Revolut | Tesco |
| Danske Bank | M&S | RBS | TSB |
| First Direct | Monzo | Santander | Ulster Bank |
| Halifax | Nationwide | Bank of Scotland | |
| HSBC | Natwest | Starling | |
In general, Plum is aimed at people who have found it hard to save before, and need a little help, which the Plum features are configured to provide.
---
---
Plum Costs & Fees
Monthly Paid Tiers:
Plum has 4 levels of account:
Plum Basic – Free
Plum Plus – £1 per month
Plum Pro – £2.99 per month
Plum Ultra – £4.99 per month
Essentially, the more you pay each month, the more Plum features you unlock (as detailed above).
Fees
Savings:
Customers on all tiers on Plum can use the savings Pockets function, and there are no charges for savings. Do bear in mind that the annual interest rate on your savings is currently higher on the paid tiers than on Plum Basic!
Investments:
Investments are not available to customers on the free Plum Basic tier. They must subscribe to at least the Plum Plus product at £1 per month to unlock access to this feature.
With investments, they also have a platform and fund provider fee, which varies depending on which funds you invest with. However, Plum state that the current average fee level is 0.48% annually. Therefore, if you had £10,000 investment in Plum's funds, you would be charged £48 per year.
Pensions:
Plum's pension offering is called Plum SIPP. All customers, including on the free Plum Basic tier, can access the pension feature. Cost-wise, Plum charge a Product Provider Fee of 0.45% per year. In addition, you will be charged a Fund Management Fee, which depends on which fund you invest with. However, the charges currently range from 0.24% to 0.30% annually.
Therefore, you will be charged between 0.69% and 0.75% of your pension balance annually, which would equate to between £69 and £75 per year on a total balance of £10,000.
Is Plum Safe?
FSCS
Plum is not a licensed bank, but rather an E-Money provider. That means that any funds held within your main Plum Pocket is not protected under the Financial Services Compensation Scheme (FSCS). However, this only applies to the non interest paying Pockets. Once you transfer your funds into either a savings or investment Pocket, your money is then being held by a licensed UK bank, so is then covered by the FSCS. As the whole idea of Plum is that you save or invest your money, in practice, the majority of funds will be covered by the FSCS.
Security
Some users may be concerned about giving Plum access to the transactions within your bank account. Thanks to the Open Banking protocols, there is no need to worry, as Plum connected directly to your bank's data, and never have your banking login details. In addition, Plum only have read-only access to your data, so if they did have a security issue, it would be impossible for any funds to be taken from your account. Finally, Plum encrypt all of your data.
Investing
Plum have the option of investing your money via them. Therefore, all usual warnings in regard to investments apply i.e. be very cautious when making investments, and be aware that your investments can go down as well as up!
Plum Customer Reviews
Plum currently have a rating of 4.5 out of 5 – Excellent – on Trustpilot. 77% of reviewers gave Plum 5 out of 5, and love how easy it is to save with the app, with many saying how hard they found it to save before they used Plum. 9% of reviewers were dissatisfied, giving Plum 1 out 5, with many of these users complaining about difficulties withdrawing funds from the app, and problems with customer services.
Plum Alternatives
There are multiple different budgeting, saving and investing apps available today. However, the closest to Plum in terms of features are:
In addition, there are several digital banks that offer effective money management tools as part of their product, including pockets (or their equivalent) and round-ups.
---
Plum FAQ
Is Plum free to use?
Plum do have a free version of their app that you can use, however, some of the features will be limited, and you will get a lower interest rate on your savings than on the monthly paid tiers.
Is is safe to link my bank account to Plum?
Plum use open banking to connect to your bank account, which is a very safe and trusted system. Plum never have access to your login details, and can only take money from your bank if you instruct them. Plum are a reputable company who are regulated by the Financial Conduct Authority (FCA) in the UK.
---
Plum Verdict
Plum have created an interesting and compelling financial product, that appears to have appealed to many people looking to save more, and to get introduced to the world of investing. If you struggle with saving, then it could be the thing that finally gets you going.
Articles on the wiseabout.money website may contain affiliate links. If you click these links, we may receive compensation. This has no impact on our editorial and any money earned helps us to continue to provide the useful information on our site.