What is Freetrade?
Freetrade is a UK based smartphone app based trading platform for stocks and shares. It was launched with an iPhone version in 2018, with Android following in 2019. As of 2021, they claimed to have over 1 million users, and in March 2021, they said that over £1 billion in value was traded in the previous quarter.
Freetrade was awarded the title of Best Online Trading Platform by the British Bank Awards in both 2020 and 2021.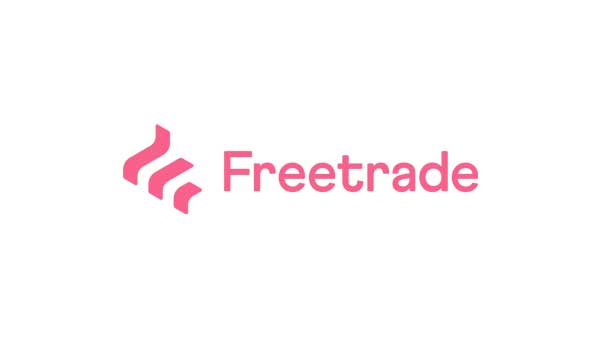 ---
Table of Contents
---
How does Freetrade work?
Freetrade is a smartphone/app focused platform, so users can do everything from their phone. Currently users can only use Freetrade as a smartphone app. Currently, there is no desktop computer version available.
Freetrade allows customers to buy and sell stocks, shares and ETFs via their platform, with no costs for the trades – hence the name. Compared to some other financial providers, the selection of financial assets that you can trade on Freetrade is limited. For example, only UK and US stocks and ETFs are currently available.
The basic version of Freetrade is free (aside from certain costs – see section below). They also have Freetrade Plus that costs £9.99 per month, for which you get extra features, including a wider range of stocks, more customer service options and more order types.
How much does Freetrade cost?
The big selling point for Freetrade is that they allow you to make trades for free.
They do however, have some costs, and offer 2 different levels of service:
| | |
| --- | --- |
| Freetrade | FREE |
| Freetrade Plus | £9.99 per month |
Additional charges:
Stock & Shares ISAs set up
on the Freetrade platform
£3.00 per month
Self Invested Personal Pension
(SIPP) via the Freetrade Platform
£9.99 per month for standard customers, £7 per month for
Freetrade Plus customers
In addition, Freetrade charge 0.45% above the spot rate/interbank rate for currency conversions. The set currency for Freetrade is GBP, so there would always be currency conversions when trading US stocks.
How does Freetrade make money?
Freetrade generally run a 'freemium' model i.e. their basic service is free, and they hope that customers will upgrade to the services that they do charge money for, i.e. Freetrade Plus, SIPPs and ISAs.
Some trading and brokerage apps, such as Robinhood in the US, make money from selling the trade data of their customers to third parties – which is known as 'payment for order flow'. This has been seen as controversial by some.
Freetrade say that they do not do this, stating:
We do not receive financial or non-financial benefit from any trade execution venues or counterparties in return for sending our customers' orders to them (sometimes known as 'payment for order flow').
Who is Freetrade for?
The biggest benefits of Freetrade are really its simplicity and therefore accessibility to more inexperienced investors. In addition, the cost structure, which is based on providing the trades for free, also favours those who are not so aware of the way that costs for investments usually work.
Therefore, Freetrade is a great platform for beginners, which have not invested very much, or at all, before.
Freetrade is a UK company, and currently only UK residents can use the app. However, Freetrade are currently looking at expanding in the European market.
How to use Freetrade
Freetrade is very simple to set up:
Download the app to your phone
Enter your email address, and then confirm your account
Put in your personal details i.e. name, address, nationality and NI number
Choose the account you wish to sign up to
Freetrade will then verify your details automatically
If for some reason they cannot verify your identity, you may need to send them proof of ID, such as a passport of driver's licence, and proof of address.
Trading:
Freetrade does not have much in the way of information regarding the stocks and ETFs within the app. Therefore users would need to do their own research on which stocks they wish to buy. Once a user decides which stock they wish to buy, the process is very simple via the app.
Deposits & Withdrawals:
There are no charges for depositing funds. Users must have a UK bank account to use the app. You can deposit funds via a bank transfer or a debit card, or via Apple Pay or Google Pay. Credit cards cannot be used to deposit funds.
Withdrawals are also free-free, unless you choose the same day option, which is charged at £5. You can only withdraw funds via bank transfer or to payment wallets such as Apple Pay or Google Pay.
Is Freetrade safe?
Freetrade highlight 3 main ways in which they safeguard customer funds:
FSCS Protection: The funds that each customer holds in Freetrade are protected under the Financial Services Compensation Scheme, up to £85,000 per customer – which means in the event that the company fails, the customer's funds will be safe.
Client Funds Are Segregated: All customer money in Freetrade is kept separately from the Freetrade business funds, and Freetrade can never use customer funds for their business expenses.
FCA Regulation: Freetrade are regulated in the UK by the Financial Conduct Authority as an entity that offers investment services and holds client funds. Therefore they adhere to all of the relevant regulations.
Freetrade Reviews – what are people saying?
Freetrade has an overall rating of 4.3 out of 5 – Excellent – on Trustpilot. 69% of the reviews give the app 5 out of 5, and many praise how easy it is to use the app, especially for inexperienced investors. 13% of the reviewers rate the app at 1 out of 5. The majority of these negative reviews appear to address technical issues with the app.
There is also a dedicated subreddit on Reddit for Freetrade called r/FreetradeApp, which has nearly 7000 members. The subreddit seems active and is definitely a good place to get information on Freetrade, along with opinions and tips and tricks for using the app.
Freetrade Alternatives
There are many different options out there for investors these days, as the Fintech revolution is in full swing. A selection of alternatives to Freetrade are:
Freetrade Pros & Cons
Cons
A limited amount of stocks and ETFs available to trade compared to some other providers.
Not possible to buy bonds, mutual funds, options or any other asset class.
Very limited amount of information on stocks available on the app.
No desktop computer version currently available.
Conclusions
Freetrade is an accessible, safe and very simple way to trade stocks and ETFs. The pricing of stock trading can often be complicated, and Freetrade have simplified things by making the basic trades free. More experienced investors may not be impressed by the limited range of stocks, ETFs and asset classes available. However for beginner or inexperienced investors, Freetrade offers a quick, easy and very low cost way to start investing.
Articles on the wiseabout.money website may contain affiliate links. If you click these links, we may receive compensation. This has no impact on our editorial and any money earned helps us to continue to provide the useful information on our site.