A robo-advisor investment platform allows customers to invest more cheaply than by going directly to an in-person financial advisor. It manages to lower the costs by utilising automated investment algorithms that take the customer's investment needs into account, and then does the investments via their automated systems, hence the 'robo'. It is essentially a form of passive investing, as the customer does not choose the financial instruments to buy or do the trading themselves, but rather the robo-advisor does it for them.
This form of investing has become more popular in recent years as the technology has advanced, and several fintech companies have launched to offer their services.
In this article we compare 2 of the UK's leading robo-advisors – Nutmeg and Moneyfarm.
Moneyfarm – in Brief
Moneyfarm were launched in 2011, but first entered the UK in 2016. Whereas Nutmeg is only available to UK based users, Moneyfarm is also available in Italy. In 2022, Moneyfarm claimed over 80,000 customers had over £2.2 billion invested with them.
Nutmeg – In Brief
Nutmeg was also launched in 2011, and as of 2022, claim to be the largest robo-advisor investment platform within the UK, with over 185,000 customers, and over £4 billion of customer funds held with them.
---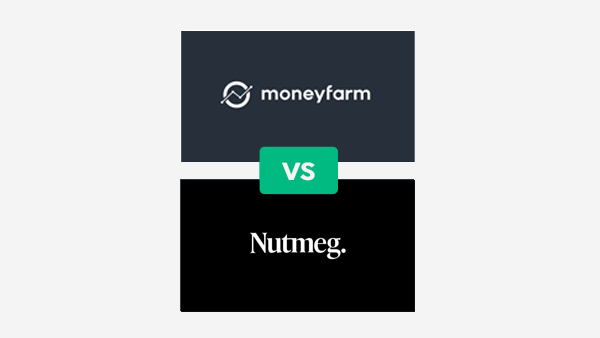 Contents
Moneyfarm vs Nutmeg – Best for Plans, Costs & Fees:
Both Nutmeg and Moneyfarm have fee structures that are based upon 3 different elements:
Platform fees
Fund fees
Market Spread
These fees are then combined to give a total percentage, which is the amount that is taken annually from the total amount you have invested. For example, if you have £100,000 invested, and the annual fee % is 1%, then it will cost you £1000 per year.
Moneyfarm
Moneyfarm have 2 main investment types – Classic and Socially Responsible. They then have a sliding scale where the fees are lower as the amount you have invested increases.
Fund Types:
Socially
Responsible
Classic
Annual %
Annual %
Amount Invested
£500 – £9,999
1.05%
1.04%
£10,000 – £19,999
1.00%
0.99%
£20,000 – £49,999
0.95%
0.94%
£50,000 – £99,999
0.90%
0.89%
£100,000 – £249,999
0.75%
0.74%
£250,000 – £500,000
0.70%
0.69%
£500,000 +
0.65%
0.64%
Nutmeg
Nutmeg have a wider range of different types of investments available. Like Moneyfarm, they have a dedicated socially responsible offer, but their standard investment is split into 3 types – Fully Managed, Smart Alpha, and Fixed Allocation.
Like Moneyfarm, Nutmeg has a sliding scale of costs depending on the amount invested. However, it is simpler than Moneyfarm, in that there are 2 fee levels – for investments below £100,000 and for investments above £100,000.
| | | | | |
| --- | --- | --- | --- | --- |
| Fund Types: | Fully Managed | Smart Alpha | Socially Responsible | Fixed Allocation |
| | Annual % | Annual % | Annual % | Annual % |
| Amount Invested | | | | |
| £500 – £99,999 | 1.02% | 1.05% | 1.10% | 0.71% |
| £100,000 + | 0.62% | 0.65% | 0.70% | 0.51% |
Comparison
In the below table, we have taken the percentage cost at a variety of investment levels, and compared the actual annual cost based on those investment amounts. Firstly for the standard funds:
| | | | | |
| --- | --- | --- | --- | --- |
| | Nutmeg | Nutmeg | Nutmeg | Moneyfarm |
| Fund Types: | Fully Managed | Smart Alpha | Fixed Allocation | Classic |
| | Annual £ Cost | Annual £ Cost | Annual £ Cost | Annual £ Cost |
| Amount Invested | | | | |
| £500 | £5.10 | £5.25 | £3.55 | £5.20 |
| £10,000 | £102.00 | £105.00 | £71.00 | £99.00 |
| £20,000 | £204.00 | £210.00 | £142.00 | £188.00 |
| £50,000 | £510.00 | £525.00 | £355.00 | £445.00 |
| £100,000 | £620.00 | £650.00 | £510.00 | £740.00 |
| £250,000 | £1,550.00 | £1,625.00 | £1,275.00 | £1,725.00 |
| £500,000 | £3,100.00 | £3,250.00 | £2,550.00 | £3,200.00 |
Then we compare the annual costs for the socially responsible investment types:
Socially
Responsible
Nutmeg
Moneyfarm
Annual £ Cost
Annual £ Cost
Amount Invested
£500
£5.50
£5.25
£10,000
£110.00
£100.00
£20,000
£220.00
£190.00
£50,000
£550.00
£450.00
£100,000
£1,100.00
£750.00
£250,000
£1,750.00
£1,750.00
£500,000
£3,500.00
£3,250.00
Verdict
Overall, the costs for Nutmeg and Moneyfarm are quite similar. It may be possible to make some small savings with Moneyfarm at certain levels of investment due to their more complex tier based pricing structure, but in general the costs are very comparable.
Moneyfarm vs Nutmeg – Best for Features
Products
Both platforms offer an identical suite of products that you do your investments within, which are:
Once you have chosen which of these you wish to use, then you would need to choose the type of investment and risk level.
Fund Types
Moneyfarm offer 2 different types of fund:
Classic
Socially Responsible
Nutmeg have a wider range, with 4 to choose from:
Fully Managed – a fund managed by the Nutmeg investment team
Smart Alpha – a fund managed by JP Morgan Asset Management
Fixed Allocation – a fund that is less actively managed, and consequently has a lower annual fee.
Socially Responsible
Each of these fund types for each platform has a different annual fee structure, as can be seen above.
Risk Levels
With each platform, once you have chosen the product and fund type, you will be asked a series of questions, including your appetite for risk.
Nutmeg have risk levels ranging from 1 to 5 or 1 to 10, depending on which fund type you choose.
Moneyfarm have 7 different levels of risk, and they will ascertain your level by asking questions when you open your account.
Minimum investment
The minimum investment amount with Moneyfarm is £500. With Nutmeg it is also £500.
Extra Features
The whole idea of a robo-advisor is so that investment companies can keep costs down by running investments via their algorithms rather than using expensive staff. However, Moneyfarm offer an in-person dedicated investment advisor to every customer, which is a great resource, and potentially unique within the robo-advisor market.
Verdict
As with most robo-advisors, the features of Nutmeg and Moneyfarm and broadly similar. However, there are some key differences that may swing any decision about which to go with. Nutmeg have a wider range of funds to choose from, and Moneyfarm give a dedicated in-person financial advisor to each customer, which could be attractive to many investors.
Moneyfarm vs Nutmeg – Best for Safety & Security
Both Nutmeg and Moneyfarm operate their UK businesses as a UK company, and as such both companies are regulated by the Financial Conduct Authority (FCA). This gives the consumer 2 key elements of protection:
Firstly, under FCA rules, investment companies have to keep all customer investment funds completely separate from their company money, so the companies can never use customer funds for business expenses.
Secondly, customers with both companies have their deposits covered under the Financial Services Compensation Scheme (FSCS). This means that each customer is covered up to £85,000 in case of the insolvency of the company.
Nutmeg and Moneyfarm are both investment platforms. Any investment carries risk, and customers should always be aware that there is a risk of their investment going down in value, and even that there is the risk that they will lose all of their investment. These two companies do have in their favour:
They both focus on more stable financial instruments such as shares, ETFs and bonds. Whilst there is still risk, there is significantly less risk than with more volatile instruments such as CFDs or cryptocurrency.
Both companies have been around for a few years, and publish the results of their investments publicly. Therefore potential customers can see the results they have achieved in the past. Arguably it is less risky to use a platform like these than to buy individual shares as they have extensive experience with the diversification of investments, whilst individuals may not have.
Nutmeg and Moneyfarm both have different levels of risk that they ask each customer to define when opening an account, so the customer is able to ensure they are taking the level of risk that is relevant for them.
Verdict
Both companies are really almost identical in terms of safety and security.
Moneyfarm vs Nutmeg – Verdict
Nutmeg and Moneyfarm are very similar, with a very similar suite of products, and even their pricing is very close, which makes sense in a competitive investment platform market. Price-wise it may be possible to make some savings with Moneyfarm at some higher levels of investment has their have more pricing tiers. Feature-wise, Nutmeg do have a wider variety of investment options, with four different fund types to Moneyfarm's two. One thing that could really differentiate the two providers however is that Moneyfarm offer a dedicated investment manager for every customer, which is unique within the robo-advisor market in the UK.
Articles on the wiseabout.money website may contain affiliate links. If you click these links, we may receive compensation. This has no impact on our editorial and any money earned helps us to continue to provide the useful information on our site.