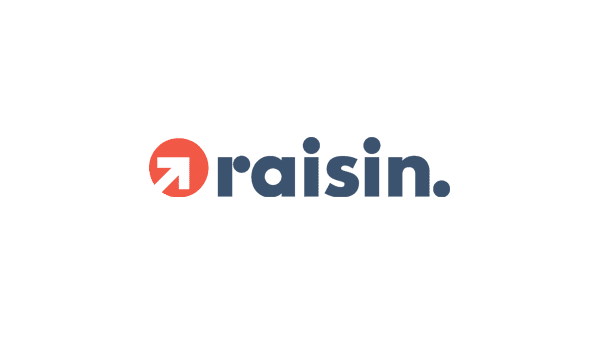 ---
Table Of Contents
---
Raisin Savings – At a Glance
Navigating the savings account market to find the best deals can be time-consuming and confusing. So can managing all of these accounts once they are set up. Raisin aim to take the hassle out of this process by offering a single place where you can both find and manage multiple savings accounts.
---
Raisin Savings Pros & Cons
Pros:
Convenience. To manage multiple savings accounts can be a lot of effort, so managing them all via a single Raisin login can save a lot of time.
Get access to savings accounts from over 30 providers in one place.
Cons:
Raisin does not offer any tax efficient savings plans such as ISAs or SIPPs
Whilst Raisin does have a wide range of partners, it is not guaranteed that they will have the best interest rates on the market, as they do not partner with every bank.
---
What is Raisin Savings?
Raisin operates as both a savings marketplace, and a way to easily manage all of your savings accounts in one place.
The company was founded in Germany in 2012, and since then has expanded into over 30 markets. They have over 1 million customers worldwide using their platform, who hold over $40 billion in savings accounts via the Raisin platform. They partner with over 400 banks and savings providers, of which currently there are 34 available in the UK.
Really the main attraction of Raisin is convenience. They aim to make to areas of savings easier for customers in two ways. Firstly in finding savings offers, and secondly in managing these accounts once they are set up.
---
Raisin Savings Features & Products
Finding savings account offers:
It can be time-consuming to find the highest interest products on the market. Comparison sites will often only promote the products their get the highest kickback on, and it will take a lot of research to find the offers, then check if the bank is safe. Raisin collect a variety of savings providers and products in one place, so you can enter your requirements, for example:
Type of savings account (fixed-rate, notice, easy access etc)
Amount you want to save
Period you want to save etc.
Then Raisin will give you options from their partners to choose from. Currently Raisin UK have partnered with 34 banks and savings providers.
Managing your savings accounts
Many people have several different savings accounts, for example an easy-access account for your emergency fund, a fixed-rate savings account, and more. It can be a pain to have manage all of these logins. Raisin allows you to control all of your savings accounts via a single login.
Types of savings account available on Raisin
Easy-access accounts:
These accounts have the least restrictions on the amounts you can put in or take out. However, the rate of interest on these will be lower than on other types of account. They are very useful for money you may need to access quickly, like an emergency fund.
Fixed-rate savings:
With fixed-rate accounts, you can lock in a set rate of interest for a number of years, but you also need to lock your money away, as you cannot take it out (or put any more in) until the period is over. These accounts can take anywhere between 1 and 7 years to mature. It is important that you only put funds can you can do without for a few years into these accounts. Fixed-rate savings account will generally offer the highest rate of interest of all savings account types.
Notice accounts:
Notice accounts can also offer good rates of interest, but like fixed-rate accounts have some restrictions. In this case, you would have to give a certain amount of notice before being able to access your money, for example 45 or 60 days.
---
Does Raisin UK have the best savings rates?
As Raisin's business is based on giving customers access to the best savings rates, they do always have a very good selection of savings accounts with competitive interest rates.
However, Raisin cannot claim that they have all of the best savings interest rates on their platform, because they are limited to the offers from their partner banks. There will be banks and savings providers out there who offer great rates, but for whatever reason, do not wish to partner with Raisin. So, to ensure that you are getting the very best rates, you will need to shop around. However, Raisin will usually have competitive offers.
In addition, banks will often offer time-limited high interest rates as a way to get users to sign up with their bank. Raisin will not have access to these offers.
Tax On Savings Interest
Raison does not offer tax efficient savings products such as ISAs or SIPPs. However, that does not mean that you cannot save some tax on any interest gains you make on savings.
The government in the UK like to encourage people to save. ISAs are part of this, but every UK resident also gets a tax free allowance on the interest they earn on savings. Below are the amounts that you can get in interest at each tax band before you are liable to income tax.
Basic Rate Taxpayer – £1000
Higher Rate Taxpayer – £500
Additional Rate Taxpayer – £0
How much does Raisin Savings cost?
Raisin do not charge any fees to consumers for setting up savings accounts via their platform. They do not have set up fees, transaction fees or any monthly or annual fees.
How does Raisin savings make money?
Raisin receive their revenue from their partner banks, who will pay Raisin either per customer who opens an account with them via Raisin, or by the total amount that Raisin customers have invested in their bank.
---
Is Raisin Savings Safe?
Of the 34 banks that Raisin partners with (as of August 2023), 31 of them are located in the UK and regulated by the UK financial regulator, the Financial Conduct Authority. This includes banks such as the Bank Of Ceylon and the National Bank Of Egypt, who operate via a UK based subsidiary.
This means that all these banks are covered by the Financial Services Compensation Scheme (FSCS), which protects savers money up to £85,000 per institution.
The remaining 3 banks that Raisin UK partner with are headquartered in Europe. This means that UK savers are still covered, however this is by the European equivalent of the FSCS, which is called the European Deposit Guarantee Scheme (DGS), and protects consumer's savings up to a total of 100,000 EUR.
Bear in mind that the FSCS and DGS offer the stated level of protection per banking group, not per bank. Therefore, if 2 banks are part of the same group, the total protection will only be £85,000 or 100,000 EUR across the banks in that group. It is important to check this so you can ensure you are covered.
An example of this is Lloyds Banking Group. They own Lloyds, Bank Of Scotland, and Halifax, so the total protection across all of these banks would be £85,000.
Raisin UK will inform savers when they are depositing money with a bank that is part of a banking group that they already have funds deposited with, which is a nice feature.
---
Raisin Savings Alternatives
Managing things yourself
The main advantage of Raisin is convenience in finding savings accounts, and in managing them all from the Raisin platform. However, it is possible to do all of this without Raisin, it is just a bit more work!
Hargreaves Lansdown
The UK's biggest investment platform have their own savings product which is similar to Raisin in that they give access to multiple savings providers. They do have a smaller selection of savings account partners than Raisin currently however.
Investing
Saving is a very safe was to grow your money, but it will usually not make as big returns as investing. However, investing does have risk!
---
Raisin Savings – Summary
With over a million customers worldwide, it does look like Raisin have hit on a good idea, and any way to simplify the world of savings accounts is definitely welcome for savers.
Articles on the wiseabout.money website may contain affiliate links. If you click these links, we may receive compensation. This has no impact on our editorial and any money earned helps us to continue to provide the useful information on our site.