**Money Dashboard closed down their app at the end of October 2023. Check out our Money Dashboard alternatives article to see the other options.
About Moneyhub
Moneyhub was launched in 2014, and in recent years has become far more involved in the technology side of open banking, and recently received £18 million in investment. Moneyhub also launched before open banking, but now are a leading provider of open banking technology solutions.
About Money Dashboard
Money Dashboard has been offering a budgeting product, initially for desktop computers, since 2011. They existed as a budgeting app before the launch of open banking, but now offer their smartphone app that uses open banking – Money Dashboard Neon.
---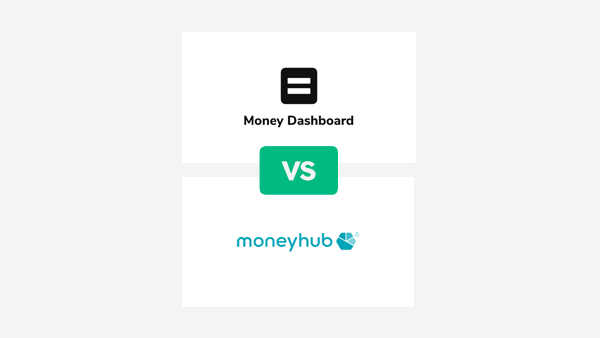 ---
Table of Contents
---
At a Glance
| | | |
| --- | --- | --- |
| | Money Dashboard | Moneyhub |
| Cost | Free | £0.99/month, £9.99/year |
| Supported Bank | 50+ | 26+ |
| Sell your data? | Yes | No |
| FCA Reguated? | Yes | Yes |
| Presentation | Business-like | Business-like |
| Features | Comprehensive Analysis | Many budgeting functions |
Moneyhub vs Money Dashboard – Plans, Costs & Fees
Moneyhub charge a small fee to use their app. The cost depends on where you make the payment.
If you pay Moneyhub directly, then it costs £0.99 per month, or £9.99 for a full year. If you pay for the app via the Apple App Store, then it will cost £1.49 per month, or £14.99 per year. Moneyhub state that they receive the same amount from this, and it is only more expensive via Apple due to their fees.
Money Dashboard is free and has no paid version of their product. They are open about selling your data however (see FAQ section below).
Verdict
Money Dashboard is free, which is hard to beat. However, Moneyhub costs only £1 per month, and even less if you pay annually.
---
Moneyhub vs Money Dashboard – Features
Moneyhub
Integration – all your financial platforms within the app
Spending Analysis – automatic spending analysis on your transactions
Spending Goals – multiple goals can be set and tracked.
Nudges – get automatic nudges updating your progress towards goals and with budgets
Categories – transactions are automatically categorized.
Real-life Advisors – get financial advice from a live person.
Money Dashboard
Connections – all of your bank accounts, credit cards and various other financial products in one place.
Spending categories – create across all of your accounts.
Bills and Subscriptions – all in separate lists
Budgets – create within the app.
Available Balance – Easily see what is available to spend after all bills.
Bespoke customization – set up the platform to fit your own requirements.
Bank Connections:
Money Dashboard are connected to over 50 banks and other financial institutions. You can see the full list here.
Moneyhub are integrated with around 26 financial institutions.
Verdict
Money Dashboard support more bank and financial institutions than Moneyhub, but Moneyhub do support all of the biggest providers, so 95% of users will be covered.
Feature-wise, the apps are broadly quite similar.
---
---
Moneyhub vs Money Dashboard – Safety
Data Security
Both Moneyhub and Money Dashboard state that they use bank level encryption, and use open banking technology, which means they never have access to your login details or passwords. In addition, they only have read-only access to your data, so cannot make changes or payments (or changes cannot be made via them in the event they were hacked).
Privacy
Moneyhub state that they do not sell customer data, and as such, that is why they charge a subscription fee, so they have a business model that is not dependent on doing so.
Money Dashboard have no fees, and are open about the fact that they sell anonymized customer data to third party companies.
Verdict
It really comes down to whether you have a problem with your data being sold or not. Money Dashboard do this, although it is all totally anonymized, whereas Moneyhub do not sell your data.
Moneyhub vs Money Dashboard – Presentation
Money Dashboard and Moneyhub are in many ways similar products. Many of the budgeting apps that have launched recently, such as Snoop and Emma, have a far more gamified presentation, and also have various features that analyse your spending, and suggest alternatives, for example saving on utility bills or mobile phone contracts.
Money Dashboard and Moneyhub both have a far more sober approach, focusing on allowing the user to see all of their financial transactions in one place, then applying common-sense budgeting tools such as setting goals, budgets and categories. The approach on both apps is the polar opposite of the social media style used by some of the other apps. Indeed, when using these 2 apps, it feels more like a bank or financial app than a social media experience.
This could be a way for the apps to focus on a particular demographic. It is likely that an older user might be put off by all of the gamified aspects of the other apps, which are generally aimed at a younger audience.
Verdict
Whilst similar, the 2 apps do have many differences, so it make sense to try both apps out to see which interface most appeals to you.
---
Money Dashboard vs Moneyhub – FAQ
Does Money Dashboard sell your data?
In short, yes. Money Dashboard make money from selling anonymized customer transaction data to third party companies. As this is anonymous, you cannot be identified by this data, but if privacy is a concern, then it may be worth looking at our best budgeting apps article to see which ones do not sell your data in this way.
Is Moneyhub worth it?
Budgeting apps are a great way for you to connect all of your financial institutions together and to manage your money more effectively. Moneyhub has a low monthly fee, so it will not cost you much to discover if it is something that can help you with your budgeting.
Moneyhub vs Money Dashboard – Verdict
As to which of these apps is the best for you, well the main difference is with privacy. Money Dashboard is free, but sells your data, whereas Moneyhub has a (very small) subscription fee. If privacy is an issue then that will probably help you decide.
Based just on the features, it is really a case of trying out each app and seeing whether the way the app works fits within your budgeting workflow.
Articles on the wiseabout.money website may contain affiliate links. If you click these links, we may receive compensation. This has no impact on our editorial and any money earned helps us to continue to provide the useful information on our site.