**Money Dashboard closed down their app at the end of October 2023. Check out our Money Dashboard alternatives article to see the other options.
Money Dashboard vs Snoop – At a Glance
| | | |
| --- | --- | --- |
| | Snoop | Money Dashboard |
| Cost | Free | Free |
| Supported Banks | 60+ | 50+ |
| Sell your data? | Yes | Yes |
| FCA Regulated? | Yes | Yes |
| Presentation | Fun, social media style | Business-like |
| Features | Helps you save via suggestions | Comprehensive Analysis |
About Snoop
Snoop is a relatively recent entrant into the crowded world of budgeting apps, having launched in 2020. They are a budgeting app that connects to your bank via open banking, then analyses your financial data so you can budget and get insights into your finances.
About Money Dashboard
Money Dashboard is actually far older than Snoop, having originally launched their budgeting product in 2011. However, since the rollout of open banking in 2020, they have launched a completely new, smartphone app product called Money Dashboard Neon. They also utilize open banking to analyse your financial transactions, then provide you with a place you can see your finances all in one place.
---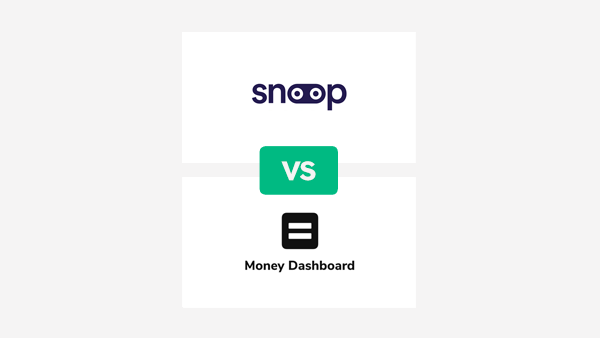 ---
Table of Contents
---
Money Dashboard vs Snoop – Plans, Costs & Fees
Money Dashboard is completely free. They do not have any monthly subscription plans, and all features are available within the one app.
Snoop is also free to use, and has no paid version.
How do Money Dashboard and Snoop make money?
Both apps are open about the fact that they will sell your data to third party companies. The data will always be anonymous, but the third party company will use data to discern consumer spending trends.
Verdict
Both apps are free, and you can't get much cheaper than that. However, as with any free product, you do need to think about how they will make money, and in the case of both these apps, it is by selling your data. If this is something you do not want, then it is better to look at one of the several apps which don't do this, but you should expect to pay a monthly fee.
---
Money Dashboard vs Snoop – Features
Snoop
Spending Sorter – The app automatically categorises your spending.
Payment Hub – every outgoing payment in a single list
Spending Summaries – daily, weekly and monthly
Checkers – the checkers analyse spending and suggest savings with your energy, cards, mobile and broadband and Insurance.
Discount Code Finder – the app searches for discount offers related to your spending
Money Saving Scanner – find money saving opportunities.
Mortgage Manager – allows you to compare your mortgage with other deals in the market.
Look Ahead – the app will tell you on a weekly basis your upcoming outgoings so you can be prepared.
Snoop also have a large number of other features that are currently in development, which you can see here.
Money Dashboard
All of your bank accounts, credit cards and various other financial products can be connected, so you can create an overall budget.
Apply spending categories across all of your accounts.
All bills and subscriptions in dedicated area
Create your own budgets
Available balance to spend after all outgoings.
Customise the app to fit your own requirements.
Bank Connections:
Money Dashboard are integrated with 90 financial institutions, including banks, credit card providers and others.
Snoop have a smaller list than Money Dashboard, but still have 60+ of the biggest banks and other providers supported, plus they cover all New Day credit cards.
Verdict
Features-wise, Money Dashboard aim for a simple, budgeting focus, providing a dashboard that allows you to see all of your finances in one place. Snoop have budgeting functions also, but they place a big emphasis on recommendations of other ways you can save on existing spending, with their Checkers. These could definitely be of use, but are also clearly another way for Snoop to make money by referring customers to third party products.
---
Money Dashboard vs Snoop – Safety
Data Security
Both apps utilize open banking technology, which is safe and robust, and ensures that they do not have access to your passwords or login details at any time, and have read-only access to your transaction data. Both also state that they have bank level encryption of all of your data.
Privacy
As mentioned in the costs section above, both Money Dashboard and Snoop are free to use. However, they will take your transaction data, anonymise it, and sell it to companies that wish to use this data for various reasons. If you want a budgeting app that does not sell your data, you have several to choose from, such as Cleo, Emma or Moneyhub.
Financial Services Compensation Scheme (FSCS)
Neither Money Dashboard or Snoop offer any product where they can take or hold your money. Therefore there is no need for them to be covered by the FSCS.
Verdict
Both apps have the high levels of security you would expect these days in regard to your data. They do both sell your data, so if this is something you do not want then it is best to look elsewhere for your budgeting needs.
Money Dashboard vs Snoop – Presentation
Money Dashboard has been around for a lot longer than Snoop, but in a way they are both providing a new service, as Money Dashboard Neon is a new venture. However, they have many years of running a budgeting service, and as such, should have a very good idea of the features that customers will find value in. Money Dashboard have a rather sober approach, focusing on giving you data on your finances.
As well as the budgeting functions, Snoop are very focused on finding ways for you to save, by analysing certain areas of your spending, such as utility bills, credit cards, insurances and other things. Their approach is far more casual than Money Dashboard, with a very social media, gamified style of app.
Verdict
The two apps are quite different in their approach, so it is best to check them out to see which one suits you best. As both apps are free, this is simple to do by downloading them.
---
Snoop vs Money Dashboard – FAQ
Is Money Dashboard worth it?
As a free app, Money Dashboard will not take up any of your money. However, is it worth it to set it up and add all of your data? It quite well could be, as open banking based budgeting apps can give you a way to see all of your finances in one place, which can be very helpful when trying to budget.
What is the cheaper version of Emma?
Snoop and Money Dashboard are both free to use, so of course both are cheaper than the paid versions of Emma! They do both sell your anonymized data however, which Emma do not do.
Where can I get Snoop?
The Snoop app is available for download for IOS and Android in the App Store and on Google Play. There is also the possibility to use Snoop on the desktop, laptop and tablet.
Can I use Money Dashboard on a desktop?
Yes, Money Dashboard is accessible via the mobile app as well as on a desktop computer.
Why should I use budgeting apps?
If your bank account looks empty at the end of the month and you don't know where your money has gone, then a budgeting app can shed some light onto your finances. When connected to your bank account they will be able to give you an accurate footprint of your spending. If you pay cashless, there may be 100+ transactions going out from your account on a monthly basis. From rent to coffee, lunches, toiletries at Boots, drinks with friends, you'd be surprised how many different spending categories there are. Whilst it is possible to budget without apps, the apps can help you to stay on track, and will do so consistently. Once you have an accurate overview of your daily, weekly or monthly spending, you can create your own budget in order to save money.
---
Money Dashboard vs Snoop – Verdict
As a pioneer within the budgeting space, Money Dashboard are at risk of being overtaken by new entrants, like Snoop, into the budgeting space. However, with their launch of Money Dashboard Neon, they have given themselves a good chance to compete. Snoop is very new, and many of their budgeting features are still in development.
With budgeting apps, it is very much down to taste in regard to their usability and features. You need to like to use an app if you are going to find it useful and keep on opening it.
As these apps are both free, it would be possible to download them both and test drive them at no cost, so that's probably the best way to work out which is for you.
Articles on the wiseabout.money website may contain affiliate links. If you click these links, we may receive compensation. This has no impact on our editorial and any money earned helps us to continue to provide the useful information on our site.