Starling Kite – In Brief
Financial education is an important part of anyone's upbringing. Having an understanding of the basic concepts of managing your money is crucial to be able to thrive in the modern world, and if a child can start their education and understanding early, then it will set them up well for their adult financial life.
Starling Kite is offered by Starling Bank, who are often said to be one of the best digital banks in the UK, and have gained millions of customers with their easy to use and very simple banking app. In 2022, Starling Bank won Best Childrens Financial Provider at the British Bank Awards, which was mainly due to their Kite product.
---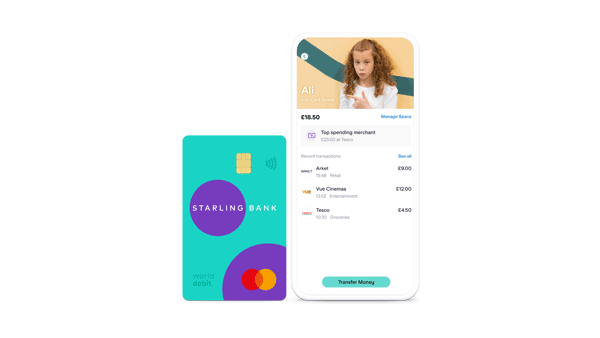 ---
Table Of Contents
---
Starling Kite – Pros & Cons
Pros:
Child gets their own dedicated debit card and dedicated app
The app is linked to the main Starling Bank app, so parents have full visibility
Great for educating children about managing finances
Instant notifications to main account holder
Parent can choose where child spends money
Set savings goals in the app
Free ATM withdrawals and spending in UK and abroad
Perfect for managing pocket money
Cons:
Only existing Starling Bank customers can open a Kite account, as the account must be linked to a main Starling Bank account.
---
What is Starling Kite?
Starling Kite is not a full Starling Bank account, but rather a sub-account of a full account. This structure allows parents to have full visibility of all of the activity on the Kite account. Starling Bank accounts all have something called Spaces, which allow you to separate the money within your account. A Starling Kite account is essentially a Space within a full Starling Bank account. A Starling Bank user can have up to 6 Starling Kite spaces within their main account.
Starling Kite Features
Easy to use smartphone app – dedicated app for the childrens account
Mastercard Debit Card – with full contactless functionality
Instant Notifications – get informed of any activity on the account immediately (both main account holder and child)
Spaces – 'virtual piggy banks' within Starling Bank account, up to 6 on Starling Kite
Parent visibility – main account can see all activity on account
Inappropriate payments automatically blocked – alcohol, tobacco, gambling and more
Parental Controls – main account holder can set spending limits and restrict translation types
Free ATM Withdrawals – free ATM withdrawals in the UK and abroad
Savings Goals – easily set up within the app
Transfer money from main Starling account – into the Kite account, free and instantly
Multiple Kite accounts – up to 6 per main Starling Bank acount
Who is Starling Kite for?
To have a Starling Kite account, a person must be aged between 6 and 16 years old. Once they hit 16, they can apply for a Starling Bank young persons account, which is essentially the same as a full, standard Starling Bank account (without the overdraft facility). Then once they hit 18, they can open a full Starling account.
Parents who are looking for an alternative to cash for pocket money, can set up the Starling Kite space for their child, and then the child will get their own dedicated debit card and app. Parents have full visibility of all activity via their main Starling Bank app, and can set restrictions on their child's spending.
---
---
Starling Kite Costs & Fees
In late 2023 Starling Bank changed the price of a Starling Kite account, from £2 per month, to free! Aside from that, payments and ATM withdrawals and card payments are free both in the UK and abroad, so the Kite account will not be able to run up costs!
Is Starling Kite Safe?
Starling have put in various safeguards that will assist parents in ensuring that their child does not misuse the debit card and account.
Starling Bank automatically block a wide range of types of payments that are not appropriate for children, such as places that sell alcohol or tobacco, gambling, dating and more.
Parents can set other restrictions on the app, such as daily spending limit, whether the child can withdraw from ATMs, and whether they can make online purchases.
The parent can receive instant notifications of activity on the Kite app, and will have full visibility of all transactions, as it is part of their main Starling Bank account.
In regard to overall safety, Starling Bank is a fully licensed UK bank. This means that customer deposits are insured up to £85,000 per customer via the Financial Services Compensation Scheme (FSCS).
In early 2021 – Starling Bank was rated the safest bank in the UK. This was above all other banks, ranking not only above new smartphone based competitors, but also above the traditional big 4 banks – Lloyds, Barclays, HSBC and Natwest.
Starling Kite Alternatives
There are now several alternatives for parents who wish to get their child into banking early. Gohenry is a popular choice, a dedicated app and debit card that focuses on financial education. Other large digital banks such as Revolut and Monzo also have dedicated accounts for the under 18s.
---
Starling Kite FAQ
Is Starling Kite any good?
Starling Kite has received many plaudits due to the ease of use and low cost. Parents especially like to be able to manage pocket money via their app rather than in cash.
Is Starling Kite free?
Yes! Starling Kite removed the £2 per month fee in late 2023. Sign up now.
Can you use Starling Kite abroad?
Yes, it is possible to make debit card payments and ATM withdrawals abroad, and as with the main Starling Bank card, these transactions. It is possible, however, for parents who manage the account to limit the different types of transactions a child makes with their card.
---
Starling Kite Verdict
Starling Bank customers love the simplicity and low cost banking features that Starling Bank offers, and with Starling Kite it is more of the same. It is very simple to use, with transparent fees, and a range of safety features that allow a parent to have full visibility of their dependent's spending activity. The only potential downside is that to use the app for a child, the parent will need to have their own Starling Bank account.
Articles on the wiseabout.money website may contain affiliate links. If you click these links, we may receive compensation. This has no impact on our editorial and any money earned helps us to continue to provide the useful information on our site.