About Revolut
'One app, all things money' is Revolut's slogan, and reflects their desire to become a fintech 'super app' that users can use for many of their financial needs. Their approach seems to be paying off, as they have amassed millions of customers, and now have a valuation of tens of billions of dollars. Even though they offer several different elements to their app, the core is still the current account and debit card.
About Wise
Wise started life as Transferwise, before rebranding as Wise. This reflects their core focus which is providing cheap and quick currency transfers. However, they also offer a multi-currency current account with a debit card, so they could potentially be a good choice as a digital provider of these services for some people.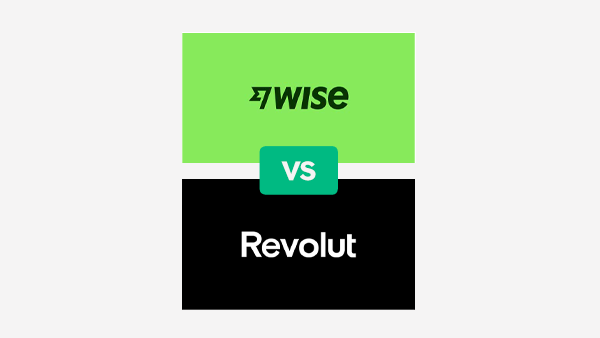 ---
Table of Contents
---
Wise vs Revolut – Plans, Costs & Fees
Wise
The Wise current account is free, with no monthly fees, but there are costs for some actions within the account:
To Order a new debit card: £5.00 GBP
ATM Withdrawals over £200 per month – 1.75%
Over 2 ATM withdrawals per month – £0.50 per withdrawal.
There are also set fees for converting between currencies.
Wise currency transfer fees are generally far lower than doing transfers via traditional banks.
Revolut
With Revolut you can choose from 4 different tiers:
Revolut Standard – No charge
Revolut Plus – £2.99 per month
Revolut Premium – £6.99 per month
Revolut Metal – £12.99 per month
The basic current account functions are available on the Standard tier, with extra features in the paid tiers.
The amount of fee-free ATM withdrawals you can make depend on the tier you are subscribed to. On the Standard tier, you can withdraw up to £200 monthly, with a charge of 2% if you exceed that (minimum charge £1).
It is not possible to deposit cash into your Revolut account.
Verdict
The Wise account is free, and Revolut do have most current account functions available on the free version of their account. Revolut do have a lot more features and extras available on their subscription tiers, but of course you would need to pay a monthly fee to access them.
---
Wise vs Revolut – Features
Wise
Multi-currency current account – for all current account holders
Local Bank details – in 10 different currencies
Hold and convert – in over 53 currencies
Mastercard debit card – can be used worldwide
Cheap and quick currency transfers – often instant, and a fraction of the cost of traditional banks
Wise Jars – to assist with your money management
Invest with Wise – hold your money in stocks in your savings Jar
Excellent customer services – in multiple languages
Free ATM withdrawals – up to £200 per month
Easy account setup – be up and running in minutes
Revolut
Easy to use smartphone app – bank wherever you are, around the clock.
Spending Analytics – get insights into your finances
Pockets – categorise your spending with Pockets
Vaults – set up within your account to save
Instant Notifications – see any account activity instantly
Set budgets – create monthly budgets for spending categories
Earn interest on savings – on money within your dedicated Savings Vault – interest rate depends on which tier you are on
Mastercard Debit Card – with contactless and enabled for Apple Pay/Google Pay
Metal Debit Card – available on Revolut Metal only
Round Up payments – round payments up to the nearest pound and save the difference
Investments – invest in stocks and more
Insurances – available on higher paid monthly tiers
Low cost currency transfers – at real exchange rate
Quick and easy account set up – no fuss quick account opening
Fee-free ATM withdrawals – up to a certain limit on each account tier
Purchase Protection – available on higher paid tiers
Verdict
It is very hard for any provider to compete with Revolut in regard to features, as they pack so many into their product. However, Revolut are very much a generalist, giving users many options to try out many different things. In contrast, Wise are very much a specialist – focusing on multi-currencies and foreign exchange. Therefore, if you require a more general app, then the feature-set with Revolut is hard to beat, but if you need a more focused product in their key area, then Wise would edge out Revolut.
---
Wise vs Revolut – Debit Cards
Wise
The Wise Visa debit card is bright green, and contactless enabled. Users can use the card with Apple Pay and Google Pay.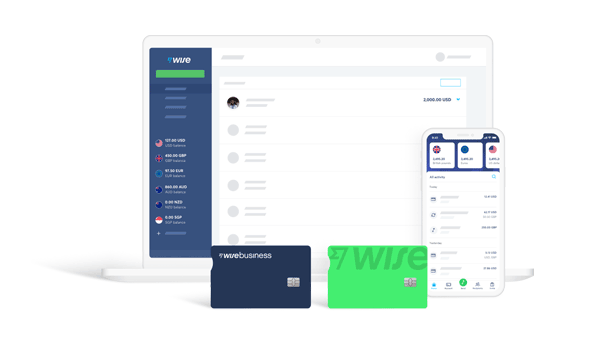 Revolut
Revolut offer a Mastercard debit card in a range of colours, and a metal card, with a choice of 4 colours, is available to Revolut Metal subscribers only. The card can be used contactless and is enabled for Apple Pay and Google Pay.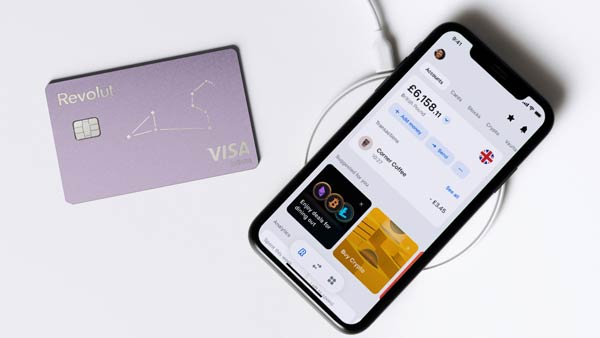 ---
Wise vs Revolut – Safety
Wise
Wise is not a licensed UK bank. They are regulated by the Financial Conduct Authority in the UK, but customer deposits are not covered under the Financial Services Compensation scheme (FSCS). However, Wise state that they do safeguard customer funds, by keeping them completely separate from their business funds.
Wise vs Revolut – Business Banking
Wise
Wise offer a business version of their multi-currency account:
Multi-currency business bank account
Pay and receive funds in multiple currencies
Local bank details in 10 currencies
Staff and accountant access to Wise account
Expenses tracking
Revolut
Revolut offer 3 tiers of business accounts, Free, Grow, and Scale. Features include:
Borderless business account – Receive, hold money and pay in over 30 currencies. Currency transfers done at real exchange rate.
Virtual credit cards – create virtual cards to give to staff so they can easily control spending
Mobile & Desktop – access your account via Revolut website on your computer
External App integrations – with the Revolut business API, connect to accounting packages like Xero, Quickbooks and Clearbooks, or business apps such as Slack and Zapier.
Read our full Revolut Business Review
Wise vs Revolut – Travelling
Wise
The Wise product is based around cheap and easy transfers between currencies. Really that is their main product, with the current account and debit card as an extra to those functions.
Multi-currency bank account
Local bank details in 10 currencies
Hold over 50 currencies in your account
Transfers between currencies are incredibly quick and costs a fraction of a high street bank.
Revolut
Paying with your debit card whilst abroad is free.
On every tier, the account holder gets a Euro account (with IBAN) as well as the main GBP account.
Currency Exchange – customers can transfer between 28+ currencies within the app at real exchange rate. If on the Free or Plus account, you can transfer up to £1000 per month fee-free. Above that amount, a charge of 0.4% of the amount converted is charged. Premium or Metal tier customers have unlimited fee-free transfers.
ATM withdrawals – customers can withdraw £200/month on the Free & Plus plans, £400/month on the Premium plan and £800/month on the Metal plan. Above these limits a charge of 2% is charged.
Verdict
Compared to most other current account providers, Revolut's suite of products for travellers and foreign currencies cannot be beaten. However, with Wise they have more than met their match, as Wise provide a variety of products, from their multi-currency account to their competitively priced and quick currency transfers, that give the widest possible support to anyone who wants to use multiple currencies.
Wise vs Revolut – Child accounts
Generally with digital current account providers, customers have to be over 18 to open an account, but some providers do have accounts for those under 18.
Revolut for under 18s
Revolut's <18s product is linked to the account of an adult Revolut user, and can be opened for someone between the ages of 6 and 17. Full Revolut users can add one <18 account for free on the free account, two <18 accounts on the Plus and Premium tiers and five on the Metal tier.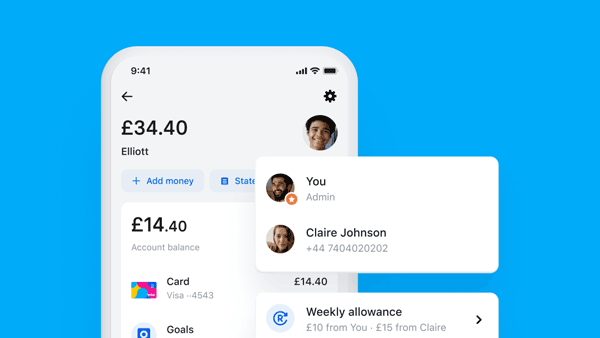 Wise
Wise do not have any provision for customers under 18 years old at this time.
Wise vs Revolut – Mobile App
Revolut's app has many features included within it, but at the core, the current account functionality is easy to navigate and use.
Wise have a mobile app that contains most of the features available. However, with some features you would need to access your account via a computer.
Wise vs Revolut – Extras
Revolut
With Revolut, extras are in some ways what their business model is based on, as they want to pack as many different things into their app as possible. However, be prepared to pay for a monthly subscription to access most of the extras.
Hold & Exchange 28+ Currencies within your account, and transfer between them at real exchange rate.
Free EUR Account with IBAN for every customer across every account tier.
Insurances – Travel insurance and purchase protection at various levels via the paid tiers.
Metal Debit Card – Available to all customers on the Metal tier.
Wise
In many ways, the extras that Wise offer are the things that are core for Revolut. At its heart Wise is a currency transfer company, and one of the things that differentiates them from other currency transfer providers is their multi-currency bank account and debit card, which brings them into competition with digital app-based current account providers like Revolut.
Verdict
It is very hard to compete with Revolut due to the sheet breadth of different extra features they offer. However, Wise is a very unique product that is both a digital current account provider, so it is definitely possible that their extra features would prove more attractive to some users.
Revolut vs Wise – FAQ
Does Wise work with Revolut?
Wise does work as a foreign exchange partner with Monzo, giving Monzo customers the possibility to do currency transfers with Wise. However, Wise do not work with Revolut, as Revolut have their own extensive currency transfer functions.
Is Wise safe?
Wise is a UK company and they are regulated by the Financial Conduct Authority (FCA). However, they are not a licensed UK bank, so customer deposits are not protected under the Financial Services Compensation Scheme (FSCS). However, Wise state that they safeguard all customer funds by completely separating them from all company funds.
Who are the competitors of Revolut?
Within the digital current account space there are several other providers who could be alternatives to Revolut, and all of them have their benefits. Starling Bank and Monzo are both licensed UK banks, and provide a good all around service. Cashplus Bank has features that suit those who have had financial issues in the past, and Monese is good for new arrivals to the UK.
---
Wise vs Revolut – Verdict
Revolut and Wise are two big success stories from the fintech revolution of the last few years. They have built up their products and customer base from a very different direction, but now have products that do compete in several areas. Out of all of the digital current account providers, they are the ones that give by far the best support for travellers, expats and digital nomads with their support for different currencies. On that basis alone, Wise have the better functionality. However, Revolut is much more than that, and has a generally far wider feature-set that will probably function better as a day to day current account provider than Wise.
Articles on the wiseabout.money website may contain affiliate links. If you click these links, we may receive compensation. This has no impact on our editorial and any money earned helps us to continue to provide the useful information on our site. This article is for general information purposes only and does not constitute financial advice. If you have any questions about your personal circumstances please seek professional and independent advice.