About Cashplus Business
The Cashplus business account is a digital, app-based business current account, that focuses on sole traders and small to medium sized businesses. They have a variety of features aimed at businesses who may have had money or credit issues.
About Tide Business
Also a digital focused business bank, Tide differ from their many competitors in the business banking space by not offering a personal account. They focus solely on offering their business account.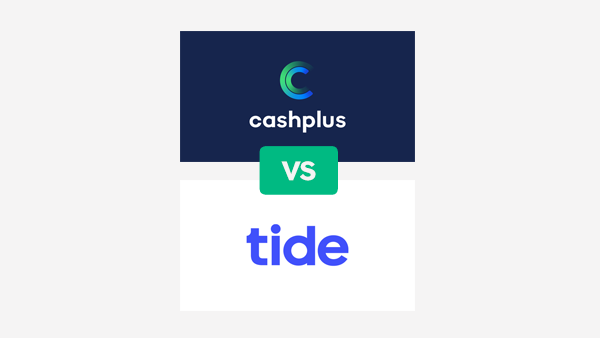 ---
Table of Contents
---
Cashplus Business vs Tide Business – At a Glance
| | | |
| --- | --- | --- |
| | Cashplus Business | Tide |
| Costs | Business Go – Free, Business Go – £9 per month | Free, Plus £9.99/month, Cashback £49.99/month |
| Fees for Transfers | Yes – £0.30 local | Yes – £0.20 local, international not supported |
| ATM – Local | £2 Business Go, £1 Business Extra | £1 per withdrawal |
| ATM – International | £3 per withdrawal | £1 per withdrawal |
| Cash Deposits | Yes via Post Office – 0.5% fee | Yes, PayPoint & PO, limits and fees apply |
| Cheque Deposits | Not supported | Not supported |
| FSCS Protection | Yes | Yes, via Clearbank |
| Currency Transfers | 2.99% | International payments difficult |
| Accounting App Integration | Yes | Yes |
| Invoicing | Not supported | Yes |
| Money Management | Yes | Yes |
---
Cashplus Business vs Tide Business – Plans, Costs & Fees
Cashplus Bank Business
Cashplus Business has two tiers:
Business Go – has no monthly subscription fee
Business Extra – costs £9 per month.
Other costs include:
Payments – Cashplus charge a flat fee of £0.30 per payment sent. On the Business Go tier, you get 3 free payments per month. On Business Extra, you get 10 free payments.
Debit card – £9.95 on Business Go, free on Business Extra. Additional cards are £5.95 on both tiers
ATM Withdrawals – £2 per withdrawal on Business Go. £1 per withdrawal on Business Extra. ATM withdrawals abroad at £3 on both tiers
Cash Deposits – 0.5% of the amount deposited with a minimum of £3
Currency Transfer – 2.99% on both tiers
International inbound payments – £15 on both tiers
Tide Business
Tide have 3 account tiers:
Free
Tide Plus – £9.99 (plus VAT) monthly
Tide Cashback – £49.99 (plus VAT) monthly
Tide also charge fees for various account functions:
Debit card payments – free across all tiers.
ATM Withdrawals – all account tiers – £1 per withdrawal.
Transfers into or out of your account – charged at £0.20 per transfer. The paid tiers give free allowances: Tide Plus gives 20 free transfers each month, and Tide Cashback, 150 free transfers.
Cash Deposits – Deposit cash via the Post Office into your account at £1 per deposit. Alternatively use PayPoint locations, which is charged at 3% of the amount deposited.
Verdict
Some digital business banks charge for payment into and out of your account, whilst some don't. Both Cashplus and Tide do – with Cashplus charging £0.30 and Tide £0.20 per payment. There are a few other slight differences, with Cashplus generally being slightly more expensive to use than Tide.
---
Cashplus Business vs Tide Business – Features
Cashplus Business
Connect to your account software via the app – Xero, Quickbooks and more supported.
Expenses – Scan your receipts directly into the app.
Debit cards – up to 20 debit cards for staff per account.
Overdraft – up to £2000 available to eligible customers.
Cash Advance – available for eligible customers.
USD and EUR Debit cards – travel cards available.
Business Creditbuilder – businesses with poor or no credit history can use Creditbuilder to improve their rating.
Tide Business
Accounting software integrations – Automatically connect your accounting software to your Tide account. Many packages are supported, including Sage, Xero and Quickbooks.
Desktop Access – use your account from a computer as well as the smartphone app.
Invoice Management – With the invoice assistance tool, you can use the Tide app to chase outstanding invoices automatically.
Expenses – automatically match receipts to your bank statements by uploading the images.
Instant Notifications – keep informed of account activity in real time.
Staff Expense Debit Cards – get 1 free card on the Plus tier, and 3 free cards on the Cashback tier. On the free account cards cost £5.
Tide business formation service – If you have not incorporated your company yet, then Tide will do it for you, and integrate it with your Tide account.
Verdict
Tide have generally more features that can be useful for day-to-day business, such as invoicing via the app. However, Cashplus have many features that would be very useful for certain types of businesses, such as their Creditbuilder, cash advance and overdraft. Really which is best for you would depend on the requirements of your business.
---
Cashplus Business vs Tide Business – Safety
Cashplus Business
As a fully licensed UK bank, Cashplus are regulated by the Financial Conduct Authority (FCA). This means that they have the same level of protection and regulation of any UK bank, and customer deposits are protected under the Financial Services Compensation Scheme (FSCS) up to £85,000 per customer.
Unlike some other fintech startup digital banks, Cashplus are a profitable company, who claim to have been profitable for over 8 years.
Tide Business
Tide do not themselves have a UK banking license, so prior to 2020, account holders were not protected under the FSCS. However, in 2020, Tide started working with Clearbank, who are a fully licensed UK bank. All new customers signing up with Tide are automatically set up with an account where the funds are held with Clearbank, so FSCS protection applies. Older accounts are being migrated to Clearbank held accounts over time.
Verdict
Both providers have FSCS protection and FCA regulation, and thus users should be assured that their money is safe with both Cashplus and Tide.
Cashplus Business vs Tide Business – International
Cashplus Bank
Cashplus charge £15 for any incoming international payment. They charge currency transfers at 2.99% of the amount transferred.
Tide Business
At the moment it is not possible to make or receive international payments for new customers. Further information about international payments can be found on the Tide website.
Cashplus Business vs Tide Business– FAQ
Who is the competitor of Tide?
The digital business banking space is a crowded one with many other providers out there offering products with a variety of different features. Check out our Best Business Bank Account UK article to help you navigate the options.
Is Tide bank international?
Tide is a UK company, and currently only offers accounts to UK businesses.
What is the alternative for Cashplus?
Aside from Tide, there are several options for businesses looking for a digital bank, such as Starling Bank, Monzo, Revolut and more.
Cashplus Business vs Tide Business – Verdict
At first glance the two products are quite similar, with a similar pricing for things like payments, ATM withdrawals and more. Upon closer inspection, Tide has many features that will really help a business operate seamlessly day-to-day. Cashplus also have some useful features of the same type, but maybe not as many. However, Cashplus excels for a business that may need some assistance with things such as credit ratings, overdrafts and cashflow.
Articles on the wiseabout.money website may contain affiliate links. If you click these links, we may receive compensation. This has no impact on our editorial and any money earned helps us to continue to provide the useful information on our site.