Finance is a crucial element of modern life, and the UK consumer has benefited over the last few years from the launch of many helpful and innovative Fintech companies that are designed to make our financial lives easier. Much of this has been driven by things like Open Banking, which has unlocked finance for millions of people.
Here we have collated a variety of UK finance statistics that show the impact banks and Fintech has on people's lives.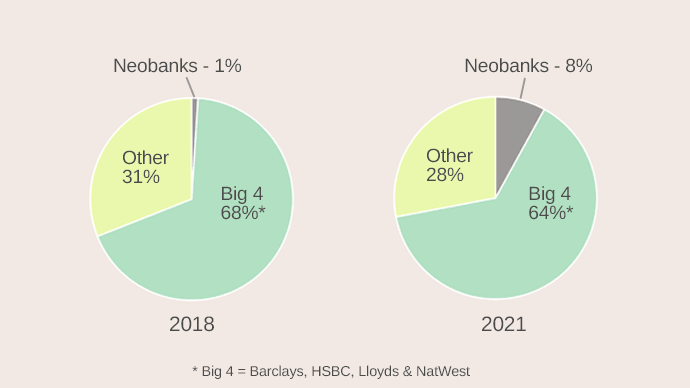 How many people in the UK have a bank account?
As of 2018, over 2 million people, or 4% of the eligible population, do not have a bank account. This has risen significantly since 2014, when it was only 1%. The 2018 figure rises to 6% amongst the unemployed.
How many people do their banking online?
In 2020, 76% of people in the UK went online to perform banking and financial functions.
How many people use their mobile phone for banking?
In 2021, 65% of people in the UK used their smartphone for banking. This increased by 6% from 2020.
How many people use Fintech services?
17% of consumers in the UK used a Fintech product in 2021. This showed a massive increase from just 6% in 2020, showing that Fintech is going mainstream.
What % of people use a digital bank?
In 2018, only 1% of current account holders held an account with a digital Neobank, whilst the 'big 4' banks (Barclays, Lloyds, Natwest and HSBC) held a massive 68% of accounts. By 2021 however, the Fintech banks had increased their share to 8%, whilst the big 4 had dropped to 64% (see chart). The trends look set to continue, causing a massive disruption of the banking marketplace, which can only be good news for the UK consumer.
35% of bank customers in the UK have had their account for over 20 years
The big banks have been lucky with customers staying put. In 2020, 35% have had the same current account for over 20 years, and a further 24% have had the account for between 10 and 20 years. Things appear to be changing however, with 13% of users planning to change their bank in the next 12 months – many of whom will move to a new Fintech bank.
How many customers do digital banks have?
In early 2021, Monzo claimed to have reached 5 million customers.
Also in 2021, Starling Bank stated they had hit the 2.5 million customer mark.
Tide, a business only Neobank, claimed 330,000 businesses had opened accounts with them by early 2021.
Revolut claims 5 million customers, however, this includes customers from the other territories they operate in in Europe and North America, whereas Monzo, Starling and Tide are only available within the UK.
What is the largest UK Fintech company?
Revolut is leading the way for UK Fintechs, with over 5 million customers, and, after a series of recent investments, a theoretical valuation of $30 billion.
Fintech banking is a fast growing sector:
Fintech neobanks are expected to generate over three quarters of a billion dollars in revenue in 2022, and this number is expected to grow by a further 40% in 2023.
What percentage of people use pay with phone services such as Apple Pay?
Over 10 million people were regularly using mobile phones for payment by the end of 2021, a figure that was accelerated by the Coronavirus pandemic.
Contactless payments are way more popular with Britons than cash:
A mere 22% of people in the UK prefer to use cash for payments, whilst a whopping 71% use contactless payments whenever they can.
The UK is the European Open Banking Leader:
The United Kingdom leads the world in Open Banking, with over 200 licenced financial providers using the Open Banking framework. No other country within Europe has more than 40.
Open Banking Usage has exploded:
The amount of payments made via Open Banking in the UK has increased from 320,000 in 2018, to over 4 million in 2020.
The number of users of Open Banking services doubled from 1 million in January 2020 to 2 million in August 2020, and has been increasing by 1 million users every 6 months since then.
Britons have a lot of debt:
The average household in the UK had over £63,000 in debt at the end of 2021. Overall, UK residents had over £1.765 billion in debt.
Money can be a worry for some:
22% of UK residents say that they have lost sleep worrying about money in the last year.
Sources: