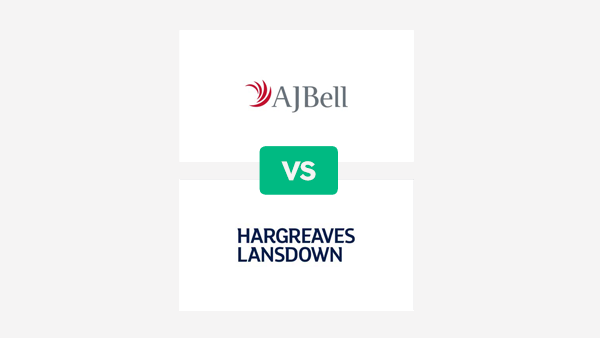 ---
Table of Contents
---
AJ Bell vs Hargreaves Lansdown – At a Glance
| | | |
| --- | --- | --- |
| | AJ Bell | Hargreaves Lansdown |
| Platform Type | Execution Only | Execution Only |
| Minimum Investment | SIPP – £1000 or £25 monthly | £1 – Fund and Share account |
| | ISA – £500 or £25 monthly | £100 – ISA |
| | Dealing Account – £500 | £1000 – HL Portfolio + |
| Products | Dealing Account | Fund and Share Account |
| | Stocks and Shares ISA | Stocks and Shares ISA |
| | Cash ISA | Cash ISA |
| | Lifetime ISA | Lifetime ISA |
| | Cash Savings | Active Savings |
| | Personal Pension (SIPP) | Personal Pension (SIPP) |
| Fees | Shares & ETFS – 0.25% | 0.1% to 0.45% annual fee |
| | Funds 0.25% up to £250k | From £5.95 to £11.95 per trade |
| | From £4.95 to £9.95 per trade | |
About AJ Bell
Previously known as AJ Bell Youinvest, AJ Bell are one of the biggest UK investment platforms, with close to 500,000 customers holding assets worth £73 billion with them. They have a full range of investment products, and pride themselves on the massive number of assets they have available to trade.
About Hargreaves Lansdown
The largest investment platform in the UK by customer assets, Hargreaves Lansdown have been around for 40+ years, and hold over £120 billion in assets for investors on their platform. Like AJ Bell, they are an execution-only platform. They provide a huge amount of resources for learning more about investing, and have a wide variety of guide portfolios.
What is an execution-only platform?
An execution-only platform allows customers to make trades themselves using their system, and does not provide financial advice. They only provide the 'execution' of the trade.
---
AJ Bell vs Hargreaves Lansdown – Plans, Costs & Fees
AJ Bell
The fees on AJ Bell are made up to two main elements:
1)A percentage of the total investment you hold with them, calculated annually:
| | | |
| --- | --- | --- |
| | ISA & Dealing Account | SIPP |
| Shares & ETFS | 0.25% (up to £3.50 per month) | 0.25% (up to £10.00 per month) |
| Funds | 0.25% for amounts from £0 to £250,000, 0.10% for amounts from £250,000 to £500,000, and free for amounts above £500,000 | 0.25% for amounts from £0 to £250,000, 0.10% for amounts from £250,000 to £500,000, and free for amounts above £500,000 |
2)Charges per trade (when you buy or sell an asset):
| | |
| --- | --- |
| | ISA, SIPP & Dealing Account |
| Shares (incl. ETFs) | £9.95 per trade |
| Shares (incl. ETFs when 10 trades + in previous month) | £4.95 |
| Funds | £1.50 per trade |
More about the charges on AJ Bell's website.
Hargreaves Lansdown
As a traditional execution-only trading platform, Hargreaves Lansdown charges come in two types, and depend on whether you are holding shares or funds in your account:
Annual Account Charges
Within a shares and dealing account, there is no annual charge for holding shares (including ETFs) in your account. For funds, the charge is 0.45% up to £250,000 held, 0.25% from the £250,000 to £500,000, 0.1% from £1 million to £2 million and 0% above £2 million.
For ISA and SIPP, the charges are:
| | |
| --- | --- |
| Value of Funds | Charge |
| Up to £250,000 | 0.45% |
| Between £250,000 and £1 million | 0.25% |
| Between £1 million and £2 million | 0.1% |
| Over £2 million | Free |
Trading Charges:
There are no trading charges for funds. However trading shares (including ETFs and some other types) is charged at:
| | |
| --- | --- |
| Amount of deals in previous months | Charge per deal |
| 0 to 9 | £11.95 |
| 10 to 19 | £8.95 |
| Over 20 | £5.95 |
In addition, if shares from overseas i.e. non UK, are traded, Hargreaves Lansdown will add a foreign exchange charge, which depends on the deal size.
Customers can open a fund and share account with only £1. The minimum to start an ISA is £100.
Verdict
AJ Bell has consistently lower costs than Hargreaves Lansdown, especially when you are investing within an ISA or SIPP. The platform fee is 0.25% on AJ Bell, compared to 0.45% on Hargreaves Lansdown. The trading fees trading fees are also lower, with AH Bell ranging from £4.95 to £9.95 (depending on volume of trades), whilst Hargreaves Lansdown ranges from £5.95 to £11.95. Therefore, it will tend to be cheaper to use AJ Bell, especially as the investment increases in size.
---
AJ Bell vs Hargreaves Lansdown – Features
AJ Bell
AJ Bell give the customer a variety of options for products and tax efficient 'wrappers' that they can use to hold their investments, such as:
Stocks and shares ISA
Self-Invested Personal Pension (SIPP)
Lifetime ISA
Junior ISA
Dealing Account
Cash Savings
AJ Bell is an execution-only platform, so does not offer financial advice. However, they still have wide range of information about assets to buy, which can guide customers. These include:
AJ Bell Funds
AJ Bell Responsible Growth Fund
AJ Bell Ready-Made Portfolios
AJ Bell Favourite Funds
Hargreaves Lansdown
Hargreaves Lansdown offer the following range of different products that you can use for your investment:
Fund and Share Account
Stocks and Shares ISA
Cash ISA
Lifetime ISA
Active Savings
Personal Pension (SIPP)
Hargreaves Lansdown also provide a wide range of information and advice on investment to help you make the best choices for you.
In addition, Hargreaves Lansdown have:
Very wide range of assets to invest in
Extensive investment information and education
Lower costs for larger investments & higher trading levels
Verdict
The range of products available is pretty much identical, and both platforms offer a range of guide portfolios and resources to help you make investment decisions.
---
AJ Bell vs Hargreaves Lansdown – Safety
Both platforms offer the opportunity to invest and trade assets, and any investment has risk. The value of your investment can go down and you can even potentially lose all of your investment.
AJ Bell
As a UK investment company, AJ Bell are regulated by the Financial Conduct Authority (FCA). Customers are therefore protected in case of the company failing in the following ways:
Financial Services Compensation Scheme (FSCS) protection of up to £85,000 per customer.
Assets held by customers in ISAs, SIPP, or a dealing account are ring-fenced from AJ Bell assets, so in the event of the company failing, the assets are protected.
Hargreaves Lansdown
Hargreaves Lansdown are also fully regulated in the UK and have all of the same protections as AJ Bell.
Verdict
Both platforms are execution-only, which means they do not explicitly offer investment advice. This means that the investor has to make their own decisions, and it is their responsibility to diversify their investments to avoid losses. Both platforms do have guide portfolios and investment resources, which can be helpful.
AJ Bell vs Hargreaves Lansdown – Extras
AJ Bell
Aside from their trading platform, AJ Bell have a variety of guide portfolios and funds that are designed to assist investors in making wise and profitable investment decisions.
Hargreaves Lansdown
Customers of Hargreaves Lansdown extensively use the guides, best buy portfolios and investment resources that Hargreaves Lansdown offer.
Verdict
As execution-only platforms, AJ Bell and Hargreaves Lansdown do not offer investment advice as such. However, they both have a wide variety of education tools and guides that will help investors.
---
AJ Bell vs Hargreaves Lansdown – FAQ
Is AJ Bell a good pension provider?
The AJ Bell SIPP product has low fees in comparison to other providers. As an execution-only investment platform, investors must decide on the investment and make their own trades. For those who want an investment plan designed for them, it would be better to consider a robo-advisor such as Nutmeg or Wealthify.
Is Hargreaves Lansdown trustworthy?
Hargreaves Lansdown is a fully regulated UK investment company, and has a huge number of customers. Despite some controversies they continue to drive growth in wealth for millions of customers.
Is Hargreaves Lansdown too expensive?
Hargreaves Lansdown does have higher fees than some other comparable investment platforms, for example, AJ Bell, as we have detailed in this article. For a full run down of all of the cost for different investment platforms – read our Best Investment Apps UK article.
What is the minimum deposit for AJ Bell?
The minimum deposit depends on the investment product you are using. For a dealing account, the minimum deposit is £500. For an ISA, it is £500 or £25 per month. For a SIPP, it is £1000 or £25 per month.
Verdict
Hargreaves Lansdown is the biggest investment platform by assets in the UK, and this is largely because their platform and systems are very good. The AJ Bell platform is maybe not as slick and easy to use. However, they do have a distinct advantage on price, with both lower platform fees and lower fees for individual trades.
Articles on the wiseabout.money website may contain affiliate links. If you click these links, we may receive compensation. This has no impact on our editorial and any money earned helps us to continue to provide the useful information on our site.