Consumers in the UK (and in the rest of the world) are now spoilt for choice for financial products. Fintech has become a buzzword as more and more investment money has flowed into the sector, and hundreds of new, innovative financial technology products have come on to the market.
Many of these, such as Monzo or Starling, have entered the banking space, and there seem to be an endless supply of new budgeting apps appearing, such as Emma, Snoop, and Money Dashboard.
However, none of the above help you to save and grow your wealth. That's where apps like Moneybox and Chip come in. They use Open Banking to connect to your bank account, then calculate an amount that you can afford to save, and then move it into their platform. Once there, they have a variety of saving and investment options available.
Chip – In Brief
Chip launched in 2016. In 2021, they claimed that they had over 400,000 active users, a number that had increased by more than 60% in 2021 alone.
Moneybox – In Brief
Moneybox formed in 2015, and as of 2021 claim over 700,000 people are using their app, with over £1 billion in managed funds.
---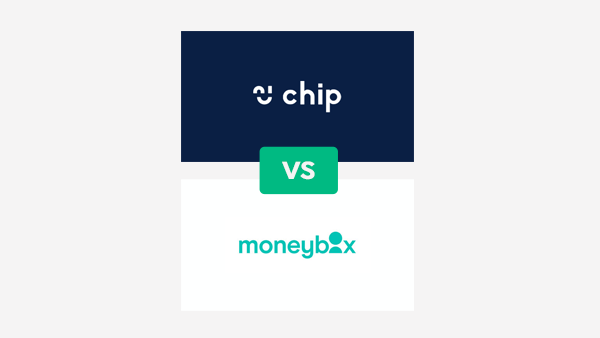 ---
Contents
---
Moneybox vs Chip – Best for Plans, Costs & Fees
Subscription Fees
Chip have 2 levels: Chip, which has no cost, and ChipX, which costs £3.00 every 28 days.
Moneybox don't have any subscription fees as such, however, if you wish to invest, you will have to pay a £1 per month fee.
Platform and Fund Fees
Chip have a platform fee for investments, the level of which depends on which subscription level you have:
Chip Free – 0.50% of the amount invested per year, with a minimum of £1 per month.
ChipX – 0.25% annually, with no monthly minimum.
In addition to the platform fee, you will need to pay a fund provider fee for each fund you invest in. The percentage depends on the fund. For example, the Blackrock Balanced Consensus Fund is charged at 0.22% of the amount held in the fund per year, whilst the Blackrock Emerging Markets Fund is charged at 0.97%. You can find more details on the fees here.
As mentioned above, Moneybox users need to pay £1 per month to be able to invest. They will then charge a platform fee of 0.45% of the amount invested annually. Customers would then need to pay a fund provider fee, and these range from 0.12% to 0.58% depending which fund you are invested in.
Verdict
The basic version of Chip is free, as is Moneybox. However, to invest with Moneybox, you will need to pay £1 per month. With Chip, you can invest using the free version of the app. However, you will pay a higher platform fee of 0.25%, compared to the 0.50% you will pay if you subscribe to ChipX at £3 per month.
With the platform fees, if we compare Moneybox with ChipX – the ChipX platform fee is 0.25%, against Moneybox at 0.45%.
However, the range of rates for the fund providers on Moneybox, at 0.12% to 0.58%, is generally lower than on Chip, which ranges from around 0.2% to 0.97%.
---
Moneybox vs Chip – Best for Features
Budgeting – Moneybox
Round-Ups – Moneybox rounds-up all of the payments into your account to the nearest pound, and puts them towards your savings.
Other Deposit Options – Choose to make weekly, monthly or one-off deposits into Moneybox
Pensions – Track down and then combine all of your existing pensions, then invest them with Moneybox.
Open savings and investments accounts with just £1.
A wide variety of investment fund options
Earn interest on your savings
Mortgage Advice – access information on mortgages via the app.
Budgeting – Chip
The standard Chip features available on both tiers are:
Automated saving via the Chip AI
Pay Day Put Away – set the monthly amount to be saved
Use the Chip savings accounts
Set savings goals
Invest with the Chip General Investment Account (GIA)
Access 3 basic investment funds
These features are only available on the paid version of Chip – ChipX:
Reduced cost annual platform fee for investing of 0.25%, compared to 0.50% on Chip standard.
Access to the Chip stocks and shares ISA.
Access to ethical, clean energy and emerging markets funds.
Access to actively managed funds, and innovative funds such as cryptocurrency.
Savings – Moneybox
Moneybox have 5 different savings accounts:
Simple Saver:  pays 3% AER interest, one withdrawal per month, anytime
32 Day Saver: pays $% AER variable interest, funds can be withdrawn after 32 days.
45 Day Saver: pays 4.34% AER variable interest, funds can be withdrawn after 45 days.
95 Day Saver: pays 4.5% AER variable interest, funds can be withdrawn after 90 days.
120 Day Saver: pays 4.6% AER variable, funds can be withdrawn after 120 days. However, this account is currently not available to new customers.
Savings – Chip
Chip's savings account is provided by ClearBank and is called Easy Access. As of June 2023, the annual interest rate is 4.84% AER variable on savings up to £250,000. The interest is paid monthly.
Investments
Chip offer various different investment funds, managed by third parties such as Blackrock.
With the free version of the Chip app, you will only be able to invest via their general investment fund. On the paid ChipX you have access to a far wider selection of funds, with varying risk and return levels.
Moneybox investment funds are divided into different risk levels – Cautious, Balanced and Adventurous. They advise how what proportion of your money should go in each one. You can customize it, but they advise to follow their advice for best performance.
You can see the performance of Moneybox funds here.
Verdict
In general, the features of the 2 apps are very similar. You can get slightly more interest on your savings if you are willing to tie up your funds for a few months with Moneybox. With investing, it is really likely to come down to which funds you would like to put your money into.
Moneybox vs Chip – Best for Safety and Security
Data Security
Both Moneybox and Chip use Open Banking, which is very safe and secure. The apps will never have your login details or access to your passwords, and will only have read-only access to your transaction data.
FSCS
Moneybox and Chip are not licensed banks. However, the savings and investment accounts they provide are supplied by institutions that are, so all deposits are covered under the Financial Services Compensation Scheme up to £85,000 per customer.
---
Moneybox vs Chip – Conclusions
Chip and Moneybox have turned out to be very similar apps, with a similar pricing structure and feature-set. To decide which one would be right for you, it may be best to download the app to see if you like the way it works, and to see which investment funds they have and if they fit your requirements.
Articles on the wiseabout.money website may contain affiliate links. If you click these links, we may receive compensation. This has no impact on our editorial and any money earned helps us to continue to provide the useful information on our site.