Wealthyhood – In Brief
Investment platform newcomer Wealthyhood have created a product that combines guided investment with the ability to create a portfolio your way. Aimed at beginner investors, they look to keep things simple and low cost, with unlimited commission free investing.
Get a free share worth up to £200 with Wealthyhood
Wealthyhood have an offer where new users can get a free ETF share worth up to £200. Click here to find out more. Terms and conditions apply.
---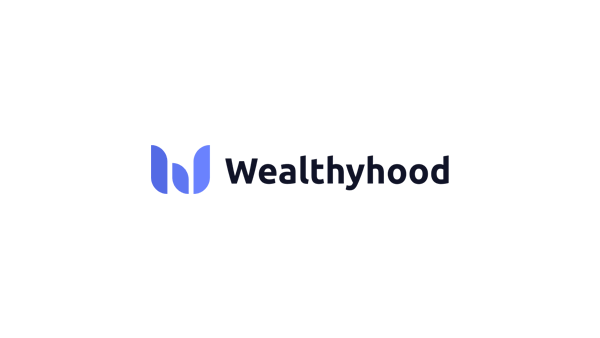 ---
Table Of Contents
---
Wealthyhood Pros & Cons
Pros:
Commission free investing
Guided process for building a portfolio
A clever combination of guided and DIY investing
Cons:
For beginner investors, the portfolio setup process may be unclear in places
Small selection of assets available compared to some competitors
No stocks & shares ISA (although they say is coming soon)
No pension/SIPP
---
What is Wealthyhood?
Wealthyhood is a recent entrant into the increasingly crowded investment platform market. Launched in 2021, by late 2022, the company had attracted over 900 million euros of investment capital.
With investment platforms, they will generally fall within 2 types. Firstly, platforms that have ready made portfolios that you can invest in. Notable examples of these include robo advisors such as Nutmeg and Moneyfarm, and automatic saving and investment app like Chip and Moneybox.
Secondly, there are investment apps that allow you to make your own investment decisions and do trades yourself to build a bespoke investment portfolio. Large execution-only platforms such as Hargreaves Lansdown and Interactive Investor operate like this, as do newer investment apps such as eToro and Trading 212.
Wealthyhood have built a product that aims to combine these 2 investment styles. They aim to be a DIY wealth building app, that allows beginners to create a portfolio that contains the assets that a customer wants, but is also diversified.
Wealthyhood Products & Features
Build your customised portfolio
With Wealthyhood, rather than either giving you a set portfolio to invest in, or just leaving you to your own devices to decide on which assets to buy, have tried to bridge the gap between these 2 methods.
When you open an account, you will then be taken through the portfolio creation process. This consists of a series of stages, where you choose the ETFs that will be part of your investment. The stages of this process are:
Choose your preferred asset classes – choose from a range of investment options – stocks, bonds, commodities and real estate
Choose the area your assets are held – either global, or USA only
Industry sector – choose which area to invest in, from a variety of different choices such as tech, energy, healthcare, industrial, consumer and more. You can choose as many of these as you like.
Add additional ETFs – at this stage you can ad any more specific ETFs that you would like to invest in.
Portfolio weighting – you can then either let Wealthyhood's systems set the weighting of your portfolio, or do it manually.
Once this is all done, you should have a portfolio that has a spread of assets that will give a high level of diversification.
What is diversification?
Diversification is an incredibly important concept within investing. The more diversified that your portfolio is, the less exposed to losses you are. For example, if your entire investment portfolio consists of shares of one company, then if that company share value goes down, then your entire portfolio goes down in value. Therefore, it is ideal to fill your portfolio not only with many different assets, but with assets that are completely unconnected. For example, if you have many USA based tech stocks, then it is best to buy something both from a different industry, and a different country, so if one industry or country has issues, only a fraction of your portfolio will be affected.
The Wealthhood approach is an innovative way for investors, especially beginners, to build a portfolio. However, it is likely that during this initial set up process, beginners will not really know what they are doing and will probably guess!
However, the portfolios are customisable, so it is possible to go back and change over time.
General investment account
Currently the only account offered by Wealthyhood is a general investment account (GIA). A GIA is used to invest in assets, and does not have any special tax status, unlike tax wrappers like individual savings accounts (ISA) and self invested personal pensions (SIPP).
Wealthyhood list a stocks and shares ISA as 'coming soon' on their website, so customer will likely soon be able to investment with a Wealthyhood ISA tax efficiently.
In the meantime, investors will be liable for capital gains tax and other taxes for gains made when selling assets within their Wealthyhood GIA.
Wealthyhood Virtual Portfolio
Wealthyhood provide a virtual portfolio, where you can 'buy' stocks, shares and ETFs with virtual funds and track their progress, with no risk of losses. This gives beginner investors a great opportunity to watch their investments and learn more, without risking their capital.
Portfolio Automation
Once your portfolio is set up, there are various ways you can then automate, such as portfolio rebalancing, monthly top-ups and auto-investing.
---
---
Wealthyhood Costs & Fees
The Wealthyhood costs and fees depend on which plan you choose. Currently they offer a free plan and a Plus plan, and they have a more expensive Pro plan that will be launching soon.
Free Plan
The free plan has no monthly fee, but you will incur the following charges:
0.35% currency conversion
0.45% per order/trade
0.18% annual custody fee. This is a fee that is charged monthly, and is a percentage of the total amount you have invested with Wealthyhood.
Plus Plan
The Plus plan has a monthly subscription fee of £2.99 per month. The remaining actions then incur the following costs:
0.35% currency conversion
No charge for orders/trades
No annual custody fee
Pro Plan
As of late 2023, the Pro plan has not yet launched, with the Wealthyhood website saying it is 'coming soon'. However, once launched, the cost details will be:
0.35% currency conversion
No charge for orders/trades
No annual custody fee
Across all plans, Wealthyhood has no charges for deposits or withdrawals.
As you can see, Wealthyhood are following a subscription model, where the more you pay monthly, the more you get free.
Wealthyhood Minimum Investment
The minimum investment on Wealthyhood is £20. This is higher than on some other apps, but still low enough for small investors to get started at a low cost.
Weathyhood Portfolios
Wealthyhood do not have set portfolios, but rather help the individual investor create their own diversified portfolio that is unique to them.
Wealthyhood Performance
Unlike some other investment apps that have set portfolios, and can display the performance of portfolios over time, Wealthyhood use their systems to create bespoke portfolios for each and every investor, so it is not possible to track the performance in the same way.
Is Wealthyhood Safe?
Wealthyhood are regulated as an investment firm by the Financial Conduct Authority (FCA). In addition, customer deposits are protected up to £85,000 per customer under the Financial Services Compensation Scheme (FSCS).
Finally, all customer deposits are held completely separately from Wealthyhood company money, so in the event of the firm going out of business, your funds have another level of protection.
Opening an account at Wealthyhood
Creating a Wealthyhood account is quick and simple. Simply create and verify your account – which you will need your National Insurance number for, and then set up your portfolio. Then connect your bank account, fund your account, and you are ready to go.
Is Wealthyhood good for beginner investors?
Wealthyhood is very much aimed at beginner investors, and does have many features that will make it attractive. Experienced investors would likely find the selection of assets available limited, and would probably be better to look for a more expansive platform such as Hargreaves Lansdown or other various trading apps available.
Wealthyhood Alternatives
Wealthyhood have aimed to bridge the gap between ready-made portfolios, such as those provided by a robo-advisor, and DIY investing, that is offered by many trading apps and platforms.
If you wish to go down the route of having your investment portfolio created for you, then robo advisors such as Nutmeg, Moneyfarm and Wealthify can be a good option, as you can leave it to their experts, and hopefully watch your wealth grow. However, you will not learn much about investing using these platforms.
With the DIY investing platforms, it can be intimidating to make your own investment choices when your knowledge level is low. However, several platforms have ways to help.
For example, Hargreaves Lansdown, probably the biggest investment platform in he UK by customer assets, have a wide variety of best buys and guide portfolios that you can use to guide your decisions.
Also eToro have their innovative Copy Trader function, which allows investors to follow successful traders on the platform and replicate their trades.
---
Wealthyhood FAQ
Can you make money with Wealthyhood?
It is possible to make money with Wealthyhood, as it is with any other investment platform. However, investment does carry risk, and it is possible that your investment can go down and even that you can lose all of your capital, although Wealthyhood mitigate this with their methods to diversify your portfolio.
Generally investors are more likely to make money when long term investing i.e. for at least 5 years, and ideally longer.
Is Wealthyhood legit?
Wealthyhood is definitely a legit investment platform. They are regulated as an investment firm by the Financial Conduct Authority (FCA), and customer deposits are protected under the FSCS up to £85,000 per customer.
How does Wealthyhood make money?
Wealthyhood have a very simple fee structure which is based around a monthly subscription fee, and they have no surprising or hidden charges. Therefore, the more customer they have paying this monthly fee, the more money they make! They are still a start-up company, and as such as not yet profitable, but rather funded by investment.
---
Wealthyhood Review – Conclusions
Wealthyhood combines features from various other investment platforms, that aim to create a unique product that can help beginner investors on their wealth building journey. Time will tell if they will be able to shine in the crowded investment market, but with their low fees and cost free trading, they are definitely worth a look.
Articles on the wiseabout.money website may contain affiliate links. If you click these links, we may receive compensation. This has no impact on our editorial and any money earned helps us to continue to provide the useful information on our site.