The rise of Fintech in the UK in the last few years has seen launches of a huge number of new products. Some, like Monzo and Starling Bank, are app focused banks, whilst many others, such as Money Dashboard, Cleo and Emma, are budgeting apps, aiming to help you manage your finances.
However, what neither of the above categories of app provide, is a way to save and invest your money in a more modern way. That is where the apps we profile in this article, Plum and Chip, come into the picture.
Both utilise Open Banking, like the budgeting apps, to connect to your bank. However with these apps, they use this data to calculate the amount you need to save, and then move it into their platforms. Once the funds are with them, they offer several different options for saving and investment to help you grow your wealth.
Chip – In Brief
Chip have also been active since 2016. In 2021 announced that they had over 400,000 registered users, an increase of 60% during 2021. The app is designed to assist you with saving money, using artificial intelligence (AI) to analyse your spending. The app then calculates out an amount that you can easily save on a regular basis.
Plum – In Brief
Plum has been operating since 2016. In 2021 they stated they had over 1 million users of their app. Plum aims to simplify saving and investing. The app analyses your spending, and allocates amounts towards your saving budget.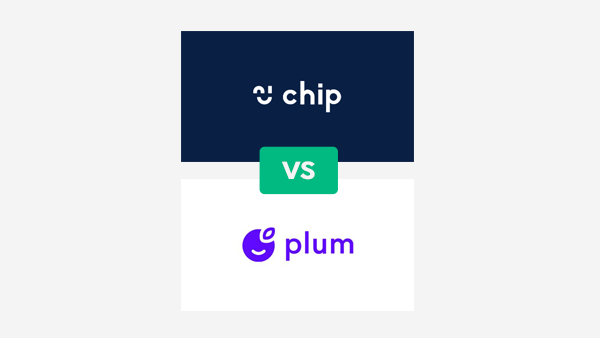 ---
Table of Contents
---
Best for: Plans, Costs & Fees
Subscription Fees
Plum has 4 tiers of account:
| | |
| --- | --- |
| Plum Basic | Free |
| Plum Plus | £1 monthly |
| Plum Pro | £2.99 monthly |
| Plum Ultra | £4.99 monthly |
The higher the cost of the package, the more features of Plum you will have access to.
Chip have 2 tiers:
| | |
| --- | --- |
| Chip | Free |
| ChipX | £3 every 28 days |
Platform and Fund Fees
Chip charge an annual platform fee for investments, collected monthly. The percentage depends on which version of Chip you use:
Chip Free – 0.50% of the amount invested per year, with a minimum of £1 per month.
ChipX – 0.25% annually, with no monthly minimum.
On top of the platform fee, Chip will charge a fee for each fund you invest in, the percentage depending on which fund you invest in. For example, the Blackrock Balanced Consensus fund is charged at 0.22% per year of the amount held in the fund, whilst the Blackrock Emerging Markets Fund is charged at 0.97%.
More details on the fund provider fees here.
Plum's costs are broken down in a similar way. They charge a platform fee, of 0.15%, and the fund provider fees, which vary depending on the fund. They say that these fees can vary from 0.06% to 0.90%.
Verdict
With the subscription fees, Plum have a wider variety of options, but the extra features on the more expensive options are mainly budgeting related. Users can only invest with Plum if they are on the Plum Plus (or higher) plan, so users must pay at least £1 per month to access the investment options. With Chip, users of Chip Free can invest, but there is a minimum fee of £1 per month – so the costs are essentially similar.
Best for: Features
Budgeting – Plum
Automated Savings – Round-ups and other ways to automatically send money into Plum – Available on all tiers.
Lost Money – Plum will detect when you are overpaying for utilities and facilitate changing suppliers – Available on all tiers.
Pockets – Create multiple Pockets for different saving areas – 2 Pockets on Basic and Plus, 15 Pockets on Pro and Ultra.
Gamify Saving – Various challenges to help you save, such as the 52 Week Challenge – Available only on Pro and Ultra.
Goals – Add targets to each of your savings Pockets – Available only on Pro and Ultra
Compare – Have your spending analysed and compared anonymously with other Plum users – Available only on Ultra.
Money Maximiser – AI driven tool that analyses your account activity and gives recommendations – Available only on Ultra
Budgeting – Chip
The standard Chip features available on both tiers are:
Automated saving via the Chip AI
Pay Day Put Away – set the monthly amount to be saved
Use the Chip savings accounts
Invest with the Chip General Investment Account (GIA)
Access 3 basic investment funds
The below features are only available on the paid version of Chip – ChipX:
Reduced cost annual platform fee for investing of 0.25%, compared to 0.50% on Chip standard.
Access to the Chip stocks and shares ISA.
Access to ethical, clean energy and emerging markets funds.
Access to actively managed funds, and innovative funds such as cryptocurrency.
Savings – Plum
Plum offer 3 savings Pockets:
Easy Access Interest Pocket (Basic subscribers): 3.51% AER variable. Funds can be withdrawn within 1 day and are covered by the FSCS because funds are held with Investec Bank Plc. The interest is paid monthly.
Easy Access Interest Pocket (Plum Pro and Ultra subscribers): 3.72% AER variable. Funds can be withdrawn within 1 day and are covered by the FSCS because funds are held with Investec Bank Plc. The interest is paid monthly.
Easy Access Interest Pocket (Premium subscribers): Pays 4.21% AER variable. Funds can be withdrawn within 1 day and are covered by the FSCS because funds are held with Investec Bank Plc. The interest is paid monthly.
Plum also provide an Instant Access Pocket (Primary Pocket) which does not pay out interest and is also not covered by FSCS
Savings – Chip
Chip partner with ClearBank. They offer an Easy Access savings account. As of September 2023, the annual interest rate is 4.84% AER variable on savings up to £250,000. The interest is paid monthly.
Bank Connections
If you want to use Chip or Plum, you need to ensure that they support the bank that you use, so that they can integrate. Plum currently support 18 banks, whilst Chip support 17. Both apps support the largest banks in the UK.
Investments
Chip offer various different investment funds, managed by third parties such as Blackrock.
With the free version of the Chip app, you will only be able to invest via their general investment fund. On the paid ChipX you have access to a far wider selection of funds, with varying risk and return levels.
Plum offer ISAs, General Investment Accounts and Pensions. They have many different funds to choose from at varying risk levels.
Verdict
For budgeting, Plum has clearly the bigger selection of features. Chip only really have functions that facilitate moving money into their platform. With saving, both offer easy access savings accounts, and currently Chip offer the better interest, giving 0.61% against Plum's highest offer of 0.40%.
---
Best for: Safety and Security
Data Security
Open Banking, the basis for the systems used by Plum and Chip, is very secure, and ensures that the apps will never have access to your bank login details, and only have read-only access to your data.
FSCS
Chip and Plum are not licensed banks. The saving accounts and investments they offer are provided by companies who are however, so all deposits (except in Plum's Instant Access Pocket) are covered under the Financial Services Compensation Scheme up to £85,000 per customer.
Conclusions
Chip and Plum both offer a similar suite of options to save and invest. Plum add some budgeting options on top, which could be useful as you may not need to use a budgeting app as well.
Articles on the wiseabout.money website may contain affiliate links. If you click these links, we may receive compensation. This has no impact on our editorial and any money earned helps us to continue to provide the useful information on our site.