Unbiased is essentially a search engine that consumers can use to find advisors and professionals that are primarily experts in different areas of finance. The main term they use is financial advisors, but this covers many different areas, from pensions to mortgages, savings to investments, and even things such as long term care. The concept is based around impartial advice.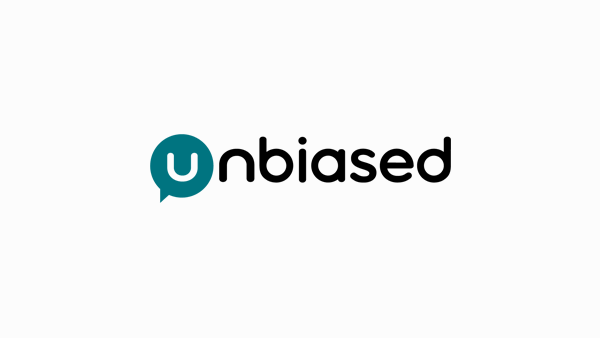 Table of Contents
---
Unbiased free financial review offer
Unbiased are currently offering a free financial review to all customers. This review includes £50 off any advise from an advisor that you may find via their platform.
Unbiased pros and cons
Pros
Over 27,000 financial professionals to choose from
Variety of different financial area focuses
Free to the consumer
Simple to use website that gives you important information about the advisor
Cons
Unbiased is basically a search engine, so cannot guarantee 100% the quality of the advise you will receive
Not all advisors on the platform display their costs
Advisors can pay to be higher up in the search results, so will not necessarily be the closest match to what you want
What is Unbiased?
Unbiased have made their intentions very clear with their brand name. They aim to be a platform where customers can find the help and unbiased advice they need, without being sold particular products that may not be the best option for you. This is particularly useful in today's financial marketplace, as there are many huge financial organisations, such as the big banks, who have various different arms. If the bank that you have your current account with offers you investment advice, then of course they will prioritise their own products, regardless of whether they would be the most appropriate for your needs.
Unbiased was launched as a website in 2009 by Karen Barrett (although the brand goes back to 1989 when they ran services via a telephone line), who had a background in financial services herself, and the service continues to grow, and recently took on additional funding so they can spread the word to get more users using their service.
---
How does Unbiased work?
How to choose your financial professional with Unbiased
There are two main ways to use Unbiased to search for the financial advisers that you need.
Local Area Search
You can specify your local area, and the type of advice you want, and then Unbiased will display the providers that are within that area. For example, if you wish to find a mortgage advisor in the Manchester area, you enter these details, and you will be given a list of options. You can then look in more detail at the profile of the providers and see which one you would like to contact.
However, these days, it is very easy to work with an adviser remotely, via telephone or video calls, so you are not only limited to a company in your area. Therefore, it is also possible to use the more detailed personalised matching service.
With this, you complete more details about exactly what you are looking for and require. For example, if you are looking for pension advice, then you would put in your age, the amount you want to contribute each month, your employment situation etc. The Unbiased systems will then work out which of the expert financial advice professionals in their database would be the closest match for your requirements.
Unbiased features professionals in the following broad areas:
Investments
Financial planning
Pensions
Savings
Tax & trust planning
Business services
Sharia finance
Mortgage advisor
Insurance
Expat finances
Stockbrokers
Long term care
They also require that any professional on their platform must be:
Regulated by official bodies
Fully qualified within their area
Not connected to specific product providers
Unbiased costs and fees
The Unbiased website is free to consumers, so you can use their service to search for the type of financial advisor or related professional that you need. However, bear in mind that you will of course have to pay the advisor that you find via the Unbiased platform.
If it's free, how does Unbiased make money?
Unbiased is always completely free for the customer. However, it is not free for the financial advisors that you can find on Unbiased! These professionals pay a fee for having their details on Unbiased, plus a fee for any customer their obtain via the platform. They can also pay Unbiased to feature more prominently on their website.
---
What can you find in Unbiased?
The main types of independent financial advisers to be found on Unbiased are:
Investment Advisors
Building an investment portfolio is now easier than ever, with there being so many easy to use investment apps on the market. However, it can be good to have the advice on an expert when you are putting together your investment portfolio, so that important elements like diversification are taken care of.
Pension Advisers
A pension advisor can really make the difference to your retirement plan, and good advice can pay for itself many times over for your future and family.
Mortgage Brokers and Mortgage Advisors
Independent mortgage advisers and mortgage brokers can be incredibly useful as they have access to the full range of possible mortgage deals, so are likely to be able to help you more effectively than simply going to your bank!
How much will my financial advice cost?
The cost of any advice you receive will vary depending on the type of advice you are getting, and the way that the advisor charges. Some advisors may charge a set hourly or project based rate, whilst others will receive a percentage of the profits earned by the financial product you choose. Unbiased have a helpful calculator and more information on the general costs of financial advice on their website.
Is Unbiased safe?
Unbiased has put various safeguards in place to ensure that bad actors and unregulated advisors cannot use their platform. All advisors must be regulated by the Financial Conduct Authority (FCA) and provide their FCA number when signing up. Importantly, they also do not allow advisors who only promote a certain product or range of products to be on their site.
Unbiased reviews
Unbiased.co.uk has a rating of 4 out of 5 stars on Trustpilot, the reviews site, from over 10,000 reviews. 61% of these reviews gave the website full marks – of 5 out of 5 stars. These customers praised the ease of use, excellent service, and how quickly they could be connected to an advisor.
13% of the reviews gave the site 1 out of 5, the lowest score. However, some of these negative reviews were from advisors using the service, rather than consumers, and others were complaining about poor services or responses from the advisors, which is not directly the fault of Unbiased.
---
Unbiased review – conclusion
Finance can be such a difficult world to navigate at the best of times. It can be very hard to work out what products are the best for you, when so many organisations are trying to get your business. Unbiased is a great way for consumers to get access to a massive selection of financial professionals of all different types, and be able to make a selection at their own pace, without any sales pressure.
Articles on the wiseabout.money website may contain affiliate links. If you click these links, we may receive compensation. This has no impact on our editorial and any money earned helps us to continue to provide the useful information on our site.