Monese was launched in 2015 in the United Kingdom, by founder Norris Koppel, and was one of the first smartphone only current account providers available. When Koppel initially moved from Estonia to the UK he found it difficult to open a bank account with no address and UK credit history. This inspired him to start Monese, which is designed to provide a simple to set up, smartphone based banking solution, that will help people avoid these issues.
As of 2022, Monese claim that over 2 million customers have downloaded their app, with the largest section of these being from the UK.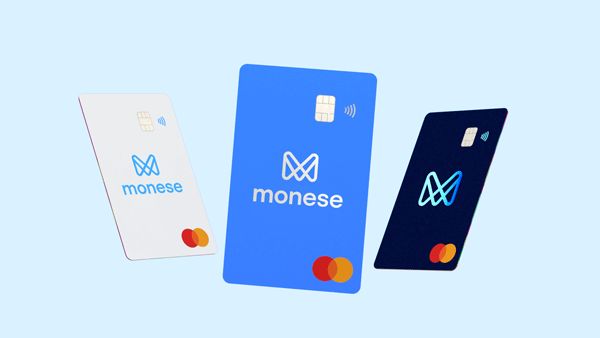 Contents
What is Monese?
Monese allows all customers to easily set up an account via their smartphone, and unlike most other banks, you don't need an address in the country you are setting up an account in to have the account. All you need is a photo ID and a selfie and you are good to go.
Therefore, it can be a good choice for people from outside of the UK who have recently moved there, as the account opening requires less history, and also users get a GBP and EUR account as standard. This means it could also be a good option for people from the UK who spend a lot of time in Europe.
How does Monese work?
Key Features:
GBP and EUR current accounts for all customers as standard
Mastercard debit card
Set up direct debits
Pots – divide up your money to create separate areas so you can save up for things or keep your bills money separate
Spending is categorised
Set monthly budgets
Earn interest and invest via Raisin
Real-time spending notifications
Free transfers in your local currency and between Monese accounts
Apple Pay and Google Pay available on all tiers
Pay cash into your account via the Post Office and PayPoint locations
On the paid tiers of Monese, other features are available:
Insurances and purchase protection
Priority customer support
Who is Monese for?
Monese aim to appeal to expats across Europe, including the UK, as they offer a EUR and GBP account as standard. In addition to this, they offer their app in 14 languages (currently more than any other similar app). Currently users based in 31 countries within Europe can create an account with Monese.
How to use Monese
Monese is a smartphone focused app. They pride themselves on how simple it is to sign up, and as such, you will only need to download the app, then provide some photo ID and a selfie, then your account will be opened. You then can perform all of your account functions via the smartphone app.
You can install the app on a computer, although you will only be able to perform limited functions such as checking your balance and transactions.

How much does Monese cost?
Monese has 4 tiers of account. The more expensive the tier you subscribe to, the more things you will get as part of the subscription without having to pay extra.
Starter: No monthly cost
With the Starter account, you will need to pay £4.95 to get a physical debit card. International transfers are charged at 2.5% (1% additional on weekends). You will be charged a 2% fee for spending on your card in foreign currencies. ATM withdrawals have a fee of £1.50, and if you pay cash into your account you will be charged 3.5% of the amount paid.
Essential: £1.95/month
Essential users get their physical debit card at no cost. International transfers have a 2% charge (plus 1% on weekends). A charge of 0.5% is charged on card payments in foreign currencies. You can take up to £200 per month out of ATMs with no charge, and cash payments into your account are charged at 3.5%.
Classic: £5.95/month
Classic users get their physical debit card at no cost. International transfers have a 0.5% charge. Card payments in foreign currencies are free. You can take up to £500 per month out of ATMs with no charge, and cash payments into your account are free up to £400 per month.
Premium: £14.95/month
Premium users get their physical debit card at no cost. International transfers are free. Card payments in foreign currencies are free. You can take up to £1500 per month out of ATMs with no charge, and cash payments into your account are free up to £1000 per month.
Is Monese safe?
Monese is not a licensed bank, but rather an e-money provider. As such customer deposits are not covered under the Financial Services Compensation Scheme (FSCS). Monese claim that customer deposits are still very safe, due to their practice of 'safeguarding'. They state:
Safeguarding means your money is kept separate from any money owned by Monese or PPS and it's placed into a secure account with an authorised bank, or covered through an insurance policy or similar guarantee. We never lend your money to anyone and it's always available to you, on demand. There's also no upper limit per customer or account for safeguarding. This means that all the money within your Monese account is protected.
Monese Reviews – what are people saying?
On Trustpilot, Monese have a rating of 3.9 out of 5 from over 24,000 reviews. 67% of the reviews are rated at 5 out of 5, with users appearing to be happy with the app – however – most of the top rated reviews appear very short and lacking in detail!
However, 18% of reviews on Trustpilot are rated at 1 out of 5. Almost all of these appear to be from people whose account was blocked and they had no access to their money, and were not getting a satisfactory response from Monese customer service. This does highlight a potential issue with Monese. As they require very little documentation to open the account, they will accept pretty much any account user. However, they will then need to strictly adhere to certain rules for the account, so it is possible that by performing an action, the user may have their account blocked. If the user can then not get any response from Monese, then they will not be able to access their funds. It does appear that this has happened to some people, as there shown by the reviews on Trustpilot, and many other posts on Reddit and social media.
Monese Alternatives
There are now several different smartphone focused banking products available within the UK.
Monzo and Starling Bank are more traditional banking products – with both being fully licensed UK banks. They largely focus on GBP transactions however, so if you wish to take advantage of EUR accounts they may not be for you.
Revolut is probably the closest alternative option given their international focus.
Monese Pros & Cons
Pros
Customers all get GBP and EUR accounts as standard.
Simple and easy to create an account, without the need for an address or credit history.
A flexible and comprehensive smartphone based current account.
Cons
Deposits not covered under the Financial Services Compensation Scheme.
Strict security rules, so account can be blocked.
Customer service can be hard to contact.
Conclusions
Monese is definitely a financial app that is created to fulfil a need, and has undoubtedly helped out many an expat who has struggled to get a traditional bank account in the UK without an address and credit history. If you are not in that position, then Monese can also be worth a look, but there is a lot of competition out there that it makes sense to check out before making a decision.