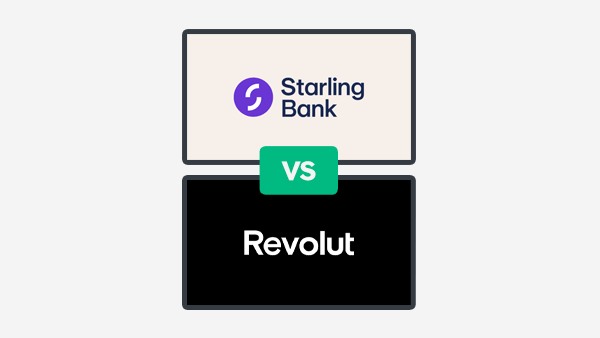 ---
Table of Contents
---
About Starling Bank
One of the first digital challenger banks in the UK, Starling Bank have taken many customers from the traditional high street banks, gaining over 3 million new customers in the last few years. They are also trusted as the main bank account by many of these users, unlike some of their competitors who are often used as a secondary account.
About Revolut
Revolut are a fintech company whose stated intention is to be a single app that covers any customers financial needs. With that aim, they have in recent years become the most successful fintech startup in Europe, with millions of customers and a valuation in the tens of billions.Their core product is an app based current account with debit card, and they offer a variety of other financial products within their app.
---
Revolut vs Starling Bank – Plans, Costs & Fees
Revolut
Revolut have 4 different account levels:
Revolut Standard – Free
Revolut Plus – £2.99/month
Revolut Premium – £6.99/month
Revolut Metal – £12.99/month
Along with the monthly costs, Revolut also have other costs for certain functions:
Each account level has a certain monthly allowance of free ATM withdrawals. On the Free tier, this is £200 per month. Above that level, customers are charged 2% of the amount withdrawn, with a minimum of £1.
Starling Bank
Starling Bank keep it simple; they only have one account tier, which is free. There is no monthly paid option, and every account feature is available on the free plan.
Starling Bank do not charge for ATM withdrawals.
Cash can be paid into your Starling Bank account via the Post Office, and there is no charge for this.
Verdict
Starling Bank offer a straightforward banking solution, with very low costs, and few frills. Revolut have a similar offering on their free tier, whilst you can access more extras if you pay for the monthly paid tiers. Based on comparing the free version of Revolut with Starling Bank's standard account, which is free, it is very close, but Starling take it due to their unlimited fee free ATM withdrawals.
---
Revolut vs Starling Bank – Features
Revolut
Easy to use smartphone app – bank wherever you are, around the clock.
Spending Analytics – get insights into your finances
Pockets – categorise your spending with Pockets
Vaults – set up within your account to save
Instant Notifications – see any account activity instantly
Set budgets – create monthly budgets for spending categories
Earn interest on savings – on money within your dedicated Savings Vault – interest rate depends on which tier you are on
Mastercard Debit Card – with contactless and enabled for Apple Pay/Google Pay
Metal Debit Card – available on Revolut Metal only
Round Up payments – round payments up to the nearest pound and save the difference
Investments – invest in stocks and more
Insurances – available on higher paid monthly tiers
Low cost currency transfers – at real exchange rate
Quick and easy account set up – no fuss quick account opening
Fee-free ATM withdrawals – up to a certain limit on each account tier
Purchase Protection – available on higher paid tiers
Starling Bank
Easy to use smartphone app – bank on the go, 24/7.
Instant Notifications – get informed of any activity on your account immediately
Spaces – Spaces are 'virtual piggy banks' within your Starling Bank account, where you can split your money into different areas i.e. bills, saving etc.
Categorised Spending Insights – Within the app you can analyse your spending via categories to allow you to manage your money more efficiently.
Starling Bank Marketplace – Starling Bank recommend other financial services – such as insurance, mortgages, pensions and more.
Free ATM Withdrawals – Starling Bank offer free ATM withdrawals in the UK and within Europe and do not have limits on the free amounts you can take out.
Savings Goals – easily set up within the app
Mastercard Debit Card – with full contactless functionality
Freeze your debit card – instantly stop the card via the app if it is lost or stolen.
Interest on your current account balance – 0.05% on balances up to £85,000.
Pay in cash via Post Office branches – up to £1000 per year free.
---
Revolut vs Starling Bank – Debit Cards
Revolut
Revolut offer a Mastercard debit card in a range of colours, and a metal card, with a choice of 4 colours, is available to Revolut Metal subscribers only. The card can be used contactless and is enabled for Apple Pay and Google Pay.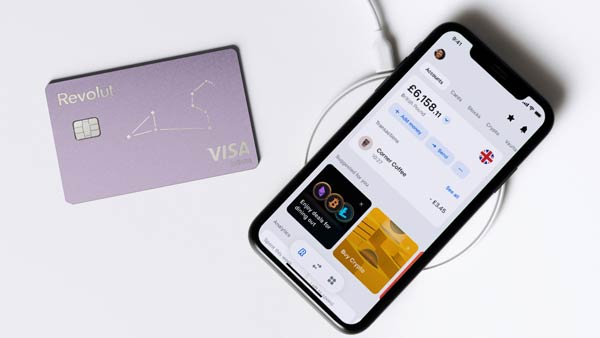 Starling
All Starling Bank current account holders get a Mastercard debit card. It has full contactless functionality and is enabled for Apple Pay, Google Pay and Samsung Pay. The card for personal account holders is teal, whilst the business debit card is black, and both have a vertical design.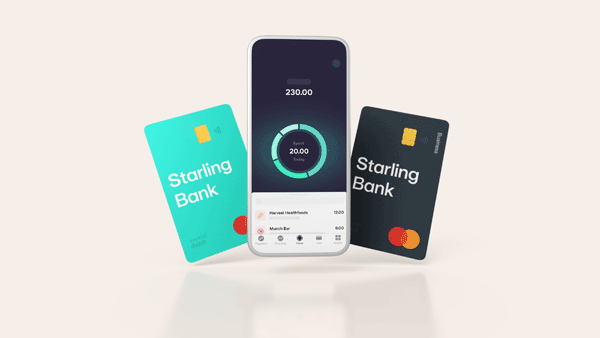 ---
Revolut vs Starling Bank – Safety
Are digital challenger banks safe?
Traditional high street banks such as Lloyds and Barclays have been around for many years, whilst new fintech banks are new companies with far less history. In addition, some of them are still startups, and not yet profitable. Therefore, some customers are concerned about putting their money with these banks. However, it is generally quite safe. All of the new digital banks are regulated by the Financial Conduct Authority (FCA), the same as the high street banks, and therefore will be subject to the same rules. Banks such as Starling Bank and Monzo are licensed banks and therefore customer deposits are protected under the FSCS.
Starling Bank
Starling are a licensed UK bank, and as such customer deposits are insured up to £85,000 per customer under the Financial Services Compensation Scheme (FSCS).
In 2021 they received the highest score out of all banks in the UK in a study by consumer group Which? that looked at banking security.
Your debit card can be instantly frozen and unfrozen via your app.
Revolut vs Starling Bank – Business Banking
Revolut
Revolut offer 3 tiers of business accounts, Free, Grow, and Scale. Features include:
Borderless business account – Receive, hold money and pay in over 30 currencies. Currency transfers done at real exchange rate.
Virtual credit cards – create virtual cards to give to staff so they can easily control spending
Mobile & Desktop – access your account via Revolut website on your computer
External App integrations – with the Revolut business API, connect to accounting packages like Xero, Quickbooks and Clearbooks, or business apps such as Slack and Zapier.
Read our full Revolut Business Review
Starling Bank
Whilst the basic Starling Bank Business account is free, for £7 per month you can sign up for the Business Toolkit – which contains the following features:
Instant Invoices – sent directly from the app
Automated Expenses – separate your expenses into categories
Tax Estimates – the app analyses your account and estimates the taxes due
Record & Submit VAT – get a running total of the VAT position.
Bills Sorter – upload bills and schedule payments.
Accounting Software Integration – Xero, Quickbooks and more
Business Spending Insights – account analytics
Business Spaces – categorise your funds
Read our full Starling Bank Business Review.
Revolut vs Starling Bank – Travelling
Revolut
Payments with your debit card whilst abroad are free.
Every account holder across all tiers gets a free EUR account with IBAN as well as the main GBP account.
Currency Exchange: customers can transfer between 28+ currencies within the app at real exchange rate. If on the Free or Plus account, you can transfer up to £1000 per month fee-free. Above that amount, a charge of 0.4% of the amount converted is levied. Premium or Metal tier customers have unlimited fee-free transfers.
ATM withdrawals – customers can withdraw £200/month on the Free & Plus plans, £400/month on the Premium plan and £800/month on the Metal plan. Above these limits a charge of 2% is levied.
Starling Bank
When overseas, payment with the debit card is free.
ATM withdrawals when out of the UK are fee-free, with no maximum withdrawal limit.
For currency Transfers, Starling convert at the interbank rate, with a fee of 0.4% of the amount converted.
Verdict
Starling Bank offer a variety of simple and easy features, such as free-free ATM withdrawals abroad, and flat fee currency transfers. These are perfect for holiday makers or those who travel abroad every now and then. For those who travel frequently or deal with other currencies often however, Revolut has many great features, from the EUR account for every customer, the ability to hold 28+ currencies, and fee-free currencies transfers.
Revolut vs Starling Bank – Child accounts
For a standard account with Revolut or Starling Bank, you need to be over 18. However, they both have options for the under 18s.
Starling Bank – Kite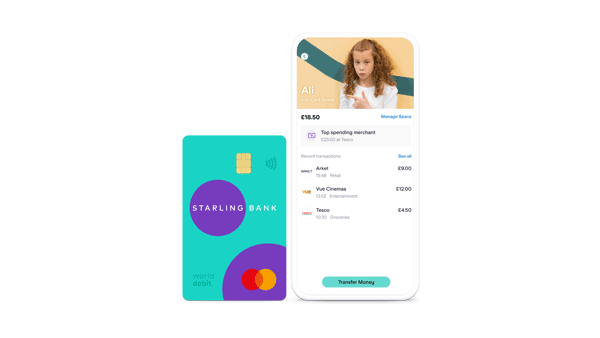 Starling's Kite product is essentially an add-on to a normal Starling Bank account, where you can get a card for a child, that is fully controlled by the main account. The extra card is charged at £2 per month, and allows a full range of backing and payment activities, with full visibility for the adult.
Revolut for under 18s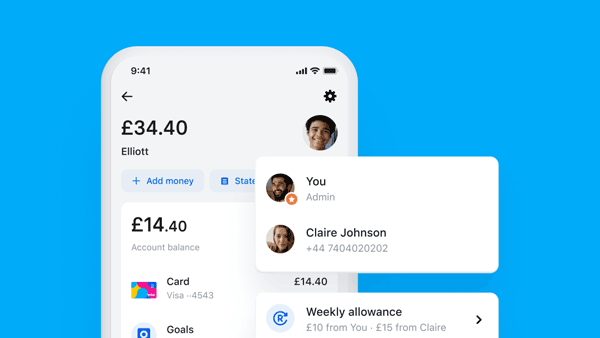 Revolut's <18s product is linked to the account of an adult Revolut user, and can be opened for someone between the ages of 6 and 17. Full Revolut users can add one <18 account free on the free account, two <18 accounts on the Plus and Premium tiers and five on the Metal tier.
Revolut vs Starling Bank – Mobile App
Revolut's app has many features on, but at the core, the current account functionality is easy to navigate and use.
Starling Bank's app is easy to use and intuitive, and in 2021 won the Best Banking App award at the 2021 British Bank Awards.
Revolut vs Starling Bank – Extras
Revolut
With Revolut, extras are in some ways what their business model is based on. They have 3 tiers that you can sign up for for a monthly fee, from Plus at £2.99, to Metal at £12.99. Some of their extras are:
Hold & Exchange 28+ Currencies within your account, and transfer between them at real exchange rate.
Free EUR Account with IBAN for every customer across every account tier.
Insurances – Travel insurance and purchase protection at various levels via the paid tiers.
Stocks & Crypto – Access to trade via the app.
Metal Debit Card – Available to all customers on the Metal tier only.
Starling Bank
Starling Bank do not offer much in regard to extras. There is the Starling Marketplace, which amalgamates various different products offered by third party providers. As these are not part of the Starling Bank offer, then we are not going to include them here.
Verdict
Really we can only choose Revolut as the winner here. Starling Bank's product is not really built to offer extras, whereas Revolut is based around them. If you want more stuff, then Revolut is the one for you, but be prepared to pay a monthly fee!
Starling Bank vs Revolut – FAQ
Who owns Starling Bank?
Starling Bank is owned by a combination of employees and investors. Founder Anne Boden has the largest individual stake, and various other employees have equity stakes in the company. Then there are various investors and investment funds who have funded the rise of Starling Bank who have equity stakes, such as Harry McPike, Fidelity, Jupiter, Qatar Investment Authority, Goldman Sachs and more. Starling Bank state that they are 100% independent.
How to pay cash into Starling Bank?
You can pay cash into your Starling Bank account via any Post Office branch. Personal current account holders can pay up to £1000 per year into their account for free. Any amount paid in above £1000 within a year will then incur a charge of 0.7% of the amount paid in. Each account has a total amount of cash that is permitted to be paid in, and customers have to speak to Starling Bank to find out this limit.
How to deposit cash into Revolut?
Revolut do not currently have a way to pay cash into your account. In addition, it is not possible to pay cheques in either. Therefore if you need to do cash and cheque transactions, then Revolut may not be for you.
---
Verdict
Whilst Starling Bank and Revolut are in the same current account space, their approach is very different. Starling have really aimed at a more conservative, perhaps older audience, by offering a free product that is very reminiscent of a traditional bank, with few frills, but adding technology. Revolut on the other hand, have targeted a younger market, who may want to experiment with things like metal cards and trading. In addition, Revolut are a great choice for those who travel frequently or use different currencies. They are both great products, so which one you choose really depends on what you are looking for in a current account provider.
Articles on the wiseabout.money website may contain affiliate links. If you click these links, we may receive compensation. This has no impact on our editorial and any money earned helps us to continue to provide the useful information on our site. This article is for general information purposes only and does not constitute financial advice. If you have any questions about your personal circumstances please seek professional and independent advice.