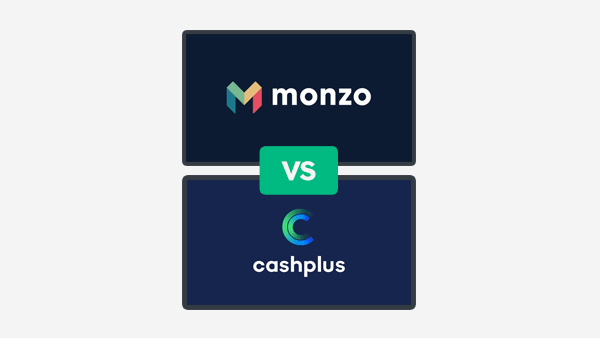 ---
Table of Contents
---
At a Glance
| | | |
| --- | --- | --- |
| | Cashplus Bank | Monzo |
| Monthly Cost | Free or £5.95 per month | Free | £5 | £15 |
| ATM Withdrawals-UK | £2 on Activeplus, free on Freedom | Free (if use Monzo as main account) |
| ATM Withdrawals-Abroad | £3 per withdrawal | Free up to £200, then 3% |
| Debit Card | Green, blue, black + contactless | Choice of colours, metal on paid tier |
| Interest | No | 1% up to £2000 on Plus, 1.5% on Premium |
| Cash Deposits | via Post Office | PayPoint locations – £1 per deposit |
| Cheque Deposits | Not supported | Only by post |
| Money Management | Basic tools available | Pots, Savings Pots, Categories |
| FSCS Protection | Yes | Yes |
| Instant Notifications | Yes | Yes |
| Customer Services | Telephone, in-app | In-app, telephone, email |
| Mobile Payments | Apple Pay, Google Pay | Apple Pay, Google Pay |
| Currency Transfers | USD, EUR currency cards | Use Wise as transfer partner |
| Extras | Creditbuilder, Travel cards | Extensive on paid tiers |
| Business Account | Yes | Yes |
| Child Account | Child cards on adult account | Yes |
About Monzo
Since their launch in 2017, Monzo have aimed to provide a more efficient and modern banking product than the high street banks. As a fully licensed UK bank, they are regulated by the FCA and customer deposits are protected under the FSCS. Their product is based around their award winning smartphone app, and they don't have any bank branches.
About Cashplus Bank
Cashplus Bank offer a current account, debit card and more with their digital banking product. They are authorized and regulated by the Financial Conduct Authority and Prudential Regulation Authority in the UK. They focus on offering features for users with past financial issues, and as such they have no credit check in the account set up process and offer Creditbuilder, a way for people with poor credit to improve it.
---
Plans, Costs & Fees
Cashplus Bank
Cashplus has 2 types of current account, each with a different fee structure:
| | | |
| --- | --- | --- |
| Type | Active Plus | Freedom |
| Card Issue Fee | £5.95 | £9.95 |
| Monthly Account Fee | £5.95 | Free |
| UK Card Purchases | Free | Free |
| Electronic Payments & Transfers | Free up to 9 per month. Any payments above that amount are charged at £0.99 per transfer | Free up to 9 per month. Any payments above that amount are charged at £0.99 per transfer |
| Additional Cards | £5.95 | £5.95 |
| Deposit Cash at UK Post Offices | 0.3% of the amount deposited (minimum £2) | 0.3% of the amount deposited (minimum £2) |
| ATM Withdrawals (UK) | £2 per withdrawal | Free |
| ATM Withdrawals (Abroad) | £3 per withdrawal | £3 per withdrawal |
Monzo
Monzo have 3 different plans:
Monzo Free – Free
Monzo Plus – £5 per month
Monzo Premium – £15 per month.
On the free tier, all basic banking functions are included. The paid plans have some attractive features that can be useful, but are not crucial for running your account.
Cash withdrawals at ATMs are free up to £250 per month, but above that, Monzo charge 3% of the amount taken out for customers not on the monthly paid plans.
As Monzo is an app based bank, they do not have branches, so cash has to be paid into your account via PayPoint. It costs £1 per transaction.
Verdict
Cashplus Bank and Monzo both have free and paid tiers. With the free tiers, it is possible to do all of the core banking functions on both banks. The paid tiers on each bank have a very different focus. With Monzo they aim to appeal with potentially a younger crowd, offering things like metal debit cards and various insurances. With Cashplus Bank, they offer services aimed at those who may have had issues with things like credit ratings etc in the past. Which of the banks would be best for you would really depend on which category you fall into.
---
Features
Cashplus Bank
UK current account – fully featured account
No credit checks with opening an account – great for those with poor credit
Mastercard debit card – including contactless functionality
Deposit cash into your account – via Post Office branches
Simple to use smartphone app – so you can bank on the go
UK based customer service team – resolve issues quickly
Purchase Protection on debit card – purchase risk-free
Overdraft – available to eligible customers
Travel cards – Euro and USD debit cards to use whilst abroad available
Loan – available to eligible customers
Cashplus offer their Creditbuilder service on their Activeplus plan. It is for customers with a bad credit rating. It works by Cashplus Bank 'loaning' the customer the total annual cost of the subscription – which is £5.95 per month, or £71.40 per year. They then take the £5.95 from the customer each month, which pays off the 'loan'. This gives the customer a credit history, which can help with their credit rating.
Monzo
Easy to use smartphone app – bank wherever you are, around the clock.
Instant Notifications – get informed of any activity on your account immediately
Left To Spend Notifications – let the app track your spending and display the amount of money you have before your next salary
Spending Budgets – Easily set up budgets within your account for different areas i.e. groceries, entertainment or transport.
Monzo Pots – areas within your Monzo account, that allow you to split your money into different areas, for example bills, saving etc
Mastercard debit card – with full contactless functionality
Metal debit card – Available on the Premium tier
Apple Pay/Google Pay – set up your Monzo card to pay with your phone
Interest on your current account balance – 1% on Monzo Plus, 1.5% on Monzo Premium, up to a balance of £2000.
Salary Sorter – set your account to distribute your salary amongst your pots once it hits your account
Free UK ATM Withdrawals – on all paid Monzo tiers
Pay in cash via PayPoint locations – up to £1000 every 180 days for £1 per deposit
Insurances – available on the paid tiers
Overdrafts – available for qualifying customers
Loans – available for qualifying customers
International currency transfers – Monzo have partnered with Wise to provide
Monzo Flex – spread payments with Monzo's own Buy Now Pay Later product
Verdict
As mentioned in the above section, the focus of the two banks is very different, and that can be seen in the features of each bank. Monzo do have a more fully featured product with many extras (especially on the paid tiers) and have a more comprehensive selection of money management tools. Cashplus have a more basic service, but this reflects the different type of customer they are targeting.
---
Debit Cards
Cashplus Bank
The Cashplus Bank Mastercard debit card is blue or green on the personal account and black on the business account, and all cards have contactless and Apple Pay/Google Pay functionality.
Monzo
Monzo offer a Mastercard debit card, with contactless and Apple Pay/Google Pay enabled, for all customers. They offer 7 different colours, including their neon editions in Hot Coral, Disco Pink, Juicy Green and Sunshine Yellow. Subscribers to their £15 per month Premium tier get a metal debit card.
---
Safety
Are digital challenger banks safe?
Traditional high street banks are generally seen as safe as they are large organizations that have been around for many decades. New digital banks are generally recent companies, and some are start-ups that may not yet be profitable. However, this does not necessarily mean that the older banks are safer. Many new digital banks, such as Cashplus Bank, Starling Bank and Monzo, are licensed UK banks, which means they have the same level of protection for consumers as the older banks.
Cashplus Bank
Cashplus Bank received their UK banking license in 2021, and are now regulated by the Financial Conduct Authority (FCA), and regulated and authorised by the Prudential Regulation Authority. Customer deposits are therefore covered under the Financial Services Compensation Scheme (FSCS) up to £85,000 per customer.
Monzo
As they are a fully licensed UK bank, all Monzo customer deposits are protected by the Financial Services Compensation Scheme (FSCS) up to £85,000 per customer.
Customers can freeze or unfreeze their Monzo card easily and instantly via the app.
Monzo are a fairly recent startup, having launched initially in 2017. As such they are not yet a profitable business, and the amount of money they have been losing each year has increased, and they reported losses in 2020 and 2021. However, they do appear well funded and stable.
Verdict
Both Cashplus Bank and Monzo are fully licensed UK banks, so customers get the full protection of UK baking regulation. Monzo are a relatively new company and not yet profitable, whilst Cashplus have been running since 2005, running their successful pre-paid debit card business.
Business Banking
Cashplus bank
The Cashplus Bank business account has 2 tiers – Business Go, which is free, and Business Extra, with costs £9.00 per month. Features include:
Accounting software – integrate with Xero, Quickbooks and Sage
Business Creditbuilder – improve your credit score
Account balance limits – £50,000 on Go, £250,000 on Extra
Cash deposits – via the Post Office
Spending reports – to help manage your money
Additional debit cards – for your team
Monzo
The Monzo business account is available in 2 tiers – Lite, which is free, and Pro, which is £5 per month. Notable Monzo features:
Tax Pots – separate funds for tax
Integrate your accounting software
Multi-User Access – give employees account access
Invoicing – generate invoices directly from your Monzo account.
Mobile & Web Access – smartphone or computer
Currency Transfers via Wise – take advantage of the better rates
Read our full Monzo Business Review.
Travelling
Cashplus Bank
When spending with the card abroad, there is a fee of 2.99%
ATM withdrawals abroad cost £3 per withdrawal
Cashplus Bank offer Euro & USD travel debit cards that you can use when abroad. They are free to add on your account and with them you can avoid the fees.
Monzo
Paying with your debit card whilst outside the UK is always free.
Withdraw up to £250 every 30 days within the European Economic Area (EEA), and up to £200 every 30 days in other countries fee-free. When you take cash out above these limits you will be charged a fee of 3%
Monzo partner with Wise, a popular currency conversion provider, to make their currency transfers. The currency transfer is made at interbank rate, with a small fee added to each transfer (which depends on which currencies you are transferring between).
Verdict
The standard costs for using Cashplus Bank abroad are quite high compared to other providers, but users can get the Cashplus Euro or USD Travel cards to get around this. With Monzo, it is possible to spend and withdraw cash abroad for free (up to certain limits for the ATM withdrawals) and they use Wise to ensure their customers can do currency transfers at good rates. Therefore, Monzo is probably more traveller friendly, but for frequent travellers, an alternative like Revolut, Monese, or even Wise might be a better choice.
Child accounts
To open a standard account with Monzo or Cashplus Bank, you need to be over 18. However, both banks offer options for the under 18s.
Cashplus Bank
Cashplus account holders can apply for an additional card for a dependent aged between 13 and 18, with the card controlled by the main account holder.
Monzo – 16/17 year old account
Rather than a dependent account, the Monzo 16-17 year old account is a full Monzo account, with certain functions blocked, such as spending on gambling. The 16-17 year old account is available on the free Monzo tier.
Mobile App
The Cashplus Bank smartphone app is maybe a little more basic than some competitor apps. However, customer praise the ease of use and simplicity of the app.
Monzo customers seem to be very happy with the Monzo app, with many Trustpilot and Reddit users saying how intuitive the app is. In 2022, Monzo won Best Banking Apps at the British Bank Awards.
Extras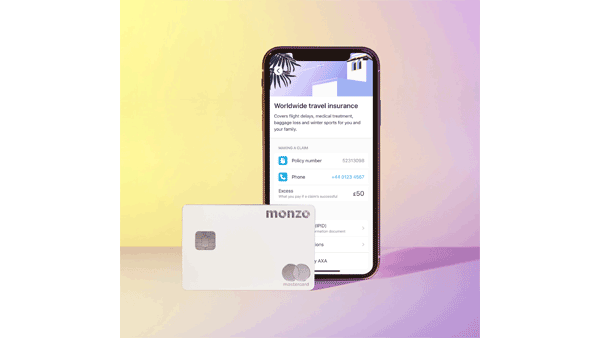 Cashplus Bank
Cashplus Bank have various extras above the core banking services that are aimed at users who have had financial issues in the past. Creditbuilder is a way for users to build up a positive credit rating via Cashplus. They have also made it possible for users to sign up to Cashplus without a credit check.
Monzo
The monthly paid plans that Monzo offer are very important for their business, and as such they have packed in extra features for the users that are willing to pay for them. From metal debit cards, to insurances and airport lounge access, they have a variety of things that might tempt you into paying a monthly fee.
Verdict
Both banks have useful extras, but with a very different focus. Monzo have the more flashy, fun things, whilst Cashplus Bank have things that are useful for things like building up your credit rating. Which one is best for you will depend on which of these is more useful or attractive to your situation.
Monzo vs Cashplus Bank – FAQ
Is Cashplus Bank a registered UK bank?
Yes, Cashplus Bank is owned by Advanced Payment Systems Ltd (APS). In 2021, they received their UK banking license and they are authorized and regulated by the Financial Conduct Authority and Prudential Regulation Authority in the UK.
Which is the best digital bank in the UK?
There are many different digital banking options in the UK, and which one is best really depends on what your requirements are, as they all have their strengths. For example, Starling Bank is a good all-round option, Monzo and Revolut are great for extra services, Cashplus Bank is a good fit for those who have had financial issues in the past, and Wise and Monese are good for travellers and those who use other currencies.
Verdict
At the heart of the Monzo and Cashplus Bank products, they are actually very similar. A current account and debit card, controlled by an easy to use smartphone app. It is within the positioning and extras where they differ. Monzo aim to replace your current bank with their more technology focused option, and have added a variety of extras to draw in customers – and likely a younger audience. Cashplus Bank have focused their product towards people who have had financial issues in the past with extras that can assist them. Whilst either bank could suit anyone who just wants an efficient app focused bank, both can be a very good option if you fit into either of these groups.
Articles on the wiseabout.money website may contain affiliate links. If you click these links, we may receive compensation. This has no impact on our editorial and any money earned helps us to continue to provide the useful information on our site.