Good budgeting can be a time-consuming and almost forensic process, and its mostly only helpful when done with high precision and consistency. Once forgotten, its easy to loose track of your goals and your budget. Luckily, with the help of Budgeting apps and Open Banking it doesn't have to be a daunting process. The great thing about Budgeting apps is consistency and reliability. So, they can be a great tool for managing your finances without having to put much effort into it. Today, we compare Emma App and Moneyhub.
About Emma
Emma are a newer entrant into the budgeting app marketplace, having launched in 2018 in the UK, and 2019 in the USA and Canada. As of 2021, they claim to have over 600,000 users.
About Moneyhub
Moneyhub have been around a long time compared to many other Fintechs, having launched in 2014. They now are taking full advantage of open banking, and also offer open banking technology services to other fintechs.
---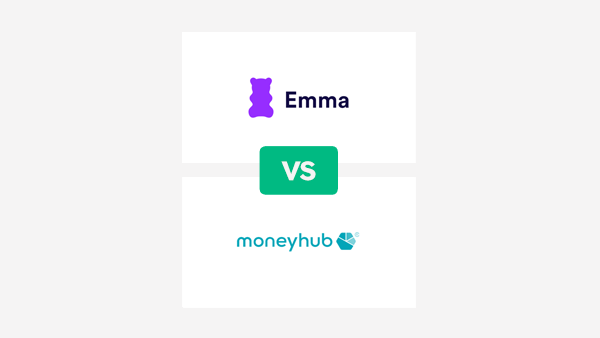 ---
Table of Contents
---
Moneyhub vs Emma – At a Glance
| | | |
| --- | --- | --- |
| | Emma | Moneyhub |
| Cost | Free, £4.99 or £9.99/month | £0.99/month, £9.99/year |
| Supported Banks | 42+ | 26+ |
| Sell your data? | No | No |
| FCA Regulated? | Yes | Yes |
| Presentation | Social media style, fun | Business-like |
| Features | Extra features on paid tiers | Many budgeting functions |
Moneyhub vs Emma – Plans, Costs & Fees
Moneyhub charge a small fee to use their app. The cost depends on where you make the payment.
If you pay Moneyhub directly, then it costs £0.99 per month, or £9.99 for a full year. If you pay for the app via the Apple App Store, then it will cost £1.49 per month, or £14.99 per year. Moneyhub state that they receive the same amount from this, and it is only more expensive via Apple due to their fees.
Emma have a basic version of their app that is free, and there are many features within their app. Emma also have to paid versions of the app, which have more features.
Emma Plus – £4.99 per month or £41.99 annually
Emma Pro – £9.99 per month or £81.99 annually
Verdict
Really the comparison here needs to be between the free version of Emma and the full version of Moneyhub. Moneyhub only costs around £1 per month (less if you pay annually), whereas the paid versions of Emma are between 5 and 10 times more expensive. To try out the free version of Emma, and the paid version of Moneyhub, is really not that different at the price of Moneyhub is so low. However, you would really need to decide that the extra features available on the paid versions of Emma would be worth it to you, to justify the monthly cost.
---
Moneyhub vs Emma – Features
Emma
Connections – integrate all of your financial institutions with Emma
Spending Categories
Save on subscriptions via Emma suggestions
Set your payday and sync to your budget
Analytics on your spending
Marketplace – find other financial products
Save money on bills
Payments from within the app
The features above are available on the free version of Emma. The extra features below are only available on the paid versions.
Cashback
Goals for savings
Create custom categories
Export data
Calculate your net worth
Moneyhub
Integration – all your financial platforms within the app
Spending Analysis – automatic spending analysis on your transactions
Spending Goals – multiple goals can be set and tracked
Nudges – get automatic nudges updating your progress towards goals and with budgets
Categories – transactions are automatically categorized
Real-life Advisors – get financial advice from a live person
Bank Connections:
Both Moneyhub and Emma can integrate with multiple banks and other financial institutions. They have a relatively similar list of supported banks, so neither one seems to vastly outstrip the other.
Verdict
The Moneyhub features are perhaps rather basic compared to Emma, which has more little things you can add to give you a more detailed overview of your finances. Essentially Moneyhub gives you data so you can then to further analysis, whereas Emma analyses a little further, although you will need to decide whether these analyses are the ones that you require.
---
Moneyhub vs Emma – Safety
Data Security
Emma and Moneyhub both claim to have bank level encryption of data. They both use open banking technology to integrate with your financial institutions, so they only have read only access to your data, and never have access to your login details and passwords.
Privacy
Both Moneyhub and Emma state very strongly that they will never sell your data (unlike some other apps that do). They both charge subscription fees, so they make money via the fees rather than selling data.
Verdict
In this area both Emma and Moneyhub have a very similar security profile and feature set.
Moneyhub vs Emma – Presentation
Whilst the features of their products are actually quite similar, it is really in the presentation that these apps differ greatly. Moneyhub is a technology focused provider, and as such their app is a little less exciting than some other apps. It has all of the things you need to budget, but does not have the gamified elements that are designed to push you to budget.
Emma on the other hand, is a far more modern proposition. It has gamified features that help you to budget, and has is more active in making suggestions on how you can save money, for example looking at your utility suppliers and finding cheaper alternatives.
Verdict
It is really down to what you like and the presentation that suits how you like to budget. At first glance it would appear that Emma is aimed at a younger, and Moneyhub an older audience, but in reality it all depends on the person and how they like to interact with apps.
---
Emma vs Moneyhub – FAQ
Is Emma a good budgeting app?
Emma has a wide range of money management and budgeting options. To access all of the budgeting options you will need to subscribe to one of their monthly paid plans, so if you do not wish to pay, you may want to look at one of the free budgeting apps such as Snoop or Money Dashboard.
Is Moneyhub safe?
Moneyhub is a UK company, and is fully licensed by the Financial Conduct Authority in the UK. They use open banking to access your data, which is a very safe system, so your data should be secure with Moneyhub.
Can I use Moneyhub on a desktop?
Yes, Moneyhub is available on desktop as well as IOS & Android.
Do budgeting apps offer interest?
No, budgeting apps do not offer interest as they generally do not hold your money. Whilst they are connected to your bank accounts, they do so to enable you to view and review your finances in one single app. However, budgeting apps potentially can help you save money, so you can take these saved funds and put them into a high interest savings account.
---
Moneyhub vs Emma – Verdict
With the price, Moneyhub is very competitive, at £1 (or less if you pay annually) for the entire service. Emma do have a free version, but you do not get the full suite of features. Their subscription offers are 5 to 10 times more expensive than Moneyhub, so you would really need to look into the features that Emma offer on their paid service, and see if they would justify the extra cost for you.
The real difference between the 2 apps is the presentation. Moneyhub can look a little old fashioned compared to Emma, which has much more of a gamified approach. This really comes down to taste, and which of the apps you are going to find suits you best for your budgeting requirements.
Articles on the wiseabout.money website may contain affiliate links. If you click these links, we may receive compensation. This has no impact on our editorial and any money earned helps us to continue to provide the useful information on our site.