**Money Dashboard closed down their app at the end of October 2023. Check out our Money Dashboard alternatives article to see the other options.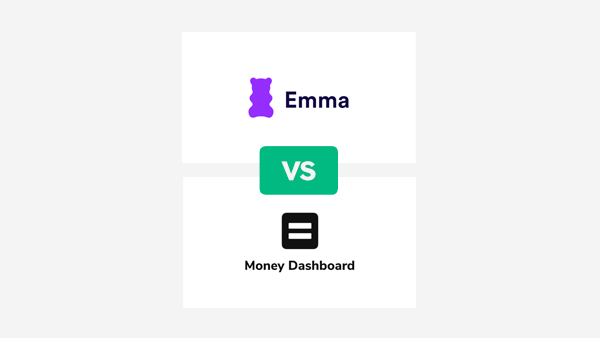 ---
Table of Contents
---
Money Dashboard vs Emma – At a Glance
| | | |
| --- | --- | --- |
| | Emma | Money Dashboard |
| Cost | Free, £4.99 or £9.99/month | Free |
| Supported Banks | 42+ | 50+ |
| Sell your data? | No | Yes |
| FCA Regulated? | Yes | Yes |
| Presentation | Social media style, fun | Business-like |
| Features | Extra features on paid tiers | Comprehensive Analysis |
About Emma
Emma is a relatively recent entrant into the market, having launched in the UK in 2018, and in the USA and Canada in 2019. In 2021, they claimed to have over 600,000 active customers using their app.
About Money Dashboard
Money Dashboard started offering their budgeting app to customers using it on their computers way back in 2011. In 2020 they launched their updated app – Neon – which is focused directly on smartphones, and uses open banking technology.
---
Money Dashboard vs Emma – Plans, Costs & Fees
Money Dashboard has no charge for their app. All features are available within the free app, and they do not have any plans with fees or costs.
Emma does have a free version of their app, but they also have 2 higher tier versions of the app that have a monthly/annual cost. The costs are:
Emma Plus – £4.99 per month or £41.99 annually
Emma Pro – £9.99 per month or £81.99 annually
How do Money Dashboard and Emma make money?
Generally budgeting apps will make money either by charging for use of their app, or by selling the transaction data of their customers to 3rd parties. In this case it is very clear, as Money Dashboard are very open that they make money by selling data, whilst Emma charge subscription fees for the app, and state that they will never sell your data.
Verdict
Money Dashboard is free, yet sells your data (although it is of course anonymized) so really it comes down to your view on privacy. If you do not want your data used, then this is probably not the app for you. With Emma your data is not used, but they do have quite high subscription costs for the paid versions of the app. Potentially it would be worth checking whether the free version of Emma would suit your needs.
---
Money Dashboard vs Emma – Features
Emma
Connections – integrate all of your financial institutions with Emma
Spending Categories
Save on subscriptions via Emma suggestions
Set your payday and sync to your budget
Analytics on your spending
Marketplace – find other financial products
Save money on bills
Payments from within the app
The features above are available on the free version of Emma. The extra features below are only available on the paid versions.
Cashback
Goals for savings
Create custom categories
Export data
Calculate your net worth
Money Dashboard
All of your bank accounts, credit cards and various other financial products can be connected, so you can create an overall budget.
Apply spending categories across all of your accounts.
All bills and subscriptions in dedicated area
Create your own budgets
Available balance to spend after all outgoings.
Customise the app to fit your own requirements.
Bank Connections:
Money Dashboard are currently integrated with over 90 financial institutions, such as banks, credit card providers and others.
Emma also have a large list of integrated institutions, although slightly smaller than Money Dashboard – potentially because they have not been around as long. With Emma you can also connect any accounts you have on cryptocurrency platforms such as Coinbase, Kraken and Binance.
Verdict
Both apps have a comprehensive list of supported banks and other institutions. Money Dashboard have more, but both apps will have enough to support the vast majority of consumer's needs.
For budgeting features Money Dashboard has a useful set of tools that they have proven to be useful over many years. With Emma, their features are broadly similar, but to get the full benefit of all of their tools, you will need to subscribe to one of their paid plans.
---
Money Dashboard vs Emma – Safety
Data Security
Both Money Dashboard utilize open banking technology to access your data. Therefore they never have any of your login details, and have read-only access to your data, so cannot make any changes. Both apps claim to have bank level encryption of all data within their systems.
Privacy
Money Dashboard is free, but sells your data. Emma don't sell your data, but you need to pay for a subscription to get the full feature set.
Verdict
The difference here is very clear. Money Dashboard sell your data, whilst Emma do not, so if privacy is important to you then clearly Emma is the way to go. However, you will need to pay a month subscription to get all of the budgeting features.
Money Dashboard vs Emma – Presentation
In a crowded market, such as for budgeting apps, the user experience is very important, and Emma and Money Dashboard have quite a different feel.
Money Dashboard, perhaps because they have been around for longer, and the app was initially developed for a desktop computer, has a more sober, business-like feel.
Emma on the other hand, is far more gamified, and has a fun, chatty, almost social media style.
Verdict
This really comes down to personal taste, and whether you feel comfortable with a more business-like, or a more casual approach. Money Dashboard is free, and Emma has a free version, so it is advisable to download them both to see which you prefer.
---
Emma vs Money Dashboard – FAQ
Is Emma budgeting app legit?
Emma is a fully licensed financial technology company based in the UK, and is regulated by the FCA in the UK. This makes the app as legit as any other budgeting app in the UK.
Does Money Dashboard sell your data?
Money Dashboard provide their app for free. Therefore, they need to make money somehow! They do this by selling anonymized data of the transactions of their customers to third party companies. You will not be able to be identified by this data, but it privacy is an issue for you, then it may be better to use a budgeting app that does not sell your data, such as Emma.
Can you trust budgeting apps?
Any budgeting app that connects to your bank account to analyse your transactions, will use open banking to connect to your bank. Open banking is a very safe and highly regulated system, and before an app can use it, they have to be licensed by the Financial Conduct Authority (FCA). This means that they have to adhere to many strict regulations. Therefore, budgeting apps can generally be trusted as being safe to use.
---
Verdict
Overall, both Emma and Money Dashboard provide a similar product, but there are certain key differences.
Firstly, the two apps are presented rather differently. Money Dashboard has a more sober restrained approach, with the look and feel of a bank or similar. Emma has more of a modern feel, with gamified elements. It really comes down to which approach you prefer, and which app best suits the way you handle your budgets.
Handily, Money Dashboard is free, and Emma has a free version, so you can easily test out each app to decide which one you prefer, with no cost.
Articles on the wiseabout.money website may contain affiliate links. If you click these links, we may receive compensation. This has no impact on our editorial and any money earned helps us to continue to provide the useful information on our site.