About Tide Business
Far smaller than Revolut, and offering accounts only to UK customers, Tide focus solely on business accounts, as they do not offer personal accounts. This focus on one thing may appeal to some customers.
About Revolut Business
As possibly the most successful fintech company around, Revolut have millions of customers across the world, mainly with personal accounts. However, their business account has also attracted many customers.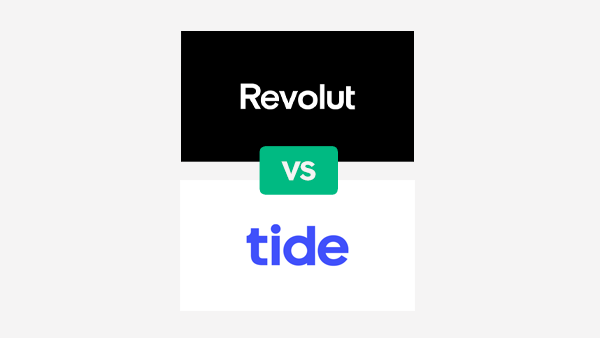 ---
Table of Contents
---
Tide vs Revolut Business – Plans, Costs & Fees
Tide Business
Tide have 3 account tiers available:
Free
Tide Plus – £9.99 (plus VAT) per month
Tide Cashback – £49.99 (plus VAT) monthly
Tide's business model is based on simplicity, and as such they have tried to keep as much functionality as possible within their free package. They have a transparent charging structure with costs for the basic account functions:
Payments with the debit card: Free across all tiers.
ATM Withdrawals: £1 per withdrawal across all account tiers.
Bank Transfers (in or out): 20p per transfer. With Tide Plus they give 20 free transfers per month, and with Tide Cashback – 150 free transfers per month.
Cash Deposits: You can deposit cash into your account via the Post Office – at a £1 charge per deposit, or at PayPoint locations – at a charge of 3% of the amount deposited.
Revolut Business
Revolut offer 4 account tiers to businesses:
Revolut Business Free
Revolut Business Grow – £25 per month
Revolut Business Scale – £100 per month
Revolut Business Enterprise – the cost of the Enterprise depend on which features you add.
Similar to Tide, the Revolut paid packages essentially give certain amounts of key account functions i.e. transfers and ATM withdrawals as part of the package rather than charging for each and every one:
Payments with the debit card: Free across all tiers.
Transfers (in or out): Charged at £0.20 per transfer, but you get 5 per month included with the Free tier, 100 included with the Grow tier and 1000 included with the Scale tier.
International payments: Charged at £3 in or out.
ATM withdrawals: Charged at 2% of the withdrawn amount, across all account tiers.
Verdict
Both Tide and Revolut have a free version of their business product, which offers most of the core functionality that you will need to run your business current account. Whether you require a paid version of the account will depend on what your business requires. For example, if you have a lot of transfers, then it is likely to be cheaper to pay the monthly fee rather than be charged for each and every transfer.
---
Tide vs Revolut Business – Features
Tide Business
Accounting software integrations. With Tide you can automatically connect your Tide account to the software you use for your business accounting. They support many of the main packages, including Sage, Xero and Quickbooks.
Access your Tide account from a desktop computer as well as via the mobile app.
Invoice management, including the Invoice assistance tool. You can set up your Tide app to automatically chase outstanding invoices, saving time on credit control.
Upload images and automatically match receipts to your bank statements.
Instant Notifications. See any account activity in real time.
Expense debit cards for staff. £5 per card on the free account, then one card free on the Plus tier, and 3 cards free on the Cashback tier.
Tide business formation service. Tide will form your Limited company in the UK for you, then integrate with your Tide account.
Revolut Business
Multi-currency account: get a GBP and EUR account as standard, and then operate in 28+ currencies with transfers at real exchange rate.
Whilst primarily smartphone app focused, you can also access your Revolut business account via your computer.
Via the Revolut business API, you can connect to accounting software such as Xero, Quickbooks and Clearbooks, or business apps such as Slack.
Physical and virtual debit cards for staff, fully controlled by the account owner.
There is no provision for paying cash into your Revolut account.
With a Revolut Grow or Scale paid account, you will get a metal debit card.
Verdict
With Tide you can pay cash into your account, whereas with Revolut you cannot. However, within this comparison it would be unfair to mark down Revolut too much for this, as if your business is cash focused then Tide would not be a great option either due to the fees involved in the cash deposits.
However, overall, Tide's offering is 100% focused on business, whereas Revolut applies various of their features that were developed for their consumer offering to a business context. Therefore, for features, we give the win narrowly to Tide.
Tide vs Revolut Business – Safety
Tide Business
Tide is not a licensed UK bank, but they work with Clearbank, who are, so customer deposits are protected by the Financial Services Compensation Scheme (FSCS).
Tide vs Revolut Business – International
Tide Business
Tide do not allow international payments at this moment. According to a statement on their website, they are working on making this a feature in the future.
Revolut Business
All Revolut Business account holders automatically get a GBP and a EUR account with full IBANs.
You can receive, pay, or hold 30 different currencies with your standard Revolut business account, and all currency transfers are at real exchange rate.
Verdict
In this area, there is really no competition. Tide are very focused within the UK and aimed squarely at UK business market. Revolut are very much an international company, and they have far more options for currency transfer, international payments and ATM withdrawals. So, if you do any international business at all, Revolut is the clear choice.
Tide Business vs Revolut Business– FAQ
Is Tide like Revolut?
Tide and Revolut are similar in that they are both digital current account providers that have a variety of useful features for businesses. There are some key differences and strengths and weaknesses that we cover in this article. See the digital business current account options in our Best Business Bank round-up article.
Tide vs Revolut Business – Verdict
Both Tide & Revolut are great choices for any business looking to modernise and simplify their finances. If your business operates internationally or with different currencies in any way, then the only option here is Revolut. If, however, your business only operates in the UK and deals with GBP, then we find that Tide would be the marginally better option for you.
Articles on the wiseabout.money website may contain affiliate links. If you click these links, we may receive compensation. This has no impact on our editorial and any money earned helps us to continue to provide the useful information on our site. This article is for general information purposes only and does not constitute financial advice. If you have any questions about your personal circumstances please seek professional and independent advice.