About Starling Bank Business
Starling Bank have taken the UK banking industry by storm with their simple and low cost personal banking solution, and they have applied many of the same principles to their business offering, and over 460,000 businesses have decided to open accounts with them.
About Tide
Unlike their fintech banking competitors, Tide do not offer personal accounts, so they focus 100% on business customers.
---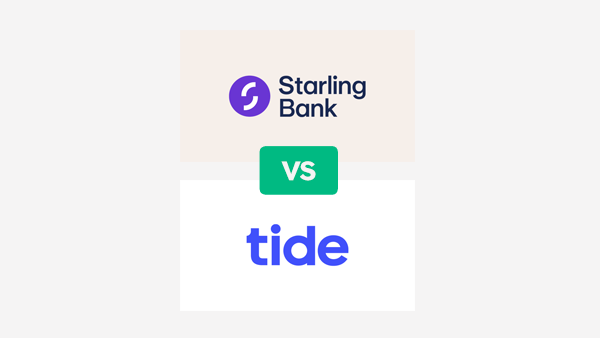 ---
Table of Contents
---
Starling Bank Business vs Tide Business – At a Glance
| | | |
| --- | --- | --- |
| | Starling Bank | Tide |
| Costs | Free, £7/month for Toolkit | Free, Plus £9.99/month, Cashback £49.99/month |
| Fees for Transfers | No | Yes – £0.20 local, international not supported |
| ATM – Local | Free | £1 per withdrawal |
| ATM – International | Free | £1 per withdrawal |
| Cash Deposits | At post office, 0.7% fee. Limits apply | Yes, PayPoint & PO, limits and fees apply |
| Cheque Deposits | Yes, via app or post | Not supported |
| FSCS Protection | Yes | Yes, via Clearbank |
| Currency Transfers | 0.4% fee. USD & EUR accounts – £2/monthly | International payments difficult |
| Accounting App Integration | On Business Toolkit | Yes |
| Invoicing | On Business Toolkit | Yes |
| Money Management | On Business Toolkit | Yes |
---
Starling Bank Business vs Tide Business – Plans, Costs & Fees
Starling Bank Business
The basic Starling Bank business account is free. They do have certain key features that are not included that incur a fee, such as the Business Toolkit. The extras are:
Business Toolkit – £7 per month
Euro Account – £2 per month
USD Account – £5 per month
Starling also have certain other costs:
CHAPS transfers within the UK – £20/transfer
International Payments – a charge of 0.4% of the payment amount is levied for currency transfers, & payments by SWIFT incur a £5.50 fee
Use the Post Office to deposit cash – a cost of £3 if under £1000 – 0.3% of the total amount for amounts over £1000
Open a Starling Bank Business Account now
Tide Business
Tide give 3 account levels to choose from:
Free
Tide Plus – £9.99 (plus VAT) monthly
Tide Cashback – £49.99 (plus VAT) monthly
Tide's aim is to keep as much functionality within their free package as possible. They then charge fees for various account functions:
Debit card payments are free across all tiers.
ATM Withdrawals all account tiers – £1 per withdrawal.
Transfers into or out of your account are charged at £0.20 per transfer. The paid tiers give free allowances: Tide Plus gives 20 free transfers each month, and Tide Cashback, 150 free transfers.
Cash Deposits: Deposit cash via the Post Office into your account at £1 per deposit. Alternatively use PayPoint locations, which is charged at 3% of the amount deposited.
Verdict
Starling Bank and Tide have one very stark difference within their charging structure; cost of making or receiving payments. Tide charge £0.20 per payment into or out of the account, whereas with Starling Bank payments are free. On this basis, we give this round to Starling Bank.
---
Starling Bank Business vs Tide Business – Features
Starling Bank Business
Business Toolkit: Whilst the basic account is free, the majority of the most useful, time saving features are included within the Business Toolkit:
Accounting Software Integration: Your Starling Bank account can be connected directly to your accounting software.
Instant Invoices: Send invoices directly to your customers via the Starling Bank app.
Tax Estimates: the app will automatically analyse your account, and estimate the taxes that will come due.
Automated Expenses: automatic filters categorise your expense spending.
Record & Submit VAT: The app calculates a running total of your VAT.
Bills Sorter: Upload bills into the app to easily schedule payments.
To Do List: Keep track of all important financial events such as VAT or tax deadlines.
Currently the Business Toolkit cannot be used from the smartphone app, users must log on via a computer.
Tide Business
Accounting software integrations: Automatically connect your accounting software to your Tide account. Many packages are supported, including Sage, Xero and Quickbooks.
Desktop Access: use your account from a computer as well as the smartphone app.
Invoice Management: With the invoice assistance tool, you can use the Tide app to chase outstanding invoices automatically. Find out more about Invoicing with Tide.
Expenses: automatically match receipts to your bank statements by uploading the images.
Instant Notifications: keep informed of account activity in real time.
Staff Expense Debit Cards: get 1 free card on the Plus tier, and 3 free cards on the Cashback tier. On the free account cards cost £5.
Tide business formation service: If you have not incorporated your company yet, then Tide will do it for you, and integrate it with your Tide account.
Verdict
Both Tide and Starling Bank have extremely impressive features which would assist any business. With Tide, all elements are included within the free version, whilst with Starling, customers need to pay the monthly fee for the Business Toolkit. This one is incredibly close, but we are going to give it to Tide.
---
Starling Bank Business vs Tide Business – Safety
Starling Bank
Due to their status as a fully licensed UK bank, Starling Bank customer deposits are protected under the Financial Services Compensation Scheme (FSCS) up to £85,000 per customer.
In 2021, Starling Bank announced that they had reached profitability. Their business appears stable, as they have millions of consumer and business customers. The average amount that their customers deposit each month is significantly higher than their challenger bank competitors. It appears that customer can be assured that Starling Bank will be around for a while.
In 2021, Starling Bank scored the highest of any UK bank in a study of banking security.
Tide
Tide say that they are not a bank. Tide has partnered with Clearbank, who are a licensed UK bank, so they can offer FSCS protection to their customers. All new Tide customers have accounts held by Clearbank, and older customers are having their accounts migrated over time.
Verdict
Given their award-winning security features, we give this round to Starling Bank.
Starling Bank Business vs Tide Business – International
Starking Bank
Starling Bank give all customers a GBP account as standard, plus they can get an additional EUR account for £2 per month, and a USD account for £5 per month.
Receive international payments into your Starling Bank account free.
International currency transfers are made at the interbank rate. The charge is a flat fee of 0.4% of the amount transferred.
Transfers via SWIFT are charged at £5.50 per transfer. It is also possible to make cheaper transfers without SWIFT, but these do not have the flexibility and reliability of SWIFT.
Tide
Tide do not allow international payments at this moment. According to a statement on their website, they are working on making this a feature in the future.
Verdict
At the current time, Tide do not have a particularly impressive offering for international payments or currencies, whilst Starling Bank have a wide range of simple and good value features that would allow a business to operate across borders. A clear win for Starling Bank here.
Starling Bank Business vs Tide Business – FAQ
Is Tide better than Starling?
We have detailed the various features of each business bank in this article, and both have an attractive feature-set for businesses. Tide are focused fully on their business customers, as they have no personal account customers, so that may mean the features are more targeted to your needs. If your business operates in other currencies however, then Starling Bank may be the better option.
What is the best business account in the UK?
Both Tide and Starling Bank have good arguments that they are the best business bank account in the UK. However, there are other options available such as Monzo Business, Revolut business, and many traditional high street banks. Read our Best Business Bank Account UK article to go through all of the options.
Starling Bank Business vs Tide Business – Verdict
Either Tide or Starling Bank would be a great choice for any UK business wishing to modernise their banking. As to which would be best for you? Well, it really depends on what your business profile is. If you are a business that operates just in GBP, and does not make or receive a lot of payments, then the features of Tide, along with their 100% focus on business banking, make it hard to choose against.
However, if you do have a large number of payments into your account and/or you operate in currencies other than GBP, then we would say Starling Bank would suit your needs better.
Articles on the wiseabout.money website may contain affiliate links. If you click these links, we may receive compensation. This has no impact on our editorial and any money earned helps us to continue to provide the useful information on our site.