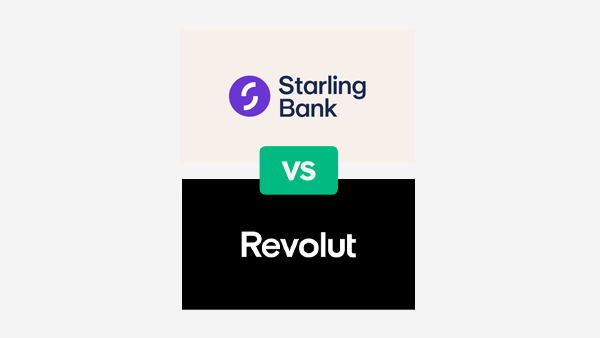 ---
Table of Contents
---
About Starling Bank Business
Starling Bank have taken the UK banking industry by storm with their simple and low cost personal banking solution, and they have applied many of the same principles to their business offering, and over 460,000 businesses have decided to open accounts with them.
About Revolut Business
Revolut have been very successful with their personal current account product, and have extended their product range to include a business offer.
---
Plans, Costs & Fees
Starling Bank Business
The basic business account with Starling is free. However, certain key extra features are only available for a fee, such as the Business Toolkit. These features and costs are:
Business Toolkit – £7 per month
Euro Account – £2 per month
USD Account – £5 per month
They have the following additional costs for certain processes:
To transfer via CHAPS within the UK – £20 per transfer
International Payments – currency transfers cost 0.4% of the payment amount & a £5.50 fee for payments by SWIFT
Deposit cash in the Post Office: if under £1000 – a cost of £3. For amounts over £1000 – 0.3% of the total amount.
Revolut Business
Revolut have 4 business account tiers:
Revolut Business Free
Revolut Business Grow – £25 monthly
Revolut Business Scale – £100 monthly
Revolut Business Enterprise – costs depend on which features added.
The Revolut paid tiers give set amounts of key account functions, for example, transfers and ATM withdrawals, as part of the package rather than charging for each individual action.
All transfers into or out of the account are charged at £0.20 per transfer. The tiers include a certain amount of payments: 5 per month on the Free tier, 100 with the Grow tier and 1000 on the Scale tier.
International payments, whether in or out, will be charged at £3 per payment,
Across all account tiers, ATM withdrawals are charged at 2% of the amount withdrawn.
Verdict
A very different approach, with Starling Bank providing free banking with monthly costs for their business toolkit, whilst Revolut have fees for each and every payment in or out of the account, with a certain amount free with the different paid tiers. As Starling Bank do this free, that wins them this round.
---
Features
Starling Bank Business
Business Toolkit: Even though the basic Starling Bank business account is free, the most useful features are within their Business Toolkit:
Accounting Software Integration: You can connect your Starling Bank account directly to your accounting software.
Instant Invoices: Use the Starling Bank app to send invoices directly to your customers.
Tax Estimates: The app automatically analyses your account activity and estimates the taxes due.
Automated Expenses: Categorise your expenses with the automatic filters.
Record & Submit VAT: A running total of the VAT due is calculated by the app.
Bills Sorter: Easily schedule payments by uploading upcoming bills into the app.
To Do List: Track important events, such as VAT or tax deadlines.
Customers can currently only use the Business Toolkit via a computer, not via the smartphone app.
Revolut Business
Multi-currency account: Revolut give every business customer a GBP and EUR account as standard. Customers can also operate in over 28 currencies, and transfer between them at real exchange rate.
Access: You can use your Revolut business account via both your computer and your smartphone.
Accounting Software Integration: Use the Revolut business API to connect to accounting software i.e. Xero, Quickbooks and Clearbooks, plus business apps such as Slack.
Debit Cards for staff: Physical and virtual debit cards, fully controlled by the account owner.
Cash Payments: Customers cannot pay cash into their Revolut account.
Metal Debit Card: Revolut Metal customers get a metal debit card.
Verdict
Each bank does have a relatively similar feature set. Revolut offers more with international payments, but overall, Starling Bank gives a more fully rounded offering, so we give this round to them.
---
Safety
Starling Bank
As they are a licensed UK bank, Starling customer deposits are protected by the Financial Services Compensation Scheme (FSCS) up to a maximum of £85,000.
As of 2021, Starling Bank announced that they had become profitable. Their business model appears stable, with multiple millions of customers, across both consumer and business. The average monthly deposit amount per customer is much higher than many of their competitors – demonstrating that customers have a lot of faith in their stability and safety.
Starling Bank achieved the highest score of any UK bank in a study of UK banking security conducted in 2021.
International
Starling Bank
Alongside the GBP account as standard, customers can pay £2 per month to get a EUR account and £5 per month to get a USD account.
International payments are free to receive into your Starling Bank business account.
Make international currency transfers at the interbank rate, with a flat fee of 0.4% of the amount transferred.
SWIFT transfers are charged at £5.50 per transfer. Transfers without SWIFT are also possible, which is cheaper, but these are not possible to recall, and are sent without a reference.
Revolut
Revolut business customers automatically get a GBP and EUR account with IBANs.
Receive, pay and hold over 28 currencies in your Revolut business account. All currency transfers are made at real exchange rate.
Verdict
Starling Bank have a solid offering when it comes to international business and foreign currencies. However, Revolut are an international business, with a presence in dozens of countries around the world, whilst Starling Bank offer services solely within the UK. Therefore, Revolut are able to offering a definitively superior service for businesses that deal with a lot of cross-currency and cross-border business. Therefore this round goes to Revolut.
Starling Bank Business vs Revolut Business– FAQ
Which is better Starling, Monzo or Revolut?
Each of these banks has their strengths and weaknesses. See our full analysis in our Best Business Bank Account article.
What is the difference between Revolut and Starling Bank?
We have detailed the main differences between Revolut Business and Starling Bank business in this article, but in brief, Revolut has a great solution for businesses that operate cross-border, whilst Starling Bank business has a more fully rounded product.
Starling Bank Business vs Revolut Business – Verdict
In general, we find that Starling Bank offer an extremely solid and feature-rich business account, that would work very well for a UK focused business who wanted to modernise their business banking. Revolut also offer a very good product, but maybe lacks in certain features compared to Starling. Therefore we would say that Starling Bank wins this head to head. For some businesses however, Revolut may suit better – especially if the business involves different currencies, travel and cross border business.
Articles on the wiseabout.money website may contain affiliate links. If you click these links, we may receive compensation. This has no impact on our editorial and any money earned helps us to continue to provide the useful information on our site. This article is for general information purposes only and does not constitute financial advice. If you have any questions about your personal circumstances please seek professional and independent advice.