About Monzo Business
UK fintech bank Monzo have done very well with their personal account product, having attracted millions of users. Their business account, launched in 2020, sees them apply the same features in a business context.
About Tide Business
Launched in 2017, Tide have advertised their services heavily across the UK and picked up many business customers, many of which are sole traders. Unlike many competitors, they do not have a personal current account option, rather they focus only on their product for businesses.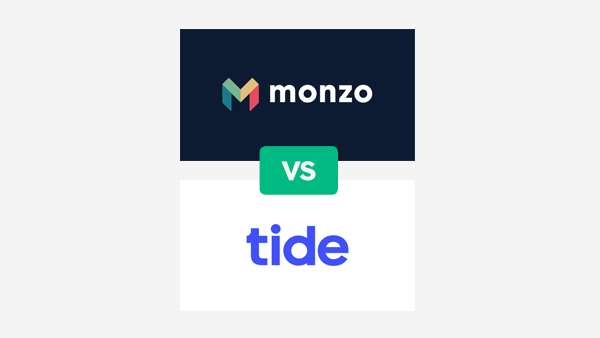 ---
Table of Contents
---
Monzo Business vs Tide Business – At a Glance
| | | |
| --- | --- | --- |
| | Monzo Business | Tide Business |
| Costs | Free, Pro £5/monthly | Free, Plus £9.99/month, Cashback £49.99/month |
| Fees for Transfers | No | Yes – £0.20 local, international not supported |
| ATM – Local | Free | £1 per withdrawal |
| ATM – International | Free within EEA, £3 charge outside | £1 per withdrawal |
| Cash Deposits | Paypoint, £1 fee, limits apply | Yes, PayPoint & PO, limits and fees apply |
| Cheque Deposits | Yes, via post | Not supported |
| FSCS Protection | Yes | Yes, via Clearbank |
| Currency Transfers | Offered via Wise | International payments difficult |
| Accounting App Integration | Yes, on Pro | Yes |
| Invoicing | Yes, on Pro | Yes |
| Money Management | Many on Pro | Yes |
---
Monzo Business vs Tide Business – Plans, Costs & Fees
Monzo Business
On Monzo Business you can choose from 2 account levels:
Monzo Business Lite – Free
Monzo Business Pro – £5/month
Payments with the debit card are free across all tiers. Monzo also have no charge for transfers in or out of your account, if originating from or going to the UK.
Monzo charges fees for certain account functions:
Customers are able to deposit cash at PayPoint outlets. You will be charged £1 for each deposit. Business can not pay in more than £1000 every 6 months.
Anywhere withing the European Economic Area (EEA) (including the UK), cash withdrawals are free. Outside of the EEA, withdrawals up to £200 per month are free. Amounts above that will incur a fee of 3%.
Tide Business
Three account tiers are offered by Tide:
Free
Tide Plus – £9.99/month
Tide Cashback – £49.99/month
Tide offer the majority of the account features within their Free account package, and charge set fees for key account functions.
With the debit card, payments are free across all tiers.
£1 per ATM withdrawal – across all account tiers.
You will be charged £0.20 per bank transfer into or out of your account. 20 free transfers per month are included with Tide Plus, and 150 per month with Tide Cashback.
Cash can be deposited into your account via the Post Office, with a charge of £ per deposit. Alternatively you can pay in cash via PayPoint locations, which is charged at 3% of the amount deposited.
Verdict
Cost-wise, its Monzo all of the way. Their premium package is cheaper, and they have no fees on any of their tiers for bank transfers within the UK, whereas Tide charge £0.20 per transfer.
---
Monzo Business vs Tide Business – Features
Monzo Business
Tax Pots: You can set a percentage of every payment that you receive into your account to be move to a tax pot within your account. This ensures that you have the tax funds available once it is due.
Accounting Software: If you use Quickbooks, Xero or Freeagent for your business accounting, then you can connect your Monzo Business account so that data is easily transferred. If you use different software, you can still download your transaction data in formats that can easily be upload to your accounting package.
Multi-User Access: Account holders that are limited companies can set up multiple users on the account. The account owner has full control of these.
Invoice Management: Send invoices direct from the Monzo app to your customers.
Devices: Although smartphone app focused, Monzo can also be used by business customers via their computer.
Customers can currently only use the Business Toolkit via a computer, not via the smartphone app.
Tide Business
Integrate accounting software: Tide facilitate the automatic connection of your accounting software to your Tide account. Packages supported include Xero, Sage and Quickbooks.
Computer & App Access: Tide accounts are accessible from both your computer and smartphone app.
Invoice Management: Tide provide invoice management functions, such as the invoice assistance tool. The Tide app can automatically send reminders for invoices that are due, saving valuable time.
Expenses: You can match expense receipts to your bank statements automatically simply by uploading images.
Notiifcations: Stay informed of any account activity in real time with instant notifications.
Debit Cards: Get debit cards for your staff for their expenses. These cost £5 per card on the Free account. One card is given free on the Tide Plus tier, and you get 3 cards free with Tide Cashback.
Company Formation: If you don't have your business incorporated yet, then Tide will form your Limited company for you, and set it up with your Tide account.
Verdict
Tide are completely focused on business customers. As such, their entire suite of features is completely built for businesses. Monzo on the other hand, have built their banking features for their far larger consumer business and re-factored them for businesses. Tide simply have the better business related feature-set, so they take this round.
---
Monzo Business vs Tide Business – Safety
Monzo
Monzo are a fully licensed UK bank and as such, customer deposits are protected under the Financial Services Compensation Scheme (FSCS) up to a maximum of £85,000 per customer.
In March 2023 Monzo announced that it hit profitability for two consecutive months. As a relatively recent start up company, Monzo have been funded mainly by investment. However, it appears that they are now heading towards long term profitability.
Tide
Tide does not have a full UK banking licence. However, they partner with Clearbank, who hold the customer deposits, and who are a licensed UK bank. Therefore customer funds are protected under the Financial Services Compensation Scheme (FSCS) up to £85,000.
Verdict
Both companies appear healthy and stable, with a large and growing customer base and revenue.
Monzo Business vs Tide Business – International
Monzo Business
Monzo do not have particularly simple or reliable methods to receive international payments into their accounts at the present time. The process is detailed here.
Monzo has partnered with Wise, a currency exchange specialist, to facilitate their outbound international payments and currency transfers. Transfers are made at interbank rate, with a small fee added per transfer.
Tide
Tide do not allow international payments at this moment. According to a statement on their website, they are working on making this a feature in the future.
Verdict
Neither of the competitors really shine in this section. Tide are only really set up for UK business, and whilst Monzo do have more options for currency transfer and international payments, it is definitely not optimal. Due to their offer being slightly more comprehensive, Monzo take this round. However, if your business does even a small amount of business across borders, it would probably be better to research a provider that gives you more scope in this area.
Monzo Business vs Tide Business– FAQ
Who are Tide business account competitors?
In the digital banking space, all of the main players such as Starling Bank, Monzo and Revolut have a business product. Check out our overview of Best Business Bank Accounts.
Is Tide just a business account?
Yes, unlike their competitors, Tide only offer a business account, so their focus is totally of their business account functions.
Monzo Business vs Tide Business – Verdict
Monzo Business wins on price, but Tide has the better features, whilst both have issues with operating with international payments. If you are a UK focused business, and don't have a large amount of transactions every month, then Tide would be a great option. If you do have more transactions, then go for Monzo business.
Articles on the wiseabout.money website may contain affiliate links. If you click these links, we may receive compensation. This has no impact on our editorial and any money earned helps us to continue to provide the useful information on our site.