About Monzo Business
UK digital bank Monzo have been successful with their personal account product, having signed up millions of users. Their business account, launched in 2020, sees them apply the same features in a business context.
About Starling Business
Starling Bank are a UK fintech success story, with their free current account for personal banking getting them several million account holders. They bring the same good value and simple banking solutions to the business banking market.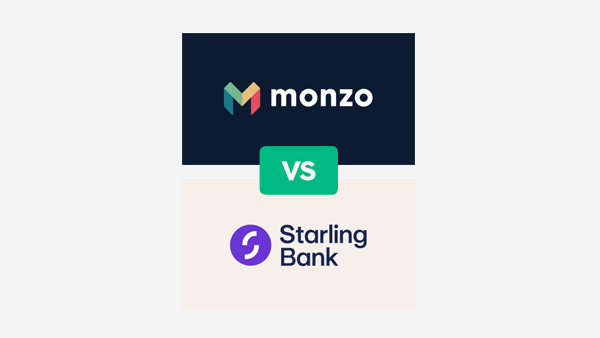 ---
Table of Contents
---
Monzo Business vs Starling Bank Business – At a Glance
| | | |
| --- | --- | --- |
| | Monzo Business | Starling Bank |
| Costs | Free, Pro £5/monthly | Free, £7/month for Toolkit |
| Fees for Transfers | No | No |
| ATM – Local | Free | Free |
| ATM – International | Free within EEA, £3 charge outside | Free |
| Cash Deposits | Paypoint, £1 fee, limits apply | At post office, 0.7% fee. Limits apply |
| Cheque Deposits | Yes, via post | Yes, via app or post |
| FSCS Protection | Yes | Yes |
| Currency Transfers | Offered via Wise | 0.4% fee. USD & EUR accounts – £2/monthly |
| Accounting App Integration | Yes, on Pro | On Business Toolkit |
| Invoicing | Yes, on Pro | On Business Toolkit |
| Money Management | Many on Pro | On Business Toolkit |
---
Monzo Business vs Starling Bank Business – Plans, Costs & Fees
Monzo Business
Monzo business has 2 account tiers:
Monzo Business Lite – Free
Monzo Business Pro – £5 every month
Monzo also has additional costs for certain account functions:
Cash Deposits: Monzo business customers can deposit cash into their account via PayPoint locations. There is a £1 charge for every cash deposit. There is also a maximum of £1000 that a business can pay in each 6 months.
Cash/ATM Withdrawals: ATM withdrawals are free within the European Economic Area (EEA). You can also withdraw up to £200 per month outside of the EEA, with a charge of 3% for any amount above that.
Starling Bank Business
Starling Bank offer their business bank account (in GBP) for free. However, customers need to pay an extra monthly amount for certain key features, such as their Business Toolkit. The main extra costs are:
Business Toolkit – £7 each month
Euro Account – £2 each month
USD Account – £5 each month
In addition, Starling have the following costs for certain processes:
Send funds via CHAPS within the UK – £20 per transfer
International Payments – 0.4% of payment amount & £5.50 fee for payments by SWIFT
Deposit cash in the Post Office: if under £1000 – £3 charge. For amounts more than £1000 – 0.3% of the total deposited.
Verdict
It is possible to use the free version of both Starling Bank and Monzo's accounts to run your business. However, many of the useful, time saving features are only available if you pay a monthly fee. With Monzo, it is by subscribing to Monzo Plus which is £5 per month, and with Starling it is by getting the Business Toolkit, which is £7 per month. The costs for both of these are similar, and give a similar suite of features, so this round we find is a tie.
---
Monzo Business vs Starling Bank Business – Features
Monzo Business
Tax Pots: For every payment a business receives into their account, a set percentage can be diverted into a tax pot, so that the funds are there once the tax payments are due.
Integrated Accounting: The Monzo business account can be automatically integrated with accounting software such as Xero, Quickbooks or Freeagent. If different software is used, then all transactions can be downloaded so they can then be compatible with your accounting software.
Multi-User Access: Limited companies can have multiple users set up and controlled by the account owner.
Invoicing: The Monzo account can generate invoices direct from that app that can be sent to customers
Use Monzo on a computer: Business customers can use their Monzo account on their computer as well as via the smartphone app.
Customers can currently only use the Business Toolkit via a computer, not via the smartphone app.
Starling Bank Business
Business Toolkit: The basic Starling Bank Business account is free. However, their Business Toolkit contains many useful features for a monthly cost:
Accounting Software Integration
Instant Invoices: You can send invoices directly to customers from the Starling Bank app.
Tax Estimates: Your account will be analysed by the app and the taxes due estimated.
Automated Expenses: Set up automatic filters to categorise your expenses.
Record & Submit VAT: The app will automatically make VAT calculations to give you a running total.
Bills Sorter: Upload your bills into the app and easily schedule payments.
To Do List: Keep a tight track of all the important events, such as when tax or VAT deadlines are coming up.
The Business Toolkit is currently only available to use via a computer, and cannot be accessed via the smartphone app.
Verdict
Again, the Monzo and Starling features are very comparable in terms of their features, with neither having anything that really stands out above the other. Therefore, this round is another tie.
---
Monzo Business vs Starling Bank Business – Safety
Monzo
Monzo are a fully licensed UK bank and as such, customer deposits are protected under the Financial Services Compensation Scheme (FSCS) up to a maximum of £85,000 per customer.
In March 2023 Monzo announced that it hit profitability for two consecutive months. As a relatively recent start up company, Monzo have been funded mainly by investment. However, it appears that they are now heading towards long term profitability.
Starling Bank
Starling Bank are a licensed UK bank, and as such any customer deposits are protected by the Financial Services Compensation Scheme (FSCS) up to a total of £85,000.
In 2021, Starling announced that they had achieved profitability, and their business model appears to be stable, with several millions of customers, both consumer and business. They also have a far higher monthly deposit rate than some of their competitors, which shows that people have a high level of faith in the banks stability and safety.
In an assessment of UK banking security conducted in 2021, Starling Bank achieved the highest score of any bank.
Verdict
Both Monzo and Starling are highly regulated and safe UK banks, and as such businesses can feel comfortable with putting their money with them. However, due to their higher level of stability, we are giving this one to Starling Bank.
Monzo Business vs Starling Bank Business – International
Monzo Business
Currently, it is not that easy or reliable to receive international payments into your Monzo business account, as you can see here. Therefore, if your business does receive payments from overseas, it may be best to investigate this further before taking the plunge with Monzo Business.
For international currency transfers, Monzo has partnered with Wise, another prominent UK based fintech, who specialise in currency transfer. Transfers between currencies are made at interbank rate, with a small fee that depends on which currencies you are transferring to and from.
Starling Bank Business
You can set up a EUR account with Starling that will cost £2 per month. Also, you can set up a USD account, which will cost £5 per month.
You can receive international payments directly into your Starling Bank business account. Simply give out the IBAN and BIC from your account to the person sending the funds. These details can be found within the app.
Starling Bank charge a flat fee of 0.4% of the amount transferred for international currency transfers. In addition, a fee of £5.50 per SWIFT payment is charged. You can also do transfers without SWIFT, which is cheaper, but does not have the benefits of SWIFT i.e. it is not possible to recall, and it would not be sent with a reference.
Verdict
Starling Bank are the clear winner here, offering USD and EUR accounts for a small fee, and being able to easily receive international payments into their accounts.
Monzo Business vs Starling Bank Business– FAQ
What is the best bank for small business UK?
Many of the big digital banks that offer personal accounts also offer business products, and digital banks can often work very well for small businesses and sole traders. Check out our Best Business Current Account UK article to see all of the options.
Is Starling or Monzo better abroad?
For businesses, Starling Bank has a simpler and more effective product than Monzo.
Monzo Business vs Starling Bank Business – Verdict
Monzo and Starling Bank both have highly featured and good value business banking offerings that would help any small business. However, we find that Starling Bank, with their more stable business model, and better international payment support, narrowly edges them above Monzo, so we are declaring them the winner of this head-to-head.
Articles on the wiseabout.money website may contain affiliate links. If you click these links, we may receive compensation. This has no impact on our editorial and any money earned helps us to continue to provide the useful information on our site.