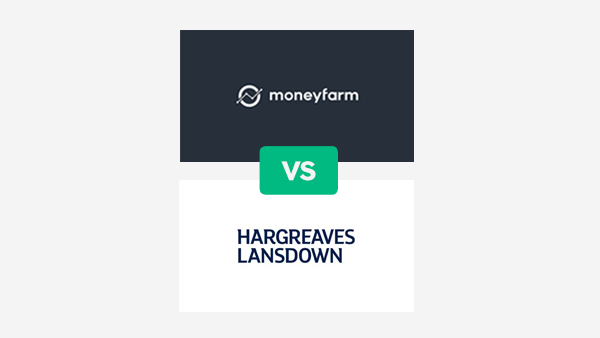 ---
Table of Contents
---
At a Glance
| | | |
| --- | --- | --- |
| | Moneyfarm | Hargreaves Lansdown |
| Platform Type | Robo-advisor | Execution Only |
| Minimum Investment | £500 | £1 – Fund and Share account |
| | | £100 – ISA |
| | | £1000 – HL Portfolio + |
| Products | General Investment Account | Fund and Share Account |
| | Stocks & Shares ISA | Stocks and Shares ISA |
| | Junior ISA | Cash ISA |
| | Pension | Lifetime ISA |
| | | Active Savings |
| | | Personal Pension (SIPP) |
| Fees | 0.65% to 1.05% annual fee | 0.1% to 0.45% annual fee |
| | | From £5.95 to £11.95 per trade |
About Moneyfarm
What is a robo-advisor?
Traditional financial advisors invest on behalf of their clients, by finding out the client's appetite for risk, and the type of investments they want to have, and then creating an investment plan for them. Robo-advisors operate in exactly the same way, but instead of using investment experts to create the plan, the use algorithms and automated systems to create the plan, thus saving on cost.
About Hargreaves Lansdown
What is an execution-only platform?
An execution-only platform allows customers to make trades themselves using their system, and does not provide financial advice. They only provide the 'execution' of the trade.
---
Plans, Costs & Fees
Moneyfarm
Moneyfarm have a simple pricing structure which depends on:
Whether your investments are socially responsible or classic.
How much you have invested with Moneyfarm. The annual percentage cost will reduce the higher you have invested with them
The pricing is made up of 3 areas:
Moneyfarm fees
Underlying fund fees
Market spread
This is then combined into a single percentage of your total investment, which is they taken as a fee annually.
The minimum investment amount with Moneyfarm is £500.
The pricing can be seen in the table below.
| | | |
| --- | --- | --- |
| Fund Types: | Socially Responsible | Classic |
| | Annual % | Annual % |
| Amount Invested | | |
| £500 – £9,999 | 1.05% | 1.04% |
| £10,000 – £19,999 | 1.00% | 0.99% |
| £20,000 – £49,999 | 0.95% | 0.94% |
| £50,000 – £99,999 | 0.90% | 0.89% |
| £100,000 – £249,999 | 0.75% | 0.74% |
| £250,000 – £500,000 | 0.70% | 0.69% |
| £500,000 + | 0.65% | 0.64% |
In the table below we show the actual annual amount you will pay dependent on the amount you have invested.
| | | |
| --- | --- | --- |
| Fund Types: | Socially Responsible | Classic |
| | Annual £ Cost | Annual £ Cost |
| Amount Invested | | |
| £500 | £5.25 | £5.20 |
| £10,000 | £100.00 | £99.00 |
| £20,000 | £190.00 | £188.00 |
| £50,000 | £450.00 | £445.00 |
| £100,000 | £750.00 | £740.00 |
| £250,000 | £1,750.00 | £1,725.00 |
| £500,000 | £3,250.00 | £3,200.00 |
Moneyfarm do not charge for trades, the above is the total cost structure.
Hargreaves Lansdown
Hargreaves Lansdown is a traditional execution-only trading app and their charges are also very standard for this type of platform.
The main charges come in two types, and depend on whether you are holding shares or funds in your account.
Annual Account Charges
For shares (including ETFs), there is no annual charge for holding these in your account. However, for holding funds, the charges are:
| | |
| --- | --- |
| Value of Funds | Charge |
| Up to £250,000 | 0.45% |
| Between £250,000 and £1 million | 0.25% |
| Between £1 million and £2 million | 0.1% |
| Over £2 million | Free |
Trading Charges
There are no trading charges for funds. However trading shares (including ETFs and some other types) is charged at:
| | |
| --- | --- |
| Amount of deals in previous months | Charge per deal |
| 0 to 9 | £11.95 |
| 10 to 19 | £8.95 |
| Over 20 | £5.95 |
In addition, if shares from overseas i.e. non UK, are traded, Hargreaves Lansdown will add a foreign exchange charge, which depends on the deal size.
Customers can open a fund and share account with only £1.
The minimum to start an ISA is £100.
Verdict
The difference here really comes down to the passive vs active experience. With Hargreaves Lansdown, the annual percentage cost is significantly lower than with Moneyfarm. However, with Moneyfarm that is the only cost, as they do all of the trades for you. With Hargreaves Lansdown, you need to make the trades yourself, and they have a cost for each trade. Which suits you best really comes down to the investment style you prefer.
---
Features
Moneyfarm
When investing with Moneyfarm, you will initially need to answer a series of questions, such as how comfortable you are with risk, how much experience you have with investing, and what type of investments you prefer (standard or ethical).
You will then need to choose the investment typethat you require.Moneyfarm offer the following products:
General Investment Account
Stocks & Shares ISA
Junior ISA
Pension
As a robo-advisor, Moneyfarm does most of its investment guidance automatically. However, all customers do also get a dedicated person as their investment advisor, which is a fantastic resource, and something that really distinguishes Moneyfarm from their competitors.
Customers can also transfer existing pensions and ISAs into Moneyfarm.
Hargreaves Lansdown
Hargreaves Lansdown have a wide range of different products that allow you to invest:
Fund and Share Account
Stocks and Shares ISA
Cash ISA
Lifetime ISA
Active Savings
Personal Pension (SIPP)
Hargreaves Lansdown also provide a wide range of information and advice on investment to help you make the best choices for you.
In addition, Hargreaves Lansdown have:
Very wide range of assets to invest in
Extensive investment information and education
Lower costs for larger investments & higher trading levels
Verdict
Each of the platforms have attractive features in their own investment niche. Hargreaves Lansdown provide a very wide range of products and assets to invest in, which reflects that that are one of the largest investment platforms in the UK. Moneyfarm offer a smaller amount of options in terms of products, and in terms of assets, you are limited by the platform doing the investments for you, rather than you being able to buy things yourself, as on Hargreaves Lansdown.
---
Safety
Any investor needs to understand that any investment carries risk. There is always the potential for your investment to go down in value, and even to lose your entire investment.
Moneyfarm
Moneyfarm are fully regulated by the Financial Conduct Authority (FCA) in the UK, which means that they follow the regulations to protect customer funds. For example, all customer invested funds must be kept completely separate from their company money. Customer funds are also protected under the Financial Services Compensation Scheme (FSCS) up to £85,000 per customer in the event that the company fails.
As a robo-advisor, Moneyfarm make the trades for the customer, and they create an investment plan that will usually diversify the investments to mitigate risk. In addition, when setting up each investment plan, they will ask for the customers attitude to risk so they can make sure that the customer has the level of exposure to potential losses that they want.
Hargreaves Lansdown
Hargreaves Lansdown are also fully regulated and have all of the same protections as Moneyfarm.
One area where there may be more risk is that on the platform customers have to make their own trades, so the diversification is the customer's responsibility. If the investor is inexperienced then this could lead to issues. However, Hargreaves Lansdown does provide extensive educational resources, and various guides and best buys to help customers navigate their investment journey.
Verdict
As a robo-advisor, Moneyfarm make the investment decisions for the customer, which should mitigate risk, although they can also still be subject to losses. Hargreaves Lansdown allows the user to make their own decisions, but does give guidance. It really depends on your investment preference – whether you want to be active or passive.
---
Extras
Moneyfarm
The main extra offered by Moneyfarm, and something that other similar robo-advisor platforms do not offer, is that each customer will get an in-person contact they can speak to at Moneyfarm.
As a robo-advisor, Moneyfarm is a passive platform, so they make the trades for you. Therefore they do not have many resources for learning more about trading and stocks.
Hargreaves Lansdown
As Hargreaves Lansdown is an active trading platform i.e. you do the trading yourself, then you will need to have some idea of what assets you wish to buy! Hargreaves Lansdown do offer customers a wide range of resources and education to assist with learning more about investing in general and specific stocks and assets, so customers can educate themselves.
Verdict
The addition of an in-person advisor is a great addition for Moneyfarm, which really differentiates Moneyfarm in the robo-advisor market.
Those who want to learn more about investing would be better to go with Hargreaves Lansdown due to the significant resources they provide.
---
Moneyfarm vs Hargreaves Lansdown – FAQ
Which is better Nutmeg or Moneyfarm?
Nutmeg are the biggest UK robo-advisor, but Moneyfarm are also growing fast. They have similar products, with some key differences
Can I trust Moneyfarm?
Moneyfarm are a fully regulated UK investment company, with protection under the FSCS, so they are as trustworthy as any other UK investment platform.
What happens if Moneyfarm goes bust?
Moneyfarm do appear to be a stable and successful company, so it is unlikely they will go bust. However in the case that they do, any investment up to £85,000 is covered under the FSCS.
What happens if Hargreaves Lansdown goes bust?
As with Moneyfarm, customer deposits are protected under the FSCS. Hargreaves Lansdown are one of the biggest investment platforms in the UK and have been operating for over 40 years, so it is seen as a safe paid of hands when it comes to investments.
Verdict
Moneyfarm and Hargreaves Lansdown are both high quality and effective investment platforms with the full range of protections that any investment app should have. When deciding which one is for you, it really comes down to whether you want to be active i.e. decide on your own investments and make the trades – in which case Hargreaves Lansdown is for you. If you prefer to be passive i.e. the trades are made for you, then Moneyfarm could be the best choice.
Articles on the wiseabout.money website may contain affiliate links. If you click these links, we may receive compensation. This has no impact on our editorial and any money earned helps us to continue to provide the useful information on our site.