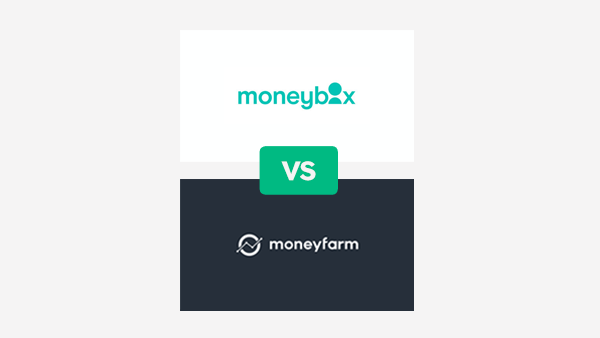 ---
Table of Contents
---
Moneybox vs Moneyfarm – At a Glance
Moneyfarm
Moneybox
Platform Type
Robo-advisor
Automatic Investment
Minimum Investment
£500
£1
Products
General Investment Account
General Investment Account
Stocks & Shares ISA
Stocks & Shares ISA
Junior ISA
Junior ISA
Pension
Pension
Savings
Fees
0.65% to 1.05% annual fee
Free to save
£1 fee per month to invest
Platform fee – 0.45% annually
Fund fee between 0.12%
& 0.58% annually
About Moneybox
The main selling point of Moneybox is that they act like a digital version of a real world moneybox. They connect to your bank account via open banking, and then use their round-ups feature to round-up each payment you make to the nearest pound, and then move this amount to the Moneybox platform (users can also make other one-off or regular payments).
Once the money is in your account in their platform, they offer a variety of savings and investment options. Once your money is in the Moneybox platform, they create the investment plans for you, which is actually very similar to how Moneyfarm operates.
About Moneyfarm
What is a robo-advisor?
A traditional financial advisor will invest on behalf of their clients. Firstly, they will find out their client's requirements, in terms of the amount they want to invest and their appetite for risk, and finally the type of investments they prefer. They will then create an investment plan for their client. Robo-advisors work in the same way, but they remove the human element and replace the planning side with AI and algorithms. This makes robo-advisors cheaper than a traditional financial advisor.
---
Moneybox vs Moneyfarm – Plans, Costs & Fees
Moneybox Savings
Moneybox have no fees for saving with them or different tiers of service.
Moneybox Investment Platform & Fund Fees
If you wish to invest with Moneybox, you will have 3 types of fees:
Firstly a subscription fee of £1 per month, which covers as many investment accounts as you need.
Platform fee – Moneybox charge 0.45% of the total value of all of your investments per year, charged on a monthly basis, and taken from your investment balance. So if you have £100,000 in investments per year, this would be £450 per year, or £37.50 per month.
Fund Provider Fee – each investment fund that Moneybox offers has a different percentage annual fee, which ranges from 0.12% to 0.58% of your balance in that fund per year.
Moneybox Pensions Fees
Similarly to their investment fees, Moneybox charge a platform fee of 0.45% per year for any amount held in a pension up to £100,000. Any amount over £100,000 is charged at a fee of 0.15%. The customer will then need to pay a fund provider fee. This depends on which fund you invest with, and is between 0.12% and 0.58% of the total amount invested.
Important to Note:
The minimum investment with Moneybox is only £1.
Moneyfarm Fees
The Moneyfarm pricing structure is simple, and depends on 2 elements:
Fund type – either socially responsible or classic.
The amount you have invested with Moneyfarm – the percentage fee reduces the more you have invested.
Their pricing is then made up of 3 parts:
Moneyfarm fees
Underlying fund fees
Market spread
All of these elements are then combined into one, to give the final percentage you will pay annually for your investments.
The below table shows the pricing:
| | | |
| --- | --- | --- |
| Fund Types: | Socially Responsible | Classic |
| | Annual % | Annual % |
| Amount Invested | | |
| £500 – £9,999 | 1.05% | 1.04% |
| £10,000 – £19,999 | 1.00% | 0.99% |
| £20,000 – £49,999 | 0.95% | 0.94% |
| £50,000 – £99,999 | 0.90% | 0.89% |
| £100,000 – £249,999 | 0.75% | 0.74% |
| £250,000 – £500,000 | 0.70% | 0.69% |
| £500,000 + | 0.65% | 0.64% |
In the table below we show the actual annual amount you will pay dependent on the amount you have invested.
| | | |
| --- | --- | --- |
| Fund Types: | Socially Responsible | Classic |
| | Annual £ Cost | Annual £ Cost |
| Amount Invested | | |
| £500 | £5.25 | £5.20 |
| £10,000 | £100.00 | £99.00 |
| £20,000 | £190.00 | £188.00 |
| £50,000 | £450.00 | £445.00 |
| £100,000 | £750.00 | £740.00 |
| £250,000 | £1,750.00 | £1,725.00 |
| £500,000 | £3,250.00 | £3,200.00 |
Important to Note:
Moneyfarm do not charge for trades, the above shows the total cost structure.
The minimum investment amount with Moneyfarm is £500.
Verdict
Despite the two products being different in presentation, the costs are actually quite similar, with both providers charging a percentage of the total amount invested with them. With Moneyfarm, the costs reduce when more is invested with them. They also have a quite high minimum investment of £500, whereas with Moneybox it is only £1. Therefore it appears that Moneybox may be the better bet for smaller investors, whilst those with a higher amount to invest may find Moneyfarm the better option.
---
Moneybox vs Moneyfarm – Features
Moneybox
Round-Ups – Moneybox rounds-up all of the payments into your account to the nearest pound, and puts them towards your savings.
Other Deposit Options – Choose to make weekly, monthly or one-off deposits into Moneybox
Pensions – Track down and then combine all of your existing pensions, then invest them with Moneybox.
Open savings and investments accounts with just £1.
A wide variety of investment fund options
Earn interest on your savings
Mortgage Advice – access information on mortgages via the app.
Savings
Moneybox offer the following different savings accounts (interest rates updated May 2023):
Simple Saver – 3% AER
32 Day Notice – 3.4% AER
45 Day Notice – 3.2% AER
95 Day Notice – 3.55% AER
120 Day Notice – 3.46 AER
Investments
When you start investmenting with Moneybox, you have a choice of 3 different levels of risk – Cautious, Balanced, and Adventurous – you can then choose how much of your funds you want to put into each level. It is possible to customize the allocations, but Moneybox advise that it is best to stick with the set ratios in each group.
The performance of Moneybox investments can be seen on their website.
The different investment products you can have with Moneybox are:
Stocks and Shares ISA
General Investment Account
Junior ISA
Lifetime ISA
Personal Pension
Verdict
In general, Moneybox offers a more well-rounded product than Moneyfarm, offering savings, as well as some money management features. For those very focused on investing, then Moneyfarm are a good option, but for those who are looking for a product that can help with more overall financial management and saving, Moneybox would be the better option.
---
Moneybox vs Moneyfarm – Safety
Moneybox
Moneybox are not a licensed UK bank. However, all of their savings and investment accounts are held with banks who are fully licensed, such as Investec. Therefore, your savings and investments are protected up to £85,000 per financial institution.
When connecting to your bank account, Moneybox use open banking, which is a very safe and highly regulated system.
Moneyfarm
Moneyfarm are fully regulated by the Financial Conduct Authority (FCA) in the UK, which means that they follow the regulations to protect customer funds. For example, all customer invested funds must be kept completely separate from their company money. Customer funds are also protected under the Financial Services Compensation Scheme (FSCS) up to £85,000 per customer in the event that the company fails.
Verdict
Both platforms are well regulated and customer funds are covered under the FSCS.
---
Moneybox vs Moneyfarm – FAQ
Is Moneyfarm better than Moneybox?
As discussed in this article, Moneyfarm is dedicated to investments and has a wider range of investment options. However, Moneybox has more additional options, such as money management and savings, so it really depends on your own personal requirements as to which would suit you better.
What is better than Moneybox?
There are many different investment platforms on the market. For other automatic investment apps, read our Best Automatic Savings App article. If you want to get a broader overview of all of the investment options, check out our Best Investment Apps UK article.
Can I trust Moneyfarm?
Moneyfarm are a UK company and regulated by the Financial Conduct Authority. This means that your funds are covered under the FSCS up to £85,000 in case the company fails. This means that Moneyfarm are as trustworthy as any other UK investment platform.
How risky is Moneybox?
Any investment does carry risk, and if you invest with any of the Moneybox funds, there is always the risk that your investment may go down. However, they will diversify your investments, and it could be argued that they will be less risky than investing in a few individual shares on trading apps such as eToro or Freetrade.
Moneybox vs Moneyfarm – Verdict
At their hearts, the Moneyfarm and Moneybox products are quite similar, especially in regard to investment. However, once you dig deeper, there are quite a few differences. Moneyfarm is a more dedicated investment platform, and has more investment options. However Moneybox has more features like savings, money management by open banking and more. In addition, the minimum investment on Moneyfarm is £500, whilst it is only £1 on Moneybox. Therefore, if you are looking only for a robo-advisor that you can use to invest, then Moneyfarm is likely the better one for you. However, if you are looking for a wider ranging product that can help you save, and especially if you are new to investing, then Moneybox is potentially the best option.
Articles on the wiseabout.money website may contain affiliate links. If you click these links, we may receive compensation. This has no impact on our editorial and any money earned helps us to continue to provide the useful information on our site.