In the past several years, open banking has caused a revolution in consumer and business finance within the UK. Open banking gives the ownership of each individuals or businesses personal financial data back to them, which makes many areas of finance simpler and more transparent.
For consumers, this allows them to have a far better overview of their finances, and manage their money, even if it is held with multiple different financial institutions. In addition, it has enabled simple and seamless payments direct from bank accounts to retailers.
For business users, the system has simplified their lives by making it much simpler for accounting software to gather data from all of their accounts, giving them a more complete overview.
How many users does open banking have in the UK?
As of 2023, a large number of consumers and businesses are using open banking. Over 6.25 million consumers, and three quarters of a million businesses used the technology in some form in January 2023, making a total of 7 million open banking users in the UK.
This number looks set to grow, as a staggering 1.2 million of the 7 million users in January 2023 were using open banking for the very first time.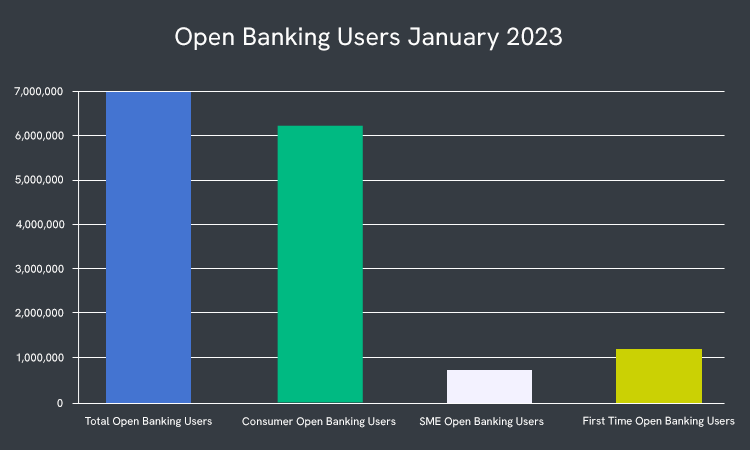 Source: Openbanking.org
How fast has open banking usage grown?
Open banking started gaining users fast, and whilst the trajectory has slowed slightly in the last year, it looks set to continue to gain users over the coming years. Initially hitting 1 million users in November 2019, it then doubled in less than a year, and a year later had doubled again, hitting 4 million in September 2021. Since that time it has quickly gone on to hit the 5, 6 and then the 7 million mark in January 2023.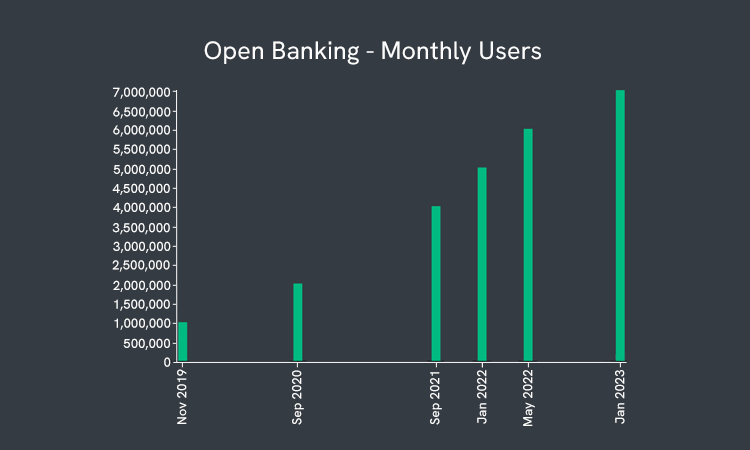 Source: Openbanking.org, Truelayer
Open banking payments growth 2021 – 2022
Open banking provides a very simple way to pay for goods and services directly from your bank account. It can be a very simple process via a smartphone, and the amount of payments nearly tripled from 2021 to 2022. As more retailers give customers this option to pay, this number will only go up and up.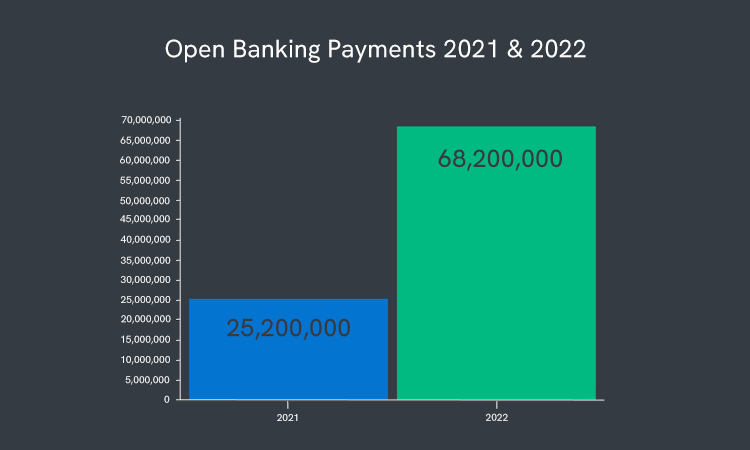 Source: Openbanking.org
What is open banking?
Open banking was first proposed by the European Parliament back in 2015 via a Payment Services Directive. This aimed to open up banking and the financial industry to innovative new services, which would also give consumers more control of their financial data.
The United Kingdom has one of the most fast moving and innovative financial industries in the world, and the country has been more active than anywhere else in the world in opening up the open banking opportunity.
The open banking system primarily consists of financial institutions giving access to customer financial data, via secure APIs, to licensed financial technology companies. By 2020, over 200 of these new companies had received licenses.
The technology has and will continue to transform various finance areas, such as budgeting/money management, payments, banking, borrowing, accounting and more.